DJ Cuppy's boyfriends: 6 weighty rumours
Bllionaire heiress, DJ Cuppy's love life has been stereotyped in a narrative. Even though many of these rumoured relationships have been debunked, fans cannot but wonder if they are true.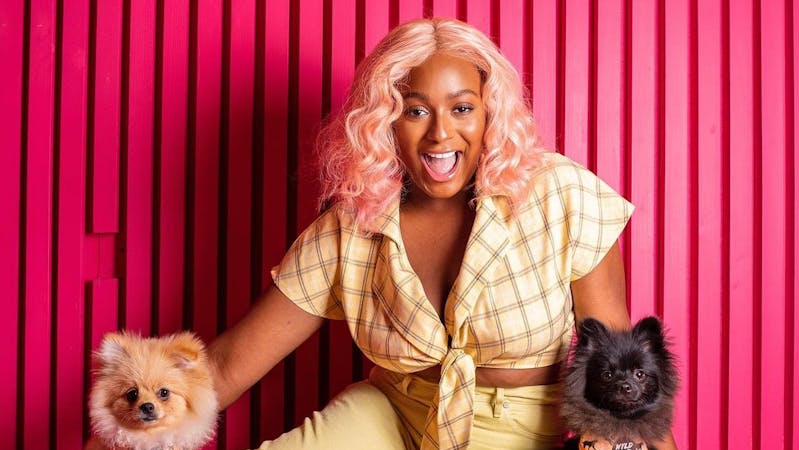 Nigerian Celebrities are often misunderstood- bloggers publish different narratives of their lives-sometimes it's hard to pick out the truth and DJ Cuppy's love life is no exception.
Florence Otedola aka DJ Cuppy is the daughter of Nigeria's elite billionaire Femi Otedola. A disc Jockey, vocalist, socialite, and heiress, DJ Cuppy has left no stone unturned to carve out a niche for herself. She has collaborated with both local and foreign artistes.
The billionaire heiress who is always in the news for all the wrong reasons has a vast dating portfolio with Nigerian men.Although, she claims that most romantic interests and entanglements are mere rumors fueled by naysayers.
During her Interview with Zeze Millz in 2021, Cuppy disclosed she had dated different kinds of men but not all.Her first known relationship was with Victor Aniechiebe and Asa Asika of Stargaze, however their happily evers ended after series of breakups and makeups.
Following her split from boyfriend Asika she took to social media to scold herself for making mistakes in the past. According to the disc jockey, her costly mistakes are responsible for her being a single lady. 
DJ Cuppy' "flings'  'hookups', dates and breakups involve elite men. Because of her many casual relationships there are certain rumors peddled that ring true more than anything.
Here are five weighty rumors that cannot be ignored, while some rumours hover over her previous relationships. Others loomed around her friendships with colleagues in the industry and childhood buddies.
Credits to Instagram/cuppymusic
1. Asa Asika and Cuppy
Asa Asika is singer Davido's manager and the chief executive officer of Stargaze.
Asika started a whirlwind romance with DJ Cuppy but theirs was a love story with a bump in the road.
The couple dated on and off according to reports and speculation. In total DJ Cuppy and Asa Asika were together from 2011-2019.
Although, both parties had vehemently reiterated that they were just friends until their official announcement as a couple in January 2018.
Asika and DJ Cuppy dated on and off between 2011 and 2020. While they lasted, the loved-up couple never hid their affections for each other. They had no problems displaying affections and intimate moments publicly. 
The 25year old Cuppy at the time and Asika tried to make the relationship work but their ship sank in 2020.  According to the DJ, Asika has been friends with her for over a decade, even before she launched her career as a DJ.
Later, in 2020, the pink haired star revealed that she messed things up in the relationship.
However, another unconfirmed report says that while DJ Cuppy and Asa were going off and on in their relationship, baby girl Cuppy was seeing other guys.
Credits to Instagram/cuppymusic
2. Victor Anichebe and DJ Cuppy
The length of DJ Cuppy's relationship with Victor Anichebe coincides with the many challenges of union with Asika.
Following her breakup from Asika momentarily, was the moment Victor Anichebe seized to be with his lover, Cuppy.
Victor Anichebd played football with the Nigerian national team as a striker and currently plays for Beijing Enterprises. According to DJ Cuppy, the relationship was a rocky one like her previous date history. But it was good while it lasted.
The couple parted ways finally in 2017
Cuppy disclosed their reasons for breaking up was due to the long distance on location. Victor was in Beijing China, Cuppy was in London or Nigeria. 
During a chat with Beat FM DJ Cuppy said they resolved to remain buddies, while she praised him for being such a great guy.
 However, unconfirmed information later surfaced that Victor dumped the DJ to date a white woman.
3. Sean Tizzle and DJ Cuppy
Cuppy's trail of dates and flings certainly gave the rumour about Sean Tizzle life.
(That's if it was a rumor in the first place)
The news about their Sean Tizzle and Cuppy surfaced  after the Sho Lee hitmaker shared a suggestive post of Cuppy on his page. In the caption of the post, the singer asked God to bless his 'Cupcake Ifeoluwa' also known as Cuppy". Sean Tizzle equated their relationship to Beyonce and Jay Z, saying that it is just him and his future Abiamo, and ended it with #Kisses.
According to sources Sean Tizzle's actions got on DJ Cuppy's wrong side-it further put a strain on their relationship.
Based on the turn of events, maybe Sean Tizzle and Cuppy had a 'thing' and she already moved or Sean was just trying to shoot his shot with the billionaire heiress.
Who knows? Anyways, since then Sean hasn't been in her good books. 
DJ Cuppy and Anthony Joshua
4. Anthony Joshua and DJ Cuppy
Talk about a rumour fueled by Cuppy herself. Especially with a dating history of footballer boyfriend, Victor Anichebe.
After spending a vacation together in Spain- Cuppy received a dollar sign diamond necklace as a gift from the boxing champion. Romantic right?
At least that's what everyone thought as Anthony Joshua paid a visit to the Otedola house back in Nigeria.
Now, both parties made no attempt to clear the air about their relationship or dating speculations.
Some individuals believe Cuppy had a crush, because one time she made a post of Anthony Joshua and herself dressed in traditional wedding attire.
Credits to Instagram/cuppymusic
5.Kiddwaya and DJ Cuppy
If there is one person Cuppy has chemistry with it's Kiddways.
During the lockdown edition of the popular BBNaija reality TV show, Benue-born billionaire's son Kiddwaya was quizzed by Erica  about the women he has ever been vulnerable with.
It came as a surprise when Cuppy's name made top three.
When asked if he sees himself dating the female DJ in the future, Kiddwaya responded that he Cuppy is his best friend and confidant- he wouldn't dream about making any move on her for a relationship. 
Kiddwaya's praise of Cuppy hints of a level of intimacy and affection.
 He also said the DJ is someone he respects and talked about their being close with the same circle of friends; besides, their billionaire fathers Terry Waya and Femi Otedola are equally close too.
Also, during Kidd's time on the show he made a shout to Cuppy for being a huge support system.
The second message goes out to my other favorite girl, Cuppy, I know she's supporting me a lot out there, so I want to thank you for your support.' You have always been there for me, you are very close to my heart, I love you always,…" he said
In August 2021, the celebrities shared a loved-up photo of themselves.
This was after Kidd left the BBNaija house, their closeness and intimacy in the photo further sparked rumours of a relationship.
However, in a recent video 29year old Cuppy said they are childhood friends and nothing more.
Credits to Instagram/cuppymusic
6. DJ Cuppy dating Fireboy DML: 
Following announcements of a mystery man bringing gifts for her, DJ Cuppy sparked dating rumours with Fireboy DML.
In February 2021, she shared romantic pictures of herself and Fireboy in bath robes in bed together on Valentine's day.
The Gelato crooner and the YBNL singer were seen in rather suggestive positions.
Later, Cuppy released new music with Fireboy " Feel Good" and fans understood that the pictures were just shots from the music video.