Dr Anu's botched surgeries: 2 slay queens who fell, victim
Controversial Nigerian cosmetic surgeon, Dr Anu Fella is popular for carrying out botched surgeries leaving many of her victims with smelly and infected butts and. boobs.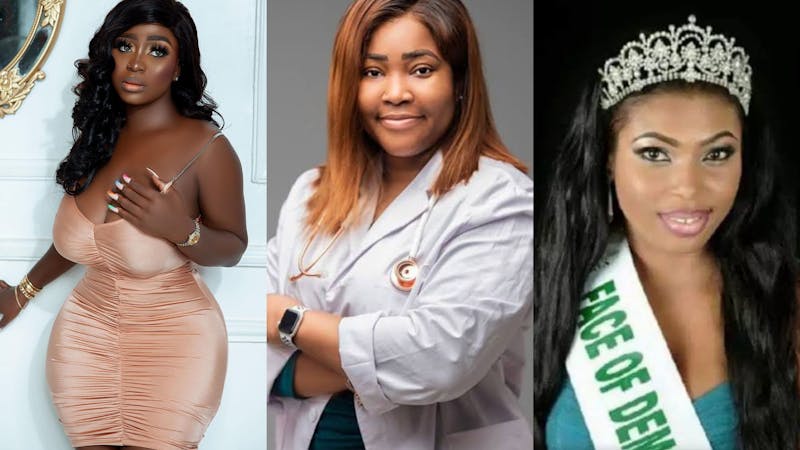 It seems like celebrities are not the only ones desperately trying to look hot via cosmetic surgery.
Several ladies have also begun to join the train to look sexy and attractive however, many of them have ended up with ruined butts and boobs and it is no thanks to botched surgeries from health practitioners like Dr Anu Fella.
This article will provide information on the biography of Dr Anu, her medical background and all the events of cosmetic surgery gone wrong.
Who is Dr Anu?
 Anuoluwapo Adepoju was born June 15 as the only child of her mother.
 Dr Anu is an American trained doctor who specializes in performing cosmetic surgeries.
The cosmetic surgeon Dr Anu is the founder and owner of Med Contours.
Dr Anu Adepoju obtained an MBBS from the University of Lagos College of Medicine in 2015.
A certified Liposuction and hair transplantation practitioner and other non-invasive procedures from the United States and Estecenter Plastic Surgery Center Istanbul, Turkey.
Dr Anu also trained for an intensive three-month mentorship programme at the Desoto Family and Surgery Center, Desoto Texas.
She also attended the Business School Enterprise Development Center, Lagos.
Doctor Anu claims to be an American certified cosmetic surgeon after many failed procedures.
Anuoluwapo Adepoju participated in the live educational body cadaver workshop in Florida, Orlando.
She performed different cosmetic surgery procedures during the workshop ranging from liposuction, tummy tuck, breast lifts, implants, and Brazilian butt lifting.
However, the cosmetic doctor was not fully registered with the Medical and Dental Council of Nigeria as there are reports that Dr Anu graduated from UNILAG/LUTH in 2016/2017.
Other reports say she didn't even finish the compulsory one-year internship programme before setting up a private hospital where she illegally carries out cosmetic surgeries like liposuction and butt and breast enlargement surgeries.
According to a source that knows her personally:
"I was in LUTH the same period with Dr Anu, and this babe finished 2016/2017. "How she's already a plastic surgeon is beyond me.
In 3 years, she has done a house job, undergone residency for surgery (3 years or so) and another residency for plastic surgery; how?? She didn't even finish internship before she opened med contour clinic".
"Yes, she is a doctor quite alright, but Anu's qualification as a plastic surgeon or any surgeon is a big lie.
Anu is not a specialist; in fact, she should go and complete her internship program in LUTH. 
Where is Med Contour located?
Dr Anu's clinic operating in a two-storey building, is located at Number 11A, Ladi Alakija Street, Lekki Phase 1 Lagos State.
Ex beauty queen Nneka Miriam and Omotolani Taiwo we're victims of Dr Anu's bothhed surgeries.
Who are Dr Anu's victims?
Despite all of self acclaimed accreditations, certifications and training, Dr Anu's career took a bad turn in February 2019 when beauty Queen Nneka Miriam Onwuzuligbo died from a cosmetic procedure carried out by Dr Anu.
It was reported that Nneka was in a coma for 31 days after having a butt enlargement procedure.
According to news websites, after the beauty queen's death in 2019, the Lagos State University Teaching Hospital (LUTH), Idi-Araba, petitioned the Medical and Dental Practitioners' Investigation Panel to investigate Dr Anu.
Following the death of a patient in LUTH after a botched cosmetic surgery performed by the female doctor.
The management of LUTH accused Dr Anu of professional misconduct following the death of Miss Nneka Onwuzuligbo, who developed complications after cosmetic surgery at Dr Anu's facility before dying at LUTH, after which Dr Anu tried to exclude herself by blaming LUTH for her death.
In a petition on June 11, 2020, signed by LUTH's Director of Legal Services, O. O. Olajide, the hospital said Dr Anu Adepoju had continued to perform surgeries despite the fact that her facility was sealed off by the Lagos State Health Facility Monitoring and Accreditation Agency.
January 10, 2019 Nneka was admitted into LUTH, the first surgical debridement performed revealed extensive sloughing, with foul-smelling discharge from Nneka's debrided hips and purulent discharges from puncture wounds on the anterior abdominal wall.
LUTH tried all they could but on the 3rd of February, 2019, slay queen Nneka sadly passed away.
In April 2020 Dr Anu was involved in another controversy after Twitter influencer Omotolani Taiwo aka OmoTee claimed that she paid Dr Anu Adepoju N1.2million for a butt implant and liposuction procedure.
However, things went haywire when Omotolani claimed to experience complications after the procedure.
Following OmoTee's announcement, there was a public clamour on the safety of Dr Anu's procedures.
Shortly after, her clinic Med Contour was shut down by the Federal Competition and Consumer Protection Commission(FCCPC)
According to reports several other ladies have been victims of Dr Anu's cosmetic knife.
Doctor Anu performed a failed breast augmentation procedure on a client that got badly infected (draining foul-smelling pus) and the patient was at risk of losing her two breasts. In a now-viral video, the patient lamented from her hospital bed at the Lagos University Teaching Hospital (LUTH). The lady claimed she paid N1.65 million to Anu Fella for this failed breast enlargement and lift.
Last year, 2021, the news was making rounds that another lady who came back from the US had a botched surgery with Dr Anu that led to a critical infection in her butt.
Omotolani Taiwo is a social influenced who paid for a botched surgery with Dr. Anu.
Who is Omotolani Taiwo?
Omotolani Taiwo is a Twitter influencer, entrepreneur, Instagram slay queen who made headlines after Dr Anu conducted a botched surgery that almost claimed her life.
In an interview with BBC Pidgin in 2020, Omotolani recounted her experience at the hands of the quack doctor. She narrated how she wanted to make her tummy flat and "top-up" her butt. She decided to go to MedContour for Brazilian Butt Lift (BBL) and Liposuction.
She said, "After the surgery, I started having complications. I started having belly burns, waist burns, waist numb, and after two months I started having fat necrosis.
"The wound she inflicted on me is yet to heal. I still go to the hospital every two days. And to dress up the wound, sometimes I spend N7,000, sometimes N10, 000 it depends because sometimes I might open the wound and another fat necrosis is already beside the wound. The doctors will have to perform another operation to bring that one out. Sometimes, the wound will be infected, then there will be a need for a swab. I buy drugs.
"The money I have spent has run into millions, more than the money I even paid for the surgery from Dr Anu."
She said she couldn't bathe alone after surgery and her brothers had to help carry her.
She added that she became suicidal and constantly thought of taking her life, so her brothers hid the knives and every other dangerous object in the house.
According to Sahara Reporters in reaction, Dr Anu blamed Omohtee for not following post-surgery instructions.
Is Dr Anu married?
Dr Anu has kept her personal life hidden from the public eye, but according to speculations she was once married with two kids.
See pictures of Dr Anu and her two children.
Social media reactions to Dr Anu's failed surgeries 
When the news of OmoTee failed surgery broke the internet, social media users expressed their shock and reactions to the news.

See comments from various users on the birdie app.

@Rep_Saj1 Someone somewhere is putting money together for Dr Anu's procedure rn.

@ikehidealogy I hope those ladies wrongly operated on by Dr. Anu have healed and enjoying life again..😥

@Taligbo It's 2022 I am waiting for Dr Anu news she's been consistent since 2019

@Postsubman - After weeks of recovery procedure from a botched cosmetic surgery, - Omohtee returns power to the almighty, strip Dr Anu of the glory. 

@ChinnyBillz That Dr Anu of Medcontour has allegedly killed another person again, botched surgery.

@Naijablogger Lady's breasts ruined after botched surgery with Dr Anu - She Paid 1.6M for the Surgery.  

@beeza32Sometimes i wonder why people are daft.  Dr. Anu herself looks botched. Why the hell will I admire her body and still pay for surgery? People's thinking is so myopic tho

@ifeomatess How do you put your bum bum and your life in Dr Anu's hands after she botched so many people's surgery? Why do that to yourself?

Dr Anu was arrested and charged to court. Her clinic was closed based kn "illegal activities".

Ever since the scandalous news broke of Dr Anu's quack medical expertise she has stayed away from the public and maintained a very low profile.

In 2020 Doctor Anu was arrested and charged to court after three of her clients reported her failed surgeries, Marlene Adejumo Oluwakemi, Taiwo Omolola Temilade, and Vivian Onwuzuligbo(sister the deceased Nneka).

One of the allegations against Dr Anu is that a failed cosmetic surgery done by her led to the death of one Mrs. Nneka Miriam Barbra Onwuzuligbo. Dr Anu is also accused of making false claims about her services to prospective clients. "The allegations are that the Defendants' services are unsafe for consumers and that the Defendants made false, misleading and deceptive representation in relation to the marketing of their services to them," the charge sheet read.

After series of back and forth, her clinic was closed down and her practice licence suspended till further notice.

0