Ebuka Uchendu: The biography of Nigeria's no.1 reality TV host
At 39, Ebuka Obi Uchendu boasts of a 15 year career portfolio from hosting reality shows, debates, talk shows to courtroom cases.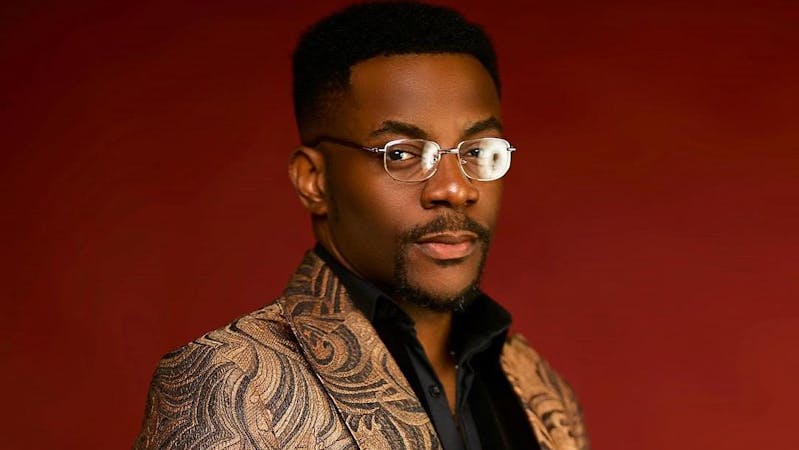 In the corridors of influence, fame and fortune, Big Brother Naija host Ebuka Uchendu is a force to be reckoned with in the Nigerian entertainment industry.
One thing that sets Ebuka apart is his god-like ability to reinvent the wheel and own it. Quickly the most sought after media professional, Ebuka's endearing personality shines through, leaving his audience glued and happy.
The media personality has a stellar track record of delivering every job task with excellence and a healthy dose of humour.
Little wonder Ebuka has a slew of hosting gigs all year round. Else, who could have handled the BBNaija show with sheer professionalism and a high emotional IQ if not Ebuka?
Let's not even get started on his fashion style, which has remained a constant style inspiration for many.
The show host recently celebrated a successful 15-year hosting career. And he has a lot of reasons to celebrate—300 million, in a rough estimate.
That's how much Ebuka Uchendu is worth, according to Carmart. Here's how Ebuka rose to fame and made all that money.
Ebuka Uchendu's early days
Chukwuebuka Obi-Uchendu was born 14 July 1982 as the third child of four children to Mr and Mrs Uchendu. After his primary education, young Ebuka proceeded to Christ The King College Abuja, graduating in 1997.
Later on, Ebuka got into the University of Abuja up until 2004. He proceeded to the Nigerian Law School Bwari, Abuja finishing in 2005 and returned to school after a 5-year working gap.
Fortunately, Ebuka graduated in December 2010 from the Washington College of Law of the American University Washington DC with an impressive Master of Laws degree specialisations in Intellectual Property and Communications law from the Law and Government program.
After his full-stack education, Ebuka Uchendu was ready to take the bull by the horns to climb the ladder of success and financial freedom.
After spending 57 days in Big Brother Naija's house, Ebuka was evicted.
Ebuka's career and endorsements
The Nigerian lawyer and media personality from Okija in Anambra State, Nigeria, decided to join the Big Brother Naija show in 2006.
Unfortunately, after spending 57 days in Big Brother Naija's house, Ebuka was evicted. After his eviction from the house, endorsement deals began to pour in, in troves.
He signed with a major telecommunications brand as well as a famous brewing company and as such hosted Friend or Foe on NTA, the GLO Show, also on NTA, as well as Guinness' Greatness TV.
Delving into the writing industry Ebuka maintained a weekly column called Contrast with a Nigerian national daily newspaper, This Day, for up to 4 years;
He has written for other publications, including What's New & Ace Magazines.
Building up to the 2011 general elections in Nigeria, Ebuka Uchendu, landed his first big break as host for the first ever presidential debate focused on youth issues, which was broadcast live across Nigeria.
Within 2 years, Ebuka Uchendu was an active contributor to several online publications including the Y! FrontPage on the youth oriented YNaija, general lifestyle inclined 360Nobs, Breaking Times which deals mostly with current affairs, and Style Vitae a fashion and style portal.
By 2013, the stylish Ebuka was announced as the new host of TV talk-show "Rubbin Minds."
Ebuka has interviewed many popular personalities in the entertainment industry including Banky W, Gbenga Sesan, Seun Kuti, Oluchi Onweagba, Davido, Japheth J. Omojuwa and Chika Unigwe.
Not stopping there, in 2013, Ebuka Obi-Uchendu joined The Spot, a TV show on DSTV, as a co-host alongside Lamide Akintobi and Zainab Balogun.
Showing an unusual dexterity for his hosting craft, Ebuka, yet again joined Arit Okpo as a co-host on the new chat show Naija Politics, a political Nigerian TV show on EbonyLife Tv in July 2014.
It wasn't a surprise when in July 2016, he became the host of Men's Corner, Nigeria's first all male TV talk show.
In 2017, Ebuka Uchendu was announced as announced host for Big Brother Naija reality TV show and had been the show's host for 4years.
The following year, 2018, Soundcity Africa announced Ebuka as the host for the Soundcity MVP Awards Festival- in broadcast partnership with Coca Cola, 9mobile and UBA.
Ebuka Obi-Uchendu currently features sd a counsellor in the popular TV programme  Judging Matters-a programme that deals with domestic issues using the arbitration system and minor cases of real people getting justice from a small claims court.
Overseen by an experienced but retired Lagos State Judge, Justice Olusola Williams, "Judging Matters" began airing on Monday, April 27, 2020, DSTV's Africa Magic Showcase channel 151.
Ebuka's vast experience also allows him to double as Master of ceremonies for various awards ceremonies.
Ebuka Uchendu and co host Toke Makinwa
Ebuka's MC award ceremonies
Multi choice announced Ebuka Uchendu and Toke Makinwa as the red carpet hosts for the 7th edition of the "Africa Magic Viewers Choice Award," in 2020.
In 2021, Ebuka Obi Uchendu was unveiled as the show anchor for the Global Citizen Live event alongside beautiful co-host Nancy Isime.
Ebuka, be caught unfresh" media personality, graced every MC gig in style and class.
Ebola Uchendu is a fashionista
Ebuka is a fashion killer
If there is anyone that epitomises Ayrra Star's song "Fashion killer", then Ebuka will be a perfect example.
Because for every host duty he has ever attended, Ebuka is always ready to make everyone shiver in excitement.
With good looks, wit and drip, the 39-year-old media personality always understands the fashion assignment.
A remarkable event to peg these claims was during Banky W and Adesua's wedding in 2017. Ebuka arrived like royalty in a well-styled Agbada that left the internet talking and the ladies gushing.
Further bolstering his creatively stylish personality, during the BBNaija show last year that saw Whitemoney emerge as as as the winner, Ebuka always nailed it in his outfit.
Indeed the media personalities' fashion intelligence should be adopted into a style guide for men. Ebuka's consistent climb to worldwide acclaim has bagged him a few recognitions.
Ebuka Obi-Uchendu Awards and recognition 
Obi-Uchendu has received several award nominations and won the award for his excellent work ethic and the ability to exude charm, brilliance and fashionista vibes.
Here are a few recognition in bullet points that have positioned Ebuka as an authority in the media hosting space.
•In 2011, he was selected as a Global Shaper – an exclusive group of young emerging leaders across the world – with the World Economic Forum.
•In 2013, he was honoured by the Federal Government as one of the Best 100 Young Nigerians in one of the events to mark Nigeria's 100th anniversary as a union.
•Ebuka was nominated as Outstanding TV Presenter of the Year (Male) at the Nigerian Broadcaster's Merit Awards in 2013, 2014 and 2015.
Ebuka's rise to fame and stardom is an enviable feat that spells the old saying "behind every successful ma,n there is always a woman."
Ebuka Uchendu is married to Cynthia Obiando
Who is Ebuka Obi Uchendu married to?
Ebuka is married to Cynthia Obando, the daughter of billionaire CEO of Young Shall Grow Motors, Vincent Obianodo. Cynthia is Human resource manager at one of her father's companies. The couple got wedded in grand style in 2016.
The hashtag #Obi2016 brewed excitement as Cynthia had her bridal shower and the groom(Ebuka)was whisked away to Cape Town for a boy's trip in January.
Ebuka and Cynthia's wedding was all shades of dapper and gorgeous as Cynthia Obiando pulled off three lovely dresses for her big day.
Her first dress was a lovely ball gown by Vera Wang, second a form-fitting number by Andrea Iyamah, and the third, a statement making hand-beaded Swarovski and pearls cropped top and tulle skirt by Wana Sambo.
Never to be caught unfresh, Ebuka outdid himself in three dapperly done Mai Atafo suits.
Ebuka and Cynthia are parents to two lovely girls. The couple welcomed their first child on the 8th of November 2016. In 2018 they announced they were expecting another child on their Instagram.
A family man, Ebuka has proven that his work ethics is fueled by deep commitment to give his kids the best life and live a lasting legacy. Little wonder, the media personality has worked round the clock to boost his financial status.
Ebuka is one of Africa's most prominent TV hosts.
Ebuka Obi Uchendu's net worth
The BBNaija show that Ebuka hosts every year costs a whopping N4.3billion to air on national TV. Thus, the income earned from hosting the show in the last four years has contributed immensely to his N300 million naira net worth.
Ebuka's freelancing MC gigs have also tipped the money bag to his favour, and his endorsement portfolio with several brands further boosts his whopping account balance.
The media power personality owns a high-class Toyota Land cruiser worth N40 million and a range rover sport worth N66-N80 million.