Filmmaker Kemi Adetiba announces engagement to lover, Oscar
Kemi Adetiba is engaged! The Filmmaker promises that a '" Real Wedding Party" is in the works.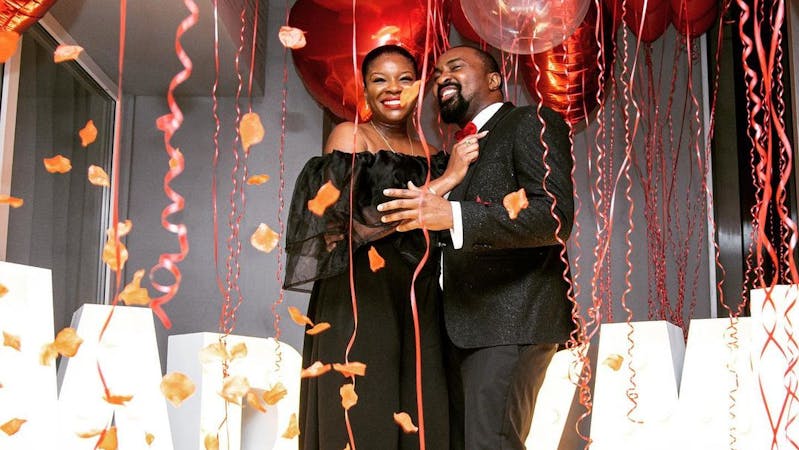 Five days to Valentine's day, Nigerian Wedding Party writer and director Kemi Adetiba said "yes" to music executive fiance Oscar Heman-Ackah.
Adetiba's relationship status has been a private affair until now, after sharing the good news of her engagement.
The emotional movie producer, Kemi Adetiba, shared a video and pictures of the moment her man, Oscar, popped the forever question via her Instagram page on Wednesday.
"We've taken some time to privately enjoy this moment and bask in the celebration of it all. However, we're beginning to understand it might be next to impossible to keep a lid on this for much longer.
"After thinking long and hard, we ultimately would love for this announcement to be on our terms and molded in our true narrative. Plus, you all here have followed my journey from the start and lovingly root for me – Now, if that isn't family, I don't know what is.
The movie director and producer, Kemi Adetiba, revealed that her fiance popped the question on January 28th with close friends and family to witness the event.
"So dear family, on January 28th in Ghana, delivered as a beautiful surprise and expression of love, and in the presence of some close friends and family, @oscarhemanackah asked that we spend the rest of our lives together, and I wholeheartedly said YES… without a single reservation," she wrote in the caption.
The King of Boys director and producer also jokingly added that all family members in the loop for the surprise proposal should get prepared for her revenge.
"Thank you for the overwhelming love and kindness you will undoubtedly show us as we count down to more festivities and the rest of our lives together. There's not an ounce of anxiety in this place.
Gushing over her man, Oscar, Kemi reiterated how "supremely" lucky she was to spend the rest of her life with him.
"Oh… And before you say it, Yeeeeeesss, he knows he's a very, very lucky man, but the beautiful thing about our connection and journey so far is that I know I'm a fortunate woman too," she wrote.
Credits to Instagram/kemiadetiba
Adetiba is an award-winning filmmaker who directed the blockbuster movie, The Wedding Party and its sequel.; King of Boys and The Return of the King.
The 41-year-old Kemi Adetiba has bagged numerous awards for her outstanding work ethic and creative film production. In Nigeria, a famous name, Kemi Adetiba, also presents "King Woman" on her web series."
The movie director promised that "a REAL Wedding party" was in the works.
Adetba's man Oscar Heman-Ackah also shared a picture of the couple on his page. He wrote in the caption, "Doing this beautiful thing called life with the most beautiful lady in the world @kemiadetiba."
Legendary actress and lead character for the movie King Of Boys- Sola Sobowale made an appearance that left Kemi Adetiba in shock and emotional bouts of tears.
Since Kemi announced her engagement on social media, congratulatory messages have been pouring in from celebrities and well-wishers in the industry. A well-achieved female director, Adetiba's engagement announcement, is simply the icing on the cake.
Congratulations to Kemi Adetiba from all of us at Clacified.