Gospel singer Tim Godfrey is engaged!
February is indeed a month of love as gospel singer Tim Godfrey pops the forever question.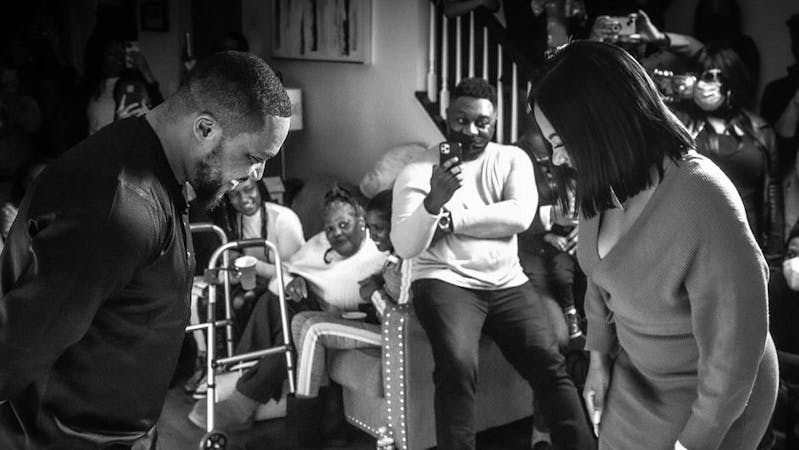 On Wednesday Feb 16, Nigeria's no. 1 energy gospel artiste Tim Godfrey, proposed to the love of his life in the most romantic way. Announcing his engagement on his Instagram page, Tim Godfrey shared photos of him kissing his fiancee's ring.
In the caption of the Instagram post the Akwa ibom singer wrote about the positive change that his woman brought into his life. Tim further celebrated her by adding that she is " my greatest reward from God."
Godfrey also thanked his wife-to-be for accepting his proposal-saying that he couldn't imagine his life without her by his side.
" I can't imagine how I've lived without you all my life. But guess what? I would have waited forever till we crossed paths."
The 42 year old band leader added that after the decision to accept Christ, sharing his life with his beau is the next best thing to have happened. Tim Godfrey assured his fiancee that no measure of time will be enough to love her but forever will be the beginning.
Tim Godfrey loving up on beau
Wrapping up the caption he expressed his heartfelt love for his woman "EKJ".
"'EKJ' You are my STILL WATERS! I love you."
However, Tim Godfrey did not reveal the identity of his fiancee, as he neither mentioned her name nor tagged her to the post.Her face was also subtly hidden in the pictures shared by the singer on his page.
Tim Godfrey is a Nigerian gospel singer best known for his song Nara, a collaboration with American gospel singer, Travis Greene. Godfrey is also the founder and owner of the record label Rox Nation and the Founder of Xtreme Crew-a music band that ministers with him at events.
Renowned for his acrobatic and electrifying performances, Tim Godfrey has come a long way from grass to grace. Let's take a quick walk into the profile of the Xtreme Crew.
Tim Godfrey is a popular Nigerian gospel singer.
Tim Godfrey's Profile
Timothy Chukwudi Godfrey was born on the 26th day of August in the year 1980 to Mr and Mrs Godfrey.
He got an honorary Doctorate degree in Fine Art and Musicology at the Trinity International University of Ambassadors, Georgia, USA in 2018.
Tim Godfrey is an innovative musicologists with an enviable 20 year experience portfolio in music.  Tim has successfully carved a niche for himself with his creative style and approach to music as a break from the norm. Godfrey is known for his unusual style of blending contemporary fills into African mix.
In an attempt to revolutionize gospel music in Nigeria, Tim Godfrey the release his 16 tracks debut album, "SOUND CHECK" in 2005, to the resounding reception that further cemented their place in the hearts of many with hit songs like Onyedika gi, Agidigba, Igbo Medley, Oriki and Hero.
The Kaduna state born singer  released his second studio album (twin album), 'i-Worship and The Audience of One' which include songs like Na You Be God, Mma Mma Ya, Kosi, which encouraged lots of fans all over Africa and Europe in 2014.
An inspiring and innovative music director, Tim is a multiple award winning music maestro of international repute.
Tim Godfrey's Awards
The BEFFTA Awards – 2011
Best Artiste of the year nominee at the Future Awards – 2012
NEA Award U.S.A. for the Best Gospel Artist/Group of the year – 2012
Nine nominations at the Crystal Award – 2015
Eight nominations at the Africa Gospel Awards (AGAFEST) – 2018
Male Artists of Excellence at Africa Gospel and Media Awards (AGAMA) – 2019
Tim Godfrey and The Xtreme Crew bagged the Musical Group of Excellence award at the Africa Gospel and Media Awards (AGAMA) – 
Male African Artiste of the Year at the GTMA Awards – 2019
Songs of Excellence award at the Africa Gospel and Media Awards (AGAMA) – 2019
Male artiste of the year at Africa Gospel Awards (AGAFEST) – 2019
Best International Artist nominee at the Premier Gospel Awards – 2019