JJC Skillz's baby mama exposes faces of Funke Akindele's twins
This might be the beginning of a feisty war between Funke Akindele and JJC Skillz's baby mama.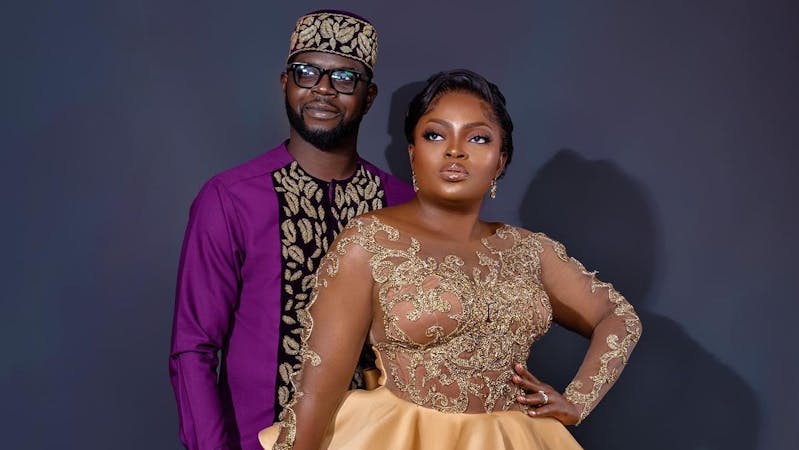 It seems all is not well between actress Funke Akindele and JJC's baby mama, Mella as the latter has issued a stern warning to the mother of two.
Mella, the mother of Benito Bello, a son of Nollywood actress, Funke Akindele's husband, Abdulrasheed Bello also known as JJC Skillz, has threatened to expose the actress' family if hers is exposed.
Mella who claims to be the mother of the music star's son, Benito, reacted to statements that Funke Akindele was  exposing her son with linkage to hard drugs.
Not stopping there Mella took to her Instagram page on Thursday afternoon to share a photo of the actress, her husband, and their twins whose identity has been kept secret since they were born.
Revealing the faces of Funke Akindele's children, Mella threatened to expose Funke Akindele's family if she dared her.
In a lengthy caption Mella writes about the kind of woman Funke Akindele is,  "Firstly I want to highlight what kind of woman Funke Akindele is. She claims to be a sweetheart but this is just a carefully crafted PR image". 
Funke Akindele, JJC Skillz and their twins
Mella went on to write on Funke's avid attempt to conceal the faces of her children that she(Mella) has now exposed.
"Funke Akindele claims to want to hide the faces of her children from the public to want them to have their life and protect them but she has no problem to anonymously feed distorted private information to slander my teenage son and her step son for that own personal vendetta to take the heat away from her marriage breakdown story……
........... If you don't want me to expose your family then don't expose mine. Funke and Abdul Bello."
The new development is coming after Funke Akindele spoke on why she has not revealed the face of her twins and the news of her marriage failing.
Remember that just few days ago The Eagle Online reported that Bello, also known as JJC Skillz, and Akindele-Bello's marriage was experiencing turbulent times.
In reply to the rumour Beni took to the comments section writing that he lived with Funke Akindele-Bello for two years and it was a horrible experience, adding that she was "not what you all think she is"
Promptly after the news broke, JJC Skillz, who is currently in the United Kingdom, took to Instagram to share a photo of him, Akindele-Bello and their twin sons with a caption emphasising how much he misses them. He further advised Funke Akindele to not let anyone spoil her mood.