Kanye and Drake: Will the beef ever end?
Kanye and Drake's 12 year long feud might become a generational family battle...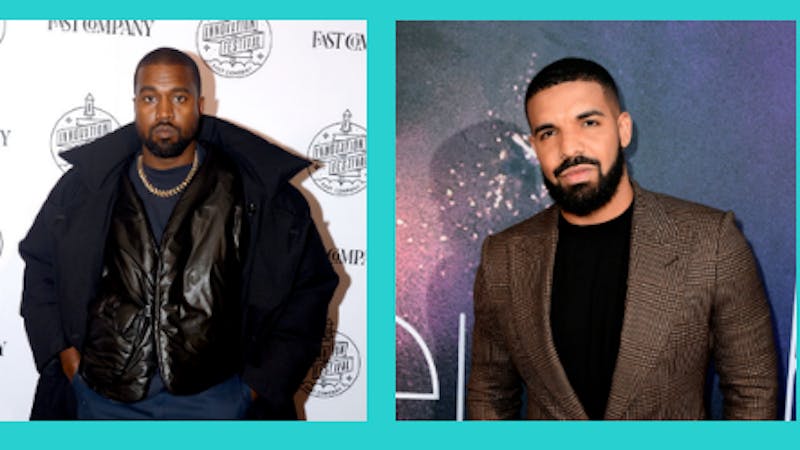 Kanye and Drake's cold war gets even more complex.
Drake and Kanye have been on bad terms for quite some time now, but with the duo dropping albums weeks ago, things just got hotter.
 From subtle dissing to war on the birdie app, both rappers are on a hunting match to tear each other's reputation to shreds.
Thursday night, November 4, West spoke without mincing words with N.O.R.E. and DJ EFN of Revolt TV's Drink Champs.
Kanye West spoke about his marriage and feud with Drake at the Revolt TV's Drink Champs
One of Ye's first significant interviews since the release of the 10th studio album Donda.
 He discussed his marriage, 2009 controversy with Taylor Swift, and beef with Drake.
Kanye spent most of the time speaking about Drake. He compared their 12-year feud to sports rivalry.
"You know what? I bit his ear," he shrugged. "I bit his ear,"
The phrase "I bit his ear" is an allusion to the 1997 boxing match of Mike Tyson and Evander Holyfield after Tyson bit Holyfield's ears, each one in separate rounds. Tyson was disqualified.
When asked about Drake's album he praised it a little but said Drake added something to the algorithm.
Kanye and Drake, were they ever friends?
Yes, Kanye and Drake used to be buddies. They were friendly collaborators for years. 
Canadian rapper Drake always spoke about how much he admired the heavyweight rapper, Kanye.
Here's a breezy recap of their complicated love story.
In September 2007, Drake's "Come back'' mixtape included a freestyle of Kanye West's Barry Bonds. 
In October 2008, Drake released another freestyle project of West's Swagga like us, initially recorded by West, Jay Z, TI, and Lil Wayne.
Drake recorded his "Come back'' mixtape freestyle of Kanye West's Barry Bonds. 
Let's fast-forward to early 2009, Drake's "So far gone'' recorded with a beat produced by West, appears on the 808s & Heartbreak track "Say What's Real."
Drake and Kanye met for the first time in Hawaii before May 2009. 
May 23 that same year, Kanye gave Drake some accolades for his punchlines on 'Every Girl.'
Drake rapped, "Do you like girls as I do?
Les-bi-honest!!!!!
West reacted in caps, " Best line of the year so far!"
3days later, Drake spoke to MTV News in interview he said
 "Kanye shared a lot of what I do, as far as music goes." 
He continued: "Before I met him, I had the utmost respect for Kanye West. 
I'd even go as far as to say he's the most influential person as far as a musician that I'd ever had in my life."
On July 1st, 2009, Kanye directed Drake's video for " Best I Ever Had. The duo went on to collaborate on Drake's Find Your Love'' co-written and co-produced by West.
Canadian rapper Drake and Kanye West were once collaborators
What happened to Drake and Kanye?
After Kanye took Drake off the Grammy Award-winning single "All Of The Lights in 2010, trouble began in paradise.
Drake began to throw subtle jabs at the Chicago rapper in a radio interview.
"Kanye's creative process is ever-changing. [I don't know why I] was removed.
We make music differently. I make what comes to me, and I hate changing it, whereas 'Ye will change something 30 or 40 times to get it perfect. 
To each their own, the change was to put all those people on it, and I wasn't one of them. That's completely OK."
However, the Canadian rapper still maintained his cool
"When you ask me, 'What do I think of Kanye West,' I'll always have something positive to say."
Amber Rose is Kanye West's ex girlfriend that was reportedly seen with Drake.
How did Drake and Ye's relationship deteriorate?
In the fall of 2010(September), Kanye's ex Amber Rose was seen at the club with Drake.
By 2011, Drake's career had blossomed into a huge success, and that's when things turned sour.
The young rapper Drake announced in an interview
"Now, I would say [Kanye] is a great competitor and friend, at the same time.
 My goal is to surpass everything he's accomplished. 
I don't want to be as good as Kanye; I want to be better."
In the same year, Kanye paired up with Jay Z for the classic Watch The Throne album; the young rapper dissed Kanye again in DJ Khaleed's "I'm On One," saying 
I'm just feeling like the throne is for the taking/ watch me take it."
2014, Drake admitted to being jealous of Kanye and Jay-Z's throne moment.
In all of this, Kanye seemed unbothered, hinting at a collab release with Drake titled "Wolves."
The funny thing is West never did. Instead, he released a record, " Wolves," and featured Vic Mensa.
The duo feud grew worse in 2018 when Kanye's artist, Push T, disses Drake and his ghostwriter in the third album, Daytona
"It was written like Nas, but it came from Quentin." Pusha T rapped
Drake didn't hesitate to clap back with "Duppy" freestyle, referring to West.
What do you think of then---a that's makin' your beats?/ 
I've done things for him I thought that he never would need/ Father had to stretch his hands out and get it from me/
 I pop style for 30 hours, then let him repeat." 
Pusha T, a little overzealous and bitter, shoved a brick wall between both heavyweight rappers with his diss response from "Story Of Adidon"  record 
Pusha T, a little overzealous and bitter, shoved a brick wall between both heavyweight rappers with his diss response from "Story Of Adidon"  record 
You are hiding a child; let that boy come home. Deadbeat m******* playin' border patrol, ooh." Pusha T rapped.
Drake had a son with former adult-film star Sophie Brussaux that the world didn't know about except a few people like Kanye. 
 August 2018, Kanye denies ever discussing Drake's secret son with Push T, he said this on Chicago radio station.
 In September, same year Kanye apologized to Drake about the episode of Push T's diss record "Story of Adidion" in a thread of tweets.
Weeks later, rumors spread that Drake and Kim Kardashian had a thing. 
At the time speculations were made based on Drake's hit "In My Feelings" reference to "Kiki," being one of Kim K's nicknames.
The tale didn't sit well with West who went off on Drake saying,
"People making rumors or thinking you f— my wife and you're not saying nothing… that don't sit well with my spirit," 
"You know, if I had a girlfriend from Chicago, her name was Renita, and you was married to Rihanna, I wouldn't make no song called 'Riri.
' So when you're like, 'I don't know where it came,' you're too smart for that bro."
Rumors spread on possible relationship between Kim and Drake
Both rappers have continued to go back and forth with their beef. 
Dec 2018, after both parties battled each other, West dropped 125 tweets claiming Drake was threatening his family.
"So Drake if anything happens to me or anyone from my family you are the first suspect — so cut the tough talk," West continued.
Kanye declared that Drake was threatening his family
Will the beef ever end?
One year after(2019) Drake spoke to Elliot Wilson and Brian "B.Dot" Miller for their Rap Radar podcast.
He said he had burnt the bridges with West 
"Things have changed. I'm not just some kid that's a fan anymore. Now we have personal situations, and like I said, a lot of his issues with me, I can't fix them for him, Canadian rapper said.
August 2021, Drake throws a punch at West in Trippie Redd's song "Betrayal," 
"All these fools I'm beefin' that I barely know / Forty-five, forty-four (burned out) let it go / 'Ye ain't changin' s— for me, it's set in stone.
Looks like the feud between both rappers is going to be on for a long time. With no hope for reconciliation both parties are thriving in their career.
 Drake's Certified Lover Boy hit 430 million streams while Kanye's 'Donda' hovered around 423 million.