Kazim Adeoti; Biography of leading Yoruba movie producer(Adekaz)
​Kazeem Adesoji Adeoti, popularly known as Adekaz, needs no introduction as he is among the most influential movie producers in the Yoruba movie industry.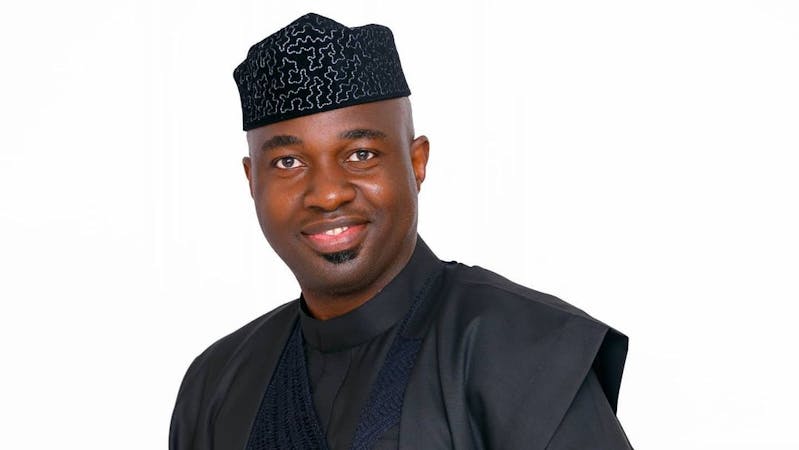 Chairman of IbakaTV and owner of Adekaz film production, Kazim Adeoti has been in the news lately, especially since he decided to marry Nollywood actress, Mercy Aigbe.
The wealthy Yoruba filmmaker, movie marketer, and founder of Adekaz Productions had however maintained his stance on being permitted by his religion as a Muslim to marry a second wife as long as he can take care of both women.
Regardless, Kazim Adeoti has been the topic of blogs and social media conversations for what many terms a 'reckless' decision based on the circumstances surrounding the marriage to his first wife, Funsho Adeoti.
Nevertheless, let's take a quick dive into the life of the Yoruba movie producer.
Kazim Adeoti, early life and background of founder Adekaz productions
Early life and background of Kazim Adeoti
Kazim Adeoti, better known as Adekaz, was born to the family of Alhaji Adeoti and Alhaja Adeoti. According to the BBC, the 49-year-old hails from a town named Orokun, under the Irepodun Local Government in Kwara state, but he was born in Lagos Island, Lagos State.
Kazim Adeoti had his childhood in Surulere, where his family house is located.
Before moving to Surulere, he attended Biodun Nursery and Primary School, Offa in Kwara State, after which he proceeded to Oro Muslim High School Oro and then the Nigerian Navy Secondary School, Ojo, Lagos.
From reports he ended up finishing his Secondary School at Surulere Secondary School Lagos and then gained admission into Kwara State Polytechnic to study Business Studies; along the line, he gained admission into the University of Jos to study Business Management that same year and then graduated in 2000 before he proceeded to the US in 2001.
Kazim Adeoti(Adekaz)Career
After arriving in the US, the movie producer, Kazim Adeoti returned to school and got a license to practice as a Mortgage Broker throughout his stay in the US.
During his stay abroad, Kazim Adeoti stayed in touch with his friends in Nigeria, and by 2005, he got the name Adekaz Production Limited as a business entity in Nigeria through a friend called Sheriff Ayanleke.
Fast forward to 2006, Kazim Adeoti made his production debut with his movie 'Ona Laafin' produced by Jaiye Kuti the movie has since gained traction and accolades for its awesome storyline and great production in the Yoruba movie industry.
Of course, Adekaz began to come into the limelight but before then, Kazim was already married to his first wife, Funsho Adeoti.
Adekaz and his two wives, Funsho Adeoti and Mercy Aigbe
Adekaz marriage and  Personal Life
The wealthy Yoruba producer, Kazim Adeoti married his first wife Funsho Adeoti in 2002, and their union was blessed with four children. However, after 10 years of marriage, Kazim Adeoti left the US to take a new wife.
In January Nollywood actress Mercy Aigbe and Kazim Adeoti, announced that they were a married couple. Mercy Aigbe even changed her name to Hajia Meenah to further endorse her marriage to the Muslim producer. 
Adekaz's marriage controversies
Ever since the big news of Kazim Adeoti's decision to marry Mercy Aigbe, scandalous comments have been renting the social media space with many people expressing displeasure at the union.
Funsho Adeoti, the first wife of the CEO of Adekaz Productions, Kazim Adeoti, erupted over her husband's marriage to Nollywood actress, Mercy Aigbe, saying everyone should disregard her husband's interview with a magazine where he claimed that the actress is his second wife.
According to Funsho Adeoti, the first wife of Adekaz, she was not properly informed of her husband's decision to marry a second wife, she claimed she discovered it online like everyone else.
The mother of four made other scandalous allegations against both parties, Funsho had claimed that Mercy Aigbe was the reason her marriage to Adekaz went sour.
"I never agreed with him to have a second wife in our marriage. Mercy Aigbe was my close friend who I trusted so much around my family because I liked her..........
...She has caused several problems in my marriage over the years but I am done now. She can have him. I have released him to her and left everything to God".
Funsho explained that Mercy had been having an affair with her husband and that all through the time she and Mercy Aigbe were friends-an allegation that Mercy has vehemently denied stating that she was never involved in any friendship with the first wife.
"When I did a surprise 40th birthday for my husband, I invited her and her ex-husband back then. She became my husband's side chick and started sleeping with him when her son was just 5 months. "
However, Adekaz reiterated that he had done nothing wrong as he was a Muslim and allowed to marry more than one woman. Funsho recently threatened the Yoruba producer and accused him and Mercy Aigbe of having a jolly time in a house that she allegedly built and furnished with her money.
Kazim refuted the allegation stating that he was the owner of the house and his first had only purchased a few kitchen accessories.