Kazim Adeoti breaks silence on new marriage to Mercy Aigbe
Kazim Adeoti finally opens up on controversial marriage and business with Nollywood actress Mercy Aigbe in new interview with Media Room Hub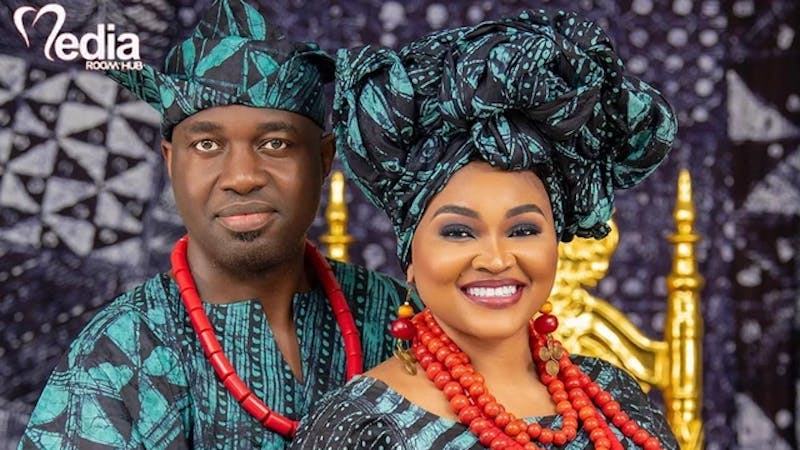 After the announcement of Mercy Aigbe's marriage to movie marketer, Kazeem Adeoti via her Instagram post last year, all hell was let loose.
The Nollywood actress was lambasted for getting married to someone else's husband.. Throughout the social media buzz of her new marriage, Mercy maintained her calm. 
Amidst the chaos and involving her name, Aigbe's new husband remained silent throughout the social media squabble. 
However, in the March 2022 issue of Media Room Hub magazine, Kazeem Adeoti finally revealed his take on marriage, business and relationship with his second wife, Mercy Aigbe.
Addressing the notion that Mercy was the reason for the failure of his marriage with first wife Adeoti debunked the news.
The business man disclosed that his family is based in the US and he has had to shuttle Nigeria and the US because of his movie business.
Still speaking on the issue, Adeoti revealed, "If people say we are separated, maybe it's because my family is not here with me in Nigeria. So, I'm good with my first wife, we are good together," Kazim said in the interview.
Kazim Adeoti and Mercy Aigbe
Although Adeoti confessed that he encountered issues in his marriage, he and his first wife(Funsho Adeoti) had smoothened all rough patches between them.
He also added that he was a Muslim and entitled to marry more than one woman" I am a Muslim and I am entitled to more than one wife—now I have two wives. I have two beautiful women and I'm glad."
Mr Kazeem Adeoti also opened up about his love life with Mercy Aigbe. According to Adeoti, Mercy had always been special and honest, especially in business and that's what got him attracted to the star actress, Mercy.
"Mercy has always been a business partner and I've always seen something very special. The first thing that got me attracted to her was that she was very open and truthful to me from the first transaction we had together,"
He further  revealed that when he gave her money for a movie production, the actress Mercy  returned some part of the money that remained after the production. Adeoti noted that he had never experienced such in his dealings with movie production.
The movie marketer Adeoti added that he had advised Mercy against leaving her first "abusive" marriage with her former husband, Lanre Gentry.
Apparently his counsel didn't go down well with Mercy and it affected their business relationship. However, love sparks began to fly after a movie produced by Aigbe became a success, which she sold to Adeoti.
In celebration Adeoti said he gave Aigbe some money and invited her for dinner; an act that eventually led to their marriage.
The couple made their relationship public knowledge in January 2022- it left the internet in a frenzy and many accused Mercy Aigbe of being a home wrecker and gold digger.
Mercy Aigbe reveals why she married Kazeem Adeoti
Mercy Aigbe also opens up on why she married Kazim Adeoti
Nollywood actress Mercy Aigbe recently disclosed the real reason she married Kazeem-a narrative that contradicts popular opinion that she married new husband, Adeoti Kazim for his wealth.
During her chat with MediaRoomHub, alongside Kazeem. The actress indicated she already had fame and fortune  before she decided to walk down the aisle with Adeoti.
According to her, Mercy married Adeoti because of love and her happiness. Aigbe said they complement each other and as such wouldn't describe herself as a gold digger.
" I'm not a gold-digger, I work hard for my money. All those influencing jobs you see me do, I charge huge sums of money—and my store is also the most followed on Instagram, so I make a lot of money from that too," she added.
Meanwhile according to popular notion, it is believed that Aigbe ended Kazim's already existing marriage.