Lateef Adedimeji emotional as wife, Mo bimpe throws surprise birthday party
Nollywood star, Lateef Adedimeji was born on Febraury 1, 1986.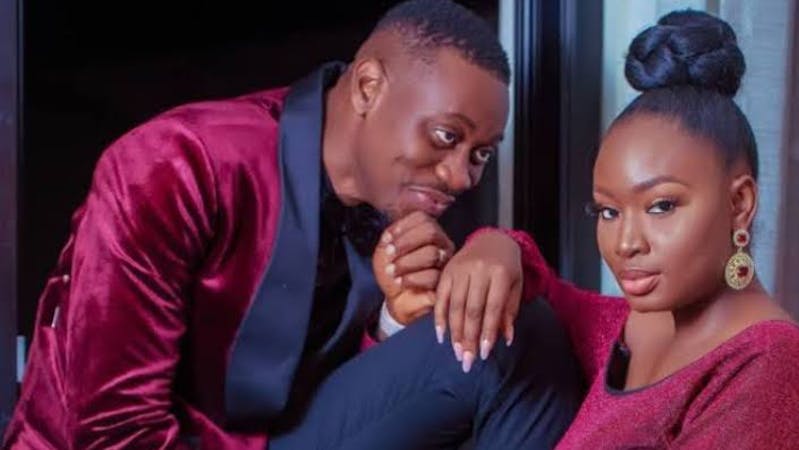 On Tuesday, February 1,Nollywood star, Lateef Adedimeji turned 36 in grand style as he received a suprise birthday party from his actress wife, Adebimpe.
In the close knit birthday party, Woli Arole, Jide Awobona, Okiki Afolayan, Aisha Lawal, Eniola Ajao and Adebowale Seilat amongst others were present to celebrate the actor, Lateef Adedimeji.
The excited actress, Adebimpe, Lateef's wife who had earlier penned cute messages for her husband, shared a video of the surprise party on her verified Instagram page on Wednesday.
She thanked all her well wishes and friends who attended the party for honouring her husband.
The pretty Adebimpe captioned the video, "How we celebrated my king @adedimejilateef. Thanks to my friends, sisters and family for showing up for us yesterday(Tuesday)."
In reaction to the birthday wishes, gifts and surprise party Lateef wrote a lengthy post appreciating everyone for honouring him on his special day.
He wrote, "It feels good to have people around; those that genuinely care, and those that go out of their way to show love and care. I feel honoured and to this minute, I still feel goosebumps all over me. How do I say thank you?
"Yesterday opened my eyes to a lot of things. Many of you left your personal routines to make my day even at very short notice. The surprise birthday party was lit and everyone present made me feel special beyond words.
"The kind words every one of you said will continue to ring in my head. The gifts remain special just as the pure intentions behind them. I could go on and on and words will only fail me. In every language I understand, I'm saying a heartfelt thank you.
The newly wed Adedimeji further praised his wife and bestie Adebimpe with heartmelting words.
" @Mo_Bimpe, my very own Rahmah, thank you, my woman. You keep outdoing yourself. You keep pulling your stunts in majestic ways. You're the true definition of the Comforter God promised me. Thank you and… I won't say it, wait for it."
Adedimeji's 36 year birthday anniversary is his first celebration as a married man.
Adedimeji and Adebimpe got married in 2021
When did Adedimeji get married 
Adedimeji Lateef got married to his long time colleague and friend, actress Adebimpe Oyebade.
The beautiful couple tied the forever knot their forever love journey on Saturday, December 18 and shared the heart-warming moments with us via photos and videos on social media with the words.
Prior to their marriage, the pair were rumored to have been dating in 2019, but Adedimeji and Adebimpe debunked such claims simply stating that they were just good friends.
By 2020, fans were certain that the Nollywood actor Lateef and actress Bimle had tied the knot after they started sharing traditional wedding pictures.
Lateef and Adebimpe maintained their earlier stances that they were just friends and we're modelling for an also ebi brand.
In fact, Adebimpe vehemently reiterated her stance. She made it clear that she can't get engaged to someone in the spotlight and being rumoured to be in a relationship at one time or the other is one of the prices that come with being a celebrity.
The irony of the whole matter is that both Lateef and Adebimpe are now happily married.
The couple are well known actors in the Yoruba and Nollywood industry.