Mercy Aigbe, 7 actresses who found love with other women's husbands
Actresses in Nollywood have been tagged "husband snatchers' and all sorts of names by the public.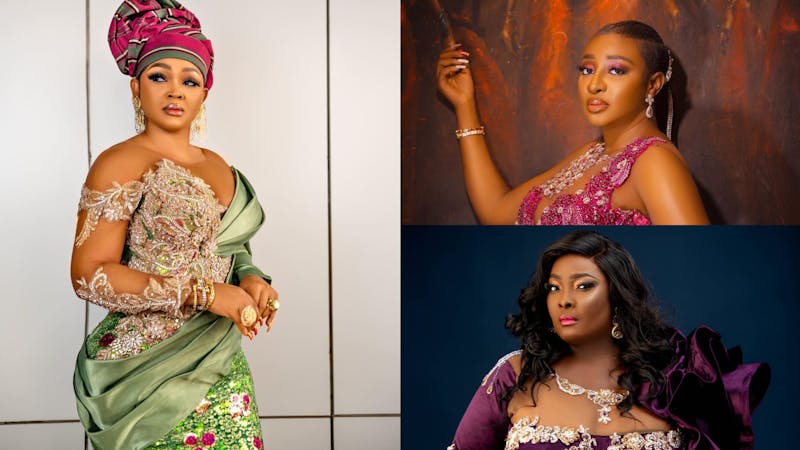 The arrival of scandals plaguing Nollywood actresses on account of marriage decisions has been on the rise lately.
And most Nigerian celebrities have spoken about the craze of finding suitable partners to love and care for them.
Some female celebs even argue that single men are immature and broke, hence the pursuit of married men.
Many times Nollywood actress relationships with second hand men workout and other times the marriage or relationship could crash.
Here are 8 famous female Nollywood babes who have dared to find love with other women's husbands.
Mercy Aigbe and Kazim Adeoti
1. Mercy Aigbe
Nollywood fashionista and actress, Mercy Aigbe has taken several shots at love and marriage.
Mercy was initially married to an Igbo man, who she had her first daughter with; they got divorced.
Later on Mercy Aigbe met her estranged hubby, Lanre Gentry and they got married in 2013: Lanre was previously  married to Temitayo based in the US with their kids.
Mercy and Lanre had  two children (Juwon Gentry and Michelle Aigbe). In 2017, trouble began in their paradise, Mercy shared photos of her battered face and allegedly she was assaulted by her husband, Lanre.
Subsequently, the couple got divorced due to claims of violence for Lanre and infidelity for Merch.
On Tuesday, 25 January, 2022, Mercy Aigbe revealed her new husband to the public, Kazim Adeoti. According to reports they got married secretly in December last year. Mercy Aigbe refers to herself in captions as Hajia Minnah.
Their union has sparked lots of controversies as Kazim Adeoti is still legally to Funsho Adeoti-with whom he shares three kids. 
2. Ini Edo
Ini Edo is a popular Nigerian actress recognized for her acting talent and gorgeous appearance.
In 2008 she tied the knot with her American-based hubby, Phillips Ehiagwina. After one year, a 'Ruth Okoro', surfaced stating allegedly she was Phillips' wife (as at that time).
At that time Rith penned an open letter to the actress, warning her to leave her husband alone.
Ini Edo and Philip continued their love story, but unfortunately in 2014, the couple broke up. Fortunately for actress Ini Edo, she had no child from the marriage to Phillip.
Ini Edo has stayed put since then but has now become a mother via surrogacy.
Mercy Johnson and Prince Okojie
3. Mercy Johnson
Curvy Mercy Johnson was Nollywood's most sought out actress at a time.
Mercy Johnson married Prince Odianosen Okojie in 2011 and they have four children. In 2011, estranged wife of Prince, Mrs. Lovely Okojie sent out an open letter to Mercy Johnson to please release her husband and find a single man to marry.
At this point Mercy Johnson was in Europe shopping for her wedding to Prince Okojie. Lovely Okojie claimed that Prince Odi Okojie is the father of her two children and he was still legally married to her at the time.
Nuella Njigbo and Tchidi Chikere
4. Nuella Njubigbo
Nuella Njubigbo on 29 March 2014, got married to film director Tchidi Chikere who was previously married to actress Sophia Chikere for six years, a union which produced 3 kids in her family compound in Anambra State.
Nuella Njubiogo's relationship with Tchidi did not go down well with the public.any described Nuella as a homewrecker.
Stella Damasus and Daniel Ademinokan
5. Stella Damasus
Beautiful Stella Damasus certainly made history with the kind of men she has been with.
Stella was first married to Jaiye Aboderin in 1999 at the young age of 21 years.
Jaiye Aboderin and Stella had two beautiful daughters before Jaiye's tragic death in 2005.
After 2years,  in 2007,  Stella Damasus gave love a second chance and remarried, Emeka Nzeribe. The marriage lasted for seven months before both parties agreed to get divorced. 
However, things took a different turn when reports in 2011,stated that she was having an affair with Daniel Ademinokan- Nollywood producer and director Daniel, who was married to actress Doris Simeon.
Their relationship was the talk of the town, although the couple never publicly addressed the notions in 2014, the couple got married.
Foluke Daramola and Mr Salako
6. Foluke Daramola
Popular Yoruba actress Foluke Daramola and Babatunde Sobowale, son of former Lagos State Commissioner of Education, Professor Idowu Sobowale got married in 2005, and in 2008, their union came crashing on allegations that the actress was being battered by her husband over accusations of infidelity. Their union produced two children. Foluke later got married to Kayode Salako who is an activist and the owner of a private school on February 15, 2013. Reports have it that prior to her marriage to Mr Salako, he was previously married to Olubukola Salako happily married for 13 years before the woman left with her three children.
Foluke Daramola and Kayode have waxed stronger in their love for each other.
Credits to Instagram/ronkeadesanya
7. Ronke Odusanya
Famous Yoruba actress, Ronke Odusanya, who is popularly known as Flakky Ididowo, secretly tied the nuptial knot with Femi Anibaba in 2014, according to reports.
 Femi Anibaba was married to Folape Sokoya for 12years with 3 kids before Ronke stole Femi's heart forever.
According to Folape, Ronke snatched her husband of 12years, the legal wife dragged Ronke(Flakky) on social media for refusing to leave her hubby alone.
Meanwhile, the actress denied claims that she married Femi
According to her press release  to Stella Dimorkus, she and Femi Anibaba never got married. Although he asked her out, she withdrew after his wife came after her on social media.
Ronke is currently involved with her baby daddy  with her lover, Olanrewaju Saheed; they welcomed Fifehanmi on Monday, August 19, 2019.
However, Olanrewaju Saheed, aka Jago requested for a DNA paternity test last year.
Funke Akindele and Kehinde Oloyede Credits to Instagram/funkeakindele
8. Funke Akindele
Jenifa's diary producer and lead actor, Funke Akindele was previously married to Mr. Kehinde Oloyede in a flamboyant wedding in 2012.
Funke Akindele was one out of many wives that Mr Oloyede had-according to her, the marriage was hell and almost destroyed her career.
In no time Funke had pulled out of the marriage to Kehinde Oloyede-father of six from three different women. 
Later on, Funke married Nigerian rapper Abdul Rasheed Bello, known as JJC Skillz, in London in May 2016 and they are parents to twin boys.