Mercy Aigbe receives heavy backlash after revealing new lover
Nollywood actress Mercy Aigbe is married to family man Kazim Adeoti-who is friends with Lanre Gentry, her former husband.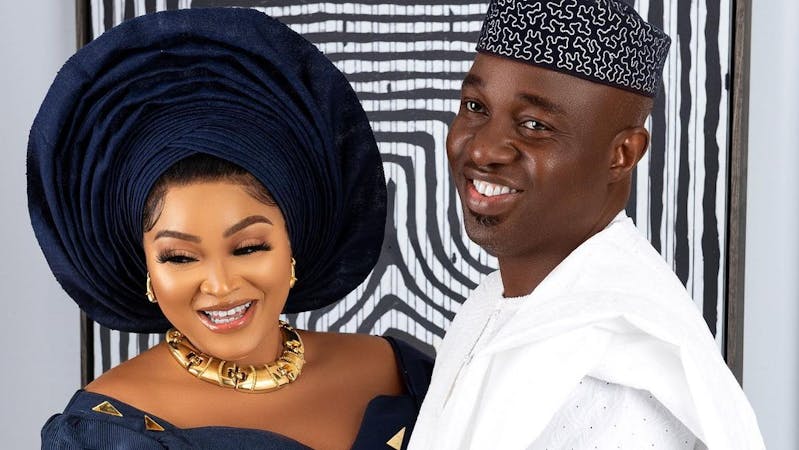 Popular slay queen and Nollywood actress Mercy Aigbe has found love again.
On Sunday, January 23, 2022, the fashionista actress unveiled the new man Kazim Adeoti in her life via her Instagram page on his birthday.
"It's my Boo's birthday in a bit 🎊🎉💃 Cc @kazimadeoti thank you for being amazing 🙏❤️," she captioned the photo
Nollywood actress Mercy Aigbe further penned a lovely note to celebrate her new lover Kazim Adeoti on his birthday.
The movie star took to her Instagram page on Monday, January 24, 2022, where she described him as her pillar and also her source of happiness
"Handsome Bobo 😍 Yeah!!! Finally, it's here!!!! Happy birthday to a Great Man, a man of honor, amazing personality!!!!! Your heart is so pure! Selfless in all ramifications!!! An astute businessman ( my mentor when it comes to business 🙌), super hardworking, real estate mogul, best movie marketer! My bestie, My reality check, My gist partner!" she wrote.
"You do so so much for people around you, you are a rare Gem! A very good man, a great partner! Thank you for being a Pillar, Thank you for being a source of happiness, thank you for your endless support at all times! I am so blessed to have you in my corner 🙏🙏😍."
"As you add another year today I, pray to Almighty Allah to continue to increase you in every area of your life! Grant all of your heart desires, abundant wisdom, more blessings, good health ,and long life! Atanda, Today I celebrate God's Grace in your life! Happy birthday Ade Omo Ade 🎉💃🎊🎊🎊🎊."
Credits to Instagram/realmercyaigbe
Who is Kazim Adeoti?
Kazeem Adesoji Adeoti is famously known as Adekaz.
A popular name in the Yoruba movie Adeoti is the founder and chairman of Adekaz Production Limited.
He is also a partner/investor with IbakaTV.
ibakatv is a Video-on-demand platform for Nollywood movies.
According to blogger reports , Adeoti is married to Funsho Adeoti with kids. 
Mercy Aigbe and Kazim Adeoti
Recall that last year, on April 1,the actress shared a photo and short video of her getting an engagement ring via her Instagram page.
"Finally , I said Yes to 'D' Owner 😍 Thank you, God, of many chances 🙏🙏," she captioned the photo.
"My joy knows no bounds 💃 Agbeke Aya 'D' Owner 😍😍," she captioned the video.
According to Vanguard News reports Mercy Aigbe further revealed that she and Kazim Adeoti got married in December of 2021 quietly. The actress has also confirmed their marriage in a recent video shared on her Instagram page
Mercy Aigbe's marriage to Kazim Adeoti is not her first marriage.
Mercy was formerly married to Lanre Gentry.
Lanre and Mercy parted ways after a 7-year troubled union, repeatedly leading to violence and public dramas. While Mercy accused Lanre of domestic violence, Lanre accused the actress of infidelity.
Many have wondered who Mercy's new man is in the industry.
Funsho Adeoti and Kazim Adeoti
Who is Funsho Adeoti?
Funsho Adeoti is the ife of Kazim Adeoti and has children for him.
She has also spoken up about the recent development with her husband.
In reaction, Funsho Adeoti, in a post shared on her social media page, appreciates everyone stating that losing a person who doesn't respect or appreciate someone is a gain and not a loss.
"Losing someone who doesn't respect or appreciate you is actually a gain not a loss… thank you all "/she wrote.
According to Kemi Filani news, a family source close to Funsho Adeoti, the wife of Kazim Adeoti, recently made some shocking revelations about him and Mercy Aigbe.
Reports from Kemi Filani further confirm the claims that Mercy Aigbe snatched Kazim from his wife.
Based on ca hat with Instagram blogger, Gistlovers, a source close to Funsho ,alleged that Mercy Aigbe was sleeping with multiple movie marketers, including Kazim Adeoti, when she was still married to Lanre Gentry.
The chat also revealed that six months ago, Kazim Adoti and his wife were still on good terms, and since news of marriage to Mercy Aigbe was made public, his family members have been begging his wife, Funsho.
It seems Kazim's relationship with Mercy Aigbe has set off the wrong reactions everywhere as fans and even Lanre Gentry, Mercy Aigbe's former husband reacts 
Mercy Aigbe and Kazim Adeoti
Reactions
After the actress's announcement Gentry took to his Instagram page on Sunday, January 23, 2022, where he shared a throwback photo of Aigbe, Adeoti and himself at an event.
"At last I, thank God the truth is out this is just one out of many to God be the glory. I don't need anyone's comment please," he captioned the photo.
Gentry accused the actress of infidelity during their messy breakup.
Gentry is not the only one who had something to say about the actress and her new lover.
Nigerian media girl Shade Ladipo also threw shades at the actress.
In a post shared via her Instagram Stories on Monday, January 24, 2022, Ladipo expressed her distaste for the movie star's decision to date a married man.
"So you see a married man with a whole family an,d you camp there. You don't see your worth being beyond second fiddle or a possible fa,my destroyer," behavior
"How are you even attracted to a married man? uggghh. You are over 30 and still sleeping with married men ,then I feel for you (under 30 ,you are still foolish so I excuse your behaviour). Sorry because you don't know your worth."
The actress, Mercy Aigbe w,ho is currently trending on social media since her announcement l, eft some fans are commending  Mercy Aigbe's bravery at giving love a chance again w. In contrast, others have lashed out at her for snatching someone else's husband.