Nancy Isime: The biography of one of Nigeria's leading TV personality
Nancy Isime is the first female to host the Voice Nigeria and she recently hosted the 16th edition of The Future Awards Africa in February, 2022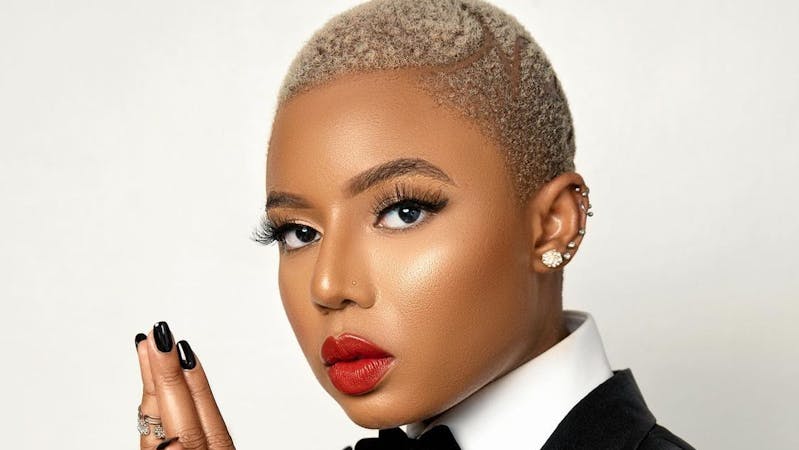 Anyone would agree that Nancy Isime is a remarkable TV personality, who doesn't just charm with her looks, but her versatility in her career as an actor, model and TV host.
Within the decade Nancy Isime has achieved impressive feats-feats many have tied to "fine girl" privileges and sheer luck. But for anyone who understands the rules that govern success and relevance in the Nigerian entertainment industry, it is obvious that 30 year old Nancy Isime has worked her heart out to be where she is today. 
During an interview with famous news site, the BBC, Nancy speaks on how early she began her hustle for relevance.
" I started working at the age of 17. I worked as an usher at events. From there, I started modeling.
 Some of the things I did, I didn't expect would get me to where I'm today, I was trying to save money here and there to exit the country and start working abroad." She said.
This award winning TV personality has proven over time, that she's not just a beauty, she's also brainy. She is currently the host of TV program "The Nancy Isime Show" which has aired for three seasons. The show has interviewed the likes of Don Jazzy, Timi Dakolo, Omawunmi and others.
However, to understand the personality of this TV Diva, we have to take a look at her story through her biography and networth.
Nancy Isime's story
According to reports, Nancy Isime was born to parents Mr & Mrs Isime in December 1991.
Hailing from Esan, Edo State, she attended primary and junior secondary education in Lagos.
Nancy told blogs and even BBC pidgin that her mother had passed away when she was five years old. Isime grew up in Lagos and Benin City under her father's care.
Growing up under her father, a disciplinarian, Nancy opened up about her struggles with depression and suicidal thoughts. She said it was something she battled for a long time.
She is an alumnus of the University of Lagos, from where she bagged a diploma in Social Work, and the University of Port Harcourt, where she did a six-month course. The Talk show host began her career pretty early.
Nancy Isime's career
Nancy Isime got her first nod at entertainment after she won the Miss Valentine International beauty pageant in 2009. This was followed closely by her first runners-up position at the Miss Telecoms Nigeria pageant.
From here, her modelling career took a significant turn hit, and she worked for popular brands like Konga Online, House of Marie, Shakara Couture, Ade Baker, Zizi Cardow, and Adebayo Jones, others.
In 2011, she began her career as an actress in the TV series Echoes. She also appeared in various films in the year 2014. Nancy's versatile talent made it possible to add TV presenting to her juggle in the industry.
She hosted the famous gossip show The Squeeze - her first presenting job, a technology show called What's Hot, and a backstage segment of MTN Project Fame Season 7. 
By 2016, she replaced Toke Makinwa as the presenter of the popular show Trending on HipTV. In 2019 she co-hosted the edition of The Headies award with Reminisce; she was also the presenter of the voice Nigeria 2021.
In 2019, Nancy Isime launched her TV show, called 'The Nancy Isime Show'. The show has aired for three seasons and is sponsored by various leading brands.
Nancy Isime is a recipient of many awards and nominations
Nancy Isime Award and Recognition
•Nigerian Broadcasters Merit Award nominee for Female On-Air Personality (OAP) – 2016
•Model of the Year at the Nigerian Model and Achievers Award – 2016
•In 2016, she was voted City People Entertainment Award VJ of the Year.
•In 2017, she also won the 2017 Future Awards Africa (TFAA) prize for Best On-Air Personality (Visual). 
•Most Stylish Emerging Actress of the year at the SEWAF Style Awards – 2017
•Best Supporting Actress (English) at the City People Movie Awards – 2019 
•Honouree at La' mode Awards – 2019 
•Nominated for the Best Actress in a Leading Role (English) at the Best of Nollywood (BON) Awards – 2019 
Nancy Isime dressed in Benin traditional attire
Is Nancy Isime married? 
Nancy Isime is one of the most sought after TV personality, making her the ideal bachelorette. And it is no surprise that Nancys fans have wondered about her love life orareiage status.
As of the time of this article, Nancy Isime relationship status is not yet known as she doesn't disclose thr business of her love life. She is also not married to anyone at the moment.
Although 30 year old Nancy in interviews has never been quiet on the topic of who her ideal man, going as far as revealing the kind of man she prefers to date or rather be in a relationship.
She mentioned that she likes dating an ambitious man with goals, and a man who is dynamic and hardworking. She emphasized that she cannot date broke men at all. 
Of course, for a woman who is financially independent in the Nigerian entertainment industry, Nancy wouldn't settle for less.
Regardless of Nancy's achievements and financial status, there have been rumours surrounding her success as a model, actress and TV host.
Nancy Isime is a model, actress and TV personality.
Rumours, challenges, criticism
In an interview, Nancy revealed that her entire career journey and growing up had been quite a challenge. She has been through disappointment and harassment at some point in her young life. 
Recently, a blogger called Gist lover accused the actress Nancy Isime of being in a romantic relationship with a married man, identified simply as Michael.
In a post that trended across social media platforms, the blogger alleged that Nancy's secret lover had been responsible for her extravagant lifestyle, including a recent trip to Istanbul, Turkey.
The post read, "See if you sleep this night you are on your own ooo, this story na segment, things people do for money go shock una ooo.
"Meet the married olosho man behind aunty Nancy Istanbul trip, see make everywhere scatter make me sef run comot on top him app, una fit collect this page too, I no send anybody papa again, eh feee ku, I come in peace."
In response, Nancy said that the man in question was only a sponsor of her show, "The Nancy Isime Show".
Despite all these claims and accusations, Nancy has continued encouraging the upcoming youths to keep going and working hard. Saying that she has continued to work hard and give her all to the craft. The dynamic TV personality has acted in several movies over the span of her career.
Nancy Isime movies
The Edo State-born has a stellar portfolio of the following movies in the bag.
•Hex (2015)
•Tales of Eve (2015)
•On the Real (2016)
•A Trip to Jamaica (2016)
•Hire a Man (2017)
•Finding C.H.R.I.S (2017)
•The Surrogate (2017)
•Treachery (2017)
•Kanyamata
•Tempted
•Guilty
•Kylie's Quest
•A Better Family (2018)
•Club (2018)
•Johnny Just Come (2018)
•Liars and Pretenders (2018)
•My Name is Ivy (2018)
•Sideways (2018)
•Disguise (2018)
•Merry Men: The Real Yoruba Demons (2018)
•Don't get mad get even (2019)
•Hire a Woman (2019)
•Adaife (2019)
•The Millions (2019)
•Beauty in the Broken (2019)
•Another Angle (2019)
•Merry Men 2 (2019)
•Levi (2019)
•Living in Bondage: Breaking Free (2019)
•Made in Heaven (2019 film) (2019)
•Kambili: The Whole 30 Yards (2020)
•Creepy Lives Here (2021)
•The Razz Guy (2021)
Nancy Isime is living her best life
Nancy Isime Networth
Nancy Isime is on her way to becoming one of the wealthiest TV hosts in Nigeria, with a net worth of  $1.5 million. Most of her finance comes from her TV host gigs, acting roles and modelling jobs.
She also makes money from endorsement deals for beauty, food and fashion products.