Nollywood actress Toyo baby calls out Pastor Timi Adigun
Olayode Juliana popularly known as Toyo baby asks Pastor of MINE ministry Timi Adigun to release her passwords and leave her alone!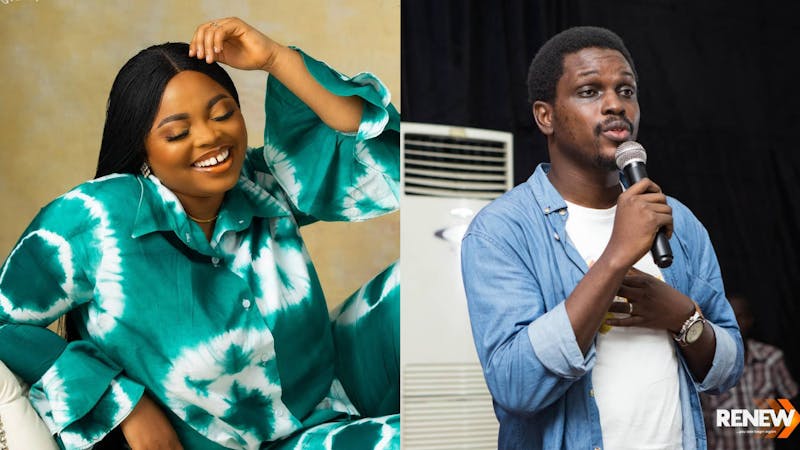 Jenifa's diary actress Olayode Juliana aka 'Toyo Baby,' has called the Pastor of MINE ministry, Timi Adigun, to release passwords to her social media pages. Teary-eyed, the actress shared an 11minutes video on her Instagram page where she narrated her recent encounter with the man of God after their 2020 social media spat.
According to Olayode's narration in the video, a young man reported that a 'Timi Adigun' had "unpublished her Facebook account."
'.......this guy asks me who Adigun Oluwatimilehin is, and I immediately call him, why are you asking me about him?
'He says that Timilehin Adigun unpublished my Facebook page.'
Olayode said the information made her angry, and she recounted how she should have retrieved the passwords in 2020 but only withdrew due to the intervention of people around her. 
She further explained that Timilehin Adigun impersonated her on Facebook and uploaded a picture of him and his wife. The young actress said she immediately shared another post on her Instagram asking people to report the Facebook post.
'" I remember when Timi Adigun did a post on my Facebook page, impersonating me, put up a picture of himself and his wife."
"He has all my passwords, it was one of my sisters that took a screenshot and this was in the middle of all the chaos that happened in 2020."
Still speaking on Timi Adigun allegedly unpublishing her page, the actress said she called his wife, insulted her, and sent what she described as a 'nasty text' to Adigun and the wife. 
After the incident, the 26-year-old Olayode Juliana, accompanied by her sisters, went to Timi Adigun's church concerning the incident.
Olayode Juliana aka Toyo baby called the Pastor of MINE ministry out for refusing to release her special media passwords
Toyo baby confronts Timi Adigun
 Juliana claimed that after she requested the passwords to all her social pages the pastor got angry after something she said.
According to her, Timi Adigun raised his voice and questioned the way she addressed him.
The man of God also called security to throw her and her sisters out of the premises, she added.
Out of options and tired, Juliana decided to put out the video calling the Pastor out.
I know some people are going to call me and say all sorts but I AM TIRED!!!
To some people, this might be a wrong move, and some might prefer I stay quite but I am honestly TIRED!!!! And I am not going to shut up.
I DON'T KNOW WHAT Timilehin Adigun wants from me, I really don't know.
There is so much I want to say but I don't even have the words to express it.
I also know that people are going to have different opinions about it.
Right now, I don't want anybody calling me or texting me to tell me how to go about my life, what to say or what not to say, what to do or what not to do, nobody should tell me what the spirit is saying to them oraskl me to think about the church and the body of Christ. I don't want to hear any of it.
I don't understand why I am having to pay or stress to get my stuff from a guy who is sitting in his mother's school doing nothing.
I want my passwords, for goodness sake,e and I want Timilehin Adigun to leave me alone! Juliana captioned the video
You can watch the full video here
However, Juliana's video has raised questions about her relationship with Timilehin Adigun and why he has all her passwords.
Timi Adigun used to be Olayode Juliana's foster father. Things went sour between "father and daughter" after the drama in 2020.
Toyo baby and Timi Adigun's relationship history
In Juliana's book "Rebirth" published in 2016, Olayode spoke about how Timi Adigun of MINE Teenage ministry took her in and adopted her as his foster daughter.
In 2020 things went sour after the clergyman was involved in a sex scandal with several teenagers under his care.
According to reports he started the "Father Me" series where he encouraged people to submit to fatherhood, only for him to use the opportunity to allegedly molest those girls who took him as a father.
 The clergy man admitted that the allegations were true and apologized to the public.
"The truth is, I was involved in inappropriate behavior with females over a couple of years. I went against the sexual purity message I preach and believe in."
He, however, stated that "there was no sexual intercourse with any" of the girls and "none was a minor."
Ever since then Toyo baby as Juliana is fondly called for her role in Jenifa's diary dissociated herself from the Timi Adigun and wife.