Nollywood Fashion Queens: Toke Makinwa, Tacha, 6 other actresses who dress to kill!
Toke Makinwa, Ini Dima Okojie and Lilly Afegbai join the list of fashion influencers in the beauty and style industry in Nigeria.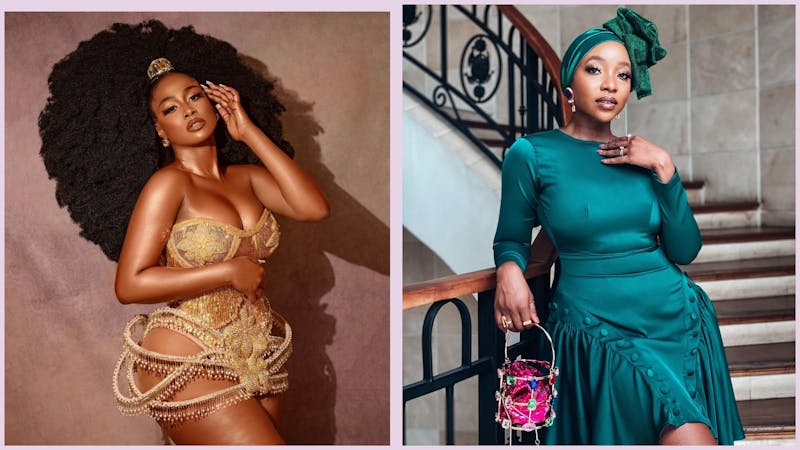 The world of entertainment is filled with glitz, glamour, and shimmering lights. To stay relevant and make headlines is a combination of style, finesse, and talent. And some of these female celebrities always bring their A-game when it is time to play dress up.
Are you looking for some style inspiration? Then these female Nigerian celebrities never disappoint, from Street fashion to boss lady and then classy, prim, and perfect.
As a star maintaining celebrity life and a fashion sense is no walk in the park, but these fashion icons have managed to pull it off every single time.
Here are Clacified's top 10 Nigerian female celebrities in no particular order who are killing it in fashion.
Credits to Instagram/symplytacha
1. Tacha
If every day were a party, Tacha would never run out of drop-dead gorgeous outfits. Anita Natacha Aikido, aka Tacha, was a former housemate on Big Brother Nigeria season 4.  On Day 90, she was ejected from the house after getting into a messy fight with Mercy Eke.
No doubt, Tacha has come a long way in her fashion and style journey and has been on a slaying spree since the start of the year 2022.
Known for her breathtaking looks that leave a lasting impression, Tacha has worn outfits from Xtrrabrides, Medlin boss, etc
Whether in form-fitting dresses or loose clothing, Tacha always understands the assignment. On Valentine's day, the Nigerian influencer, Tacha, rocked a mini skirt with dramatic sleeves and illusion cutout detailing around the bodice. The pretty face matched the look with bold, rocked makeup, and wore her hair in a high bun.
With Tacha, every day is an opportunity to look her best.
Credits to Instagram/tokemakinwa
2.Toke Makinwa
Think about a style that is stunning, classic, and daring; Toke embodies all of that.
Never be caught unfresh, Toke Makinwa is a star, and she owns it.
A combo of bougie and sassy the 41-year-old OAP would give Kim Kardashian a run for her money if they were both in a fashion competition.
If anyone is looking for a style queen then Toke's head fits the crown. For every time she shows up everyone gives it up for the baby girl.
Credits to Instagram/nancyisimeofficial
3.Nancy Isime
The Nigerian actress and TV host never fail to turn on the heat with her outfits, either at premieres or award night events.
Nancy's style accentuates class, elegance, and a bit of mystery.
Even though she's always in the media, her fashion impressions are often unpredictable. At 30 years old, Nancy Isime has shown that hard work, and style go hand in hand, from her all-white birthday party last year, to her killer outfits for the Future Africa Awards.
Of course, where there's a Nancy Isime, there's always an outfit to catch our fancy!
Credits to Instagram/sharonooja
4. Sharon Ooja
In the fashion business of Nollywood, Sharon Ooja is on a mission of no mercy. Apart from being a beauty and a brain, Sharon is a fashion genius armed with delectable outfits that put the onlooker under a spell.
The Cloture superstar actress dazzles in unique outfits that speak volumes of her creative approach to adopting new fashion trends.
No doubt Sharon Ooja is a stunner and we love to see it.
Credits to Instagram/realmercyaigbe
5. Mercy Aigbe
This list can't be complete without the charismatic aura of Mercy Aigbe's fashion style. Fashion inspiration for brocade, rich laces, and Ankara, Mercy Aigbe's style combines 
Credits to Instagram/lillyafe
6. Lillian Afegbai
Nollywood actress, Lillian Afegbai's fashion sense is undeniably top-notch.
The Big Brother Africa 2014 housemate Lilian Afegbai plays between cool and chic off-duty style. A show stopper, in 2018, Lamode Magazine awarded the 28-year-old an award for Most Fashionable Celebrity of the Year. She has featured in numerous movies including 'Moms A War, Merry Men, Tinsel' and a host of others.
Credits to Instagram/realmercyaigbe
7. Ini Dima-Okojie
Anyone who has seen Nollywood actress, Ini Dima Okojie would agree that being  fashionable and stylish is a walk in the park for the movie star. Exuding an effortless gift to charm her way with lovely outfits, Ini Dima is a fashion inspiration all year round.
Credits to Instagram/Ini Edo
8. Ini Edo
Glamour, fashion, high class, and beauty, these are labels to define actress Ini Edo's fashion style.
Not just a Nollywood sweetheart, the dark skinned actress turns up the heat every single time with her high fashion sense.
Ini has understood the mastery of never to be caught unfresh with her exceptional outfit combinations and figure-flattering outfits. For every time Ini Edo steps out, it's always a complete kill and fashion police has nothing on her.