Olamide teases release of Fireboy's 3rd studio album
YBNL Nation King, Olamide threatened to release Fireboy's third studio album.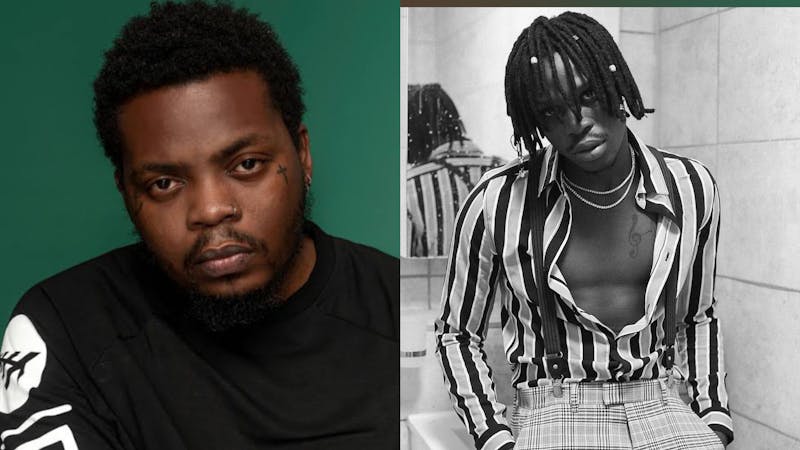 The number one rapper of the YBNL Nation, Olamide tweeted on the birdie all about Fireboy's third studio album on February 9, 2022.
Olamide jokingly added a threat to release his artist, Fireboy's upcoming third studio album.
In the tweet, he wrote, "I've had fireboy 3rd album with me since October 2021 and I'm tired of listening to it alone.. if you have his number, kindly call him n let him know I'm gonna leak it if he no pick next single n let's drop the album."
As usual, fans began to tease the relationship between the Chairman and his artist. 
In reaction, Fireboy shared the release date for his album.  Replying with laughing emojis, the "Jealous" singer wrote 
 "Next single next month! the third album before summer!"
Olamide then retweeted with a quote,
"Okay now ... Oya now .. let's goooo...."
Fireboy has 'Peru' from the album and also revealed that the album will feature Asa. Recall, that Fireboy made his music debut with smashing hit single "Jealous" in 2019. The song received massive airplay and positive reactions.
The 24-year-old Fireboy laid the foundations for his career after the studio album Laughter, Tears and Goosebumps was released on November 25, 2019.
Laughter, Tears, and Goosebumps album is a 13 track R&B project without feature guests or artists. Already it was supported by his previously released "Jealous," "What If I Say," and "King."
Basking in the euphoria of his success in 2019, the dread head singer Fireboy released "Apollo" on August 20, 2020.
Apollo is a long list of 17 Fireboy Songs;  Champ, Spell, Eli, Tattoo, Favourite song, Newyork city girl, Lifestyle, Airplane Mode, 24(Interlude), etc.
The album featured 3 A-List artists as; rapper D Smoke, Wande Coal, and Olamide. An award-winning artist, Fireboy DML has bagged numerous titles and awards(Headies, Sound City Awards, etc.)
Fireboy also made a musical appearance on The Tonight Show, starring Jimmy Fallon, and performed a medley of the songs "Vibration" from Tears, Laughter and Goosebumps, and "Champion" from Apollo.
Credits to Instagram/fireboydml
Fireboy was awarded the Audiomack Plaque for hit 350 million streams on the platform.
Recently, the Afrobeat superstar, the singer was awarded by music streaming platform Audiomack after surpassing over 350 million streams on the platform
The Afro-pop sensation and "Peru" crooner released his debut album Laughter, Tears, and Goosebumps which garnered up to 153 million streams, and his sophomore album "Apollo" which had instant hits like 'Champion'.
The award plaque was presented to Fireboy DML by Jason Johnson, Vice President of Marketing and Brand Strategy for Audiomack at the Audiomack head office in New York City.
"In less than 4 years, Fireboy has made a mark in both the local and global music industry and we are very excited to commemorate the incredible feat of over 350million streams on Audiomack.
"At Audiomack, we believe in acknowledging and awarding talents for the milestone they have achieved in streaming and our goal is to highlight the hard work artistes are putting into their careers digitally and the contributions of supporting stakeholders including management teams, fans, and industry players like Audiomack.", said Jason Johnson.
" Peru" became a global sensation last year after, Ed Sheeran paired with Fireboy on the remix of the song. The song went on to hit 10 million streams on Spotify.