Old Nollywood: Top 9 films that no one will ever forget
If there is anything to remember old Nollywood for it's the great stories that will forever be ingrained in movie memory.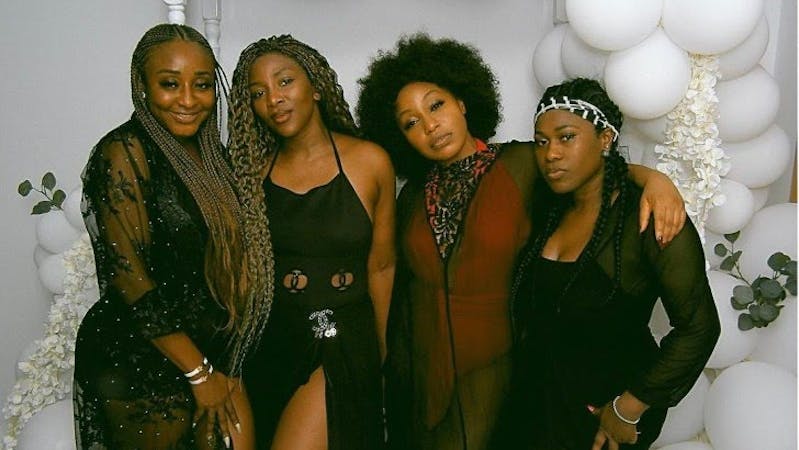 Old Nollywood was a vibe that year and even now many people can relate to the characters and the story line.
Funny fact, last year there were banters on Twitter comparing the new Nollywood films to the old one. Anyway, we have to give it to old Nollywood. The stories were top notch and some were downright  hilarious.
As the tradition of throwback Thursdays here are top 10 films from old Nollywood that Nigerians will never forget.
If you are a fan of Nkem Owoh, raise your hand! No jokes, this 2003 Nigerian comedy film produced and directed by Kingsley Ogoro and starring Nkem Owoh-is arguably one of the highest grossing Nollywood films in history. Nkem Owoh's role in the movie as Osuofia- a village man who becomes sole beneficiary of his brother's property in London after his demise was the breakthrough to being famous in the industry.
You can call the movie a comedy of errors but Osuofia's adventure in London after the demise of his brother Donatus would leave even the saddest person shaking with laughter. The movie also starred Mara Derwent who plays the role of Donatus' fiancee(Samantha),
The movie was followed by a 2004 sequel titled Osuofia in London 2.
2. ABUJA CONNECTION
The 2003 Nollywood action thriller starring Clarion Chukwura-Abiola portrays the struggle for Power, Money and how the influential connections in Abuja, the capital of Nigeria, can bridge the line between poverty and wealth.
Abuja Connection was directed by Michael Ezeanyaeche. It also starred the charismatic Eucharia Anunobi, Ngozi Ezeonu, Chidi Mokeme and others.
This Nollywood blockbuster was definitely packed with everyone's favourite celebrities. The story line was controversial laced with emotional entanglements, scandals, betrayals and drama.
Games women play follows the life of three friends and the gimmicks in their love life.
One, Nollywood actress(Genevieve) who decides to test her fiancé's (Desmond Eliot) love for her by sending a close friend (Omotola Jalade Ekehinde) to seduce him. Her "fiancé fell head over heels in love with Omotola, and chose her over Genevieve Nnaji.
The second is a happily married woman (Stella Damasus), who faces her past when her  husband (Zack Orji) brings his best friend (Bob Manuel) to live in their house.
Released in 2005, directed by Lancelot Imaseun, and produced by Rob Emeka Eze and Emem Isong.
The movie featured the likes of Genevieve Nnaji, Omotola Jalade Ekehinde, Stella Damasus, Desmond Eliot, Zack Orji and Bob Manuel Udokwo.
More interesting is that these l
You'll see the lives of three friends and how their love lives play out after they play a game with irreversible consequences
Talk about the movie rave of 2006 and Girls Cot will rank no.1.
Directed by popular film director, Afam Okereke(Beyoncé and Rihanna), recounts the story of the sassy daughter of a Vice President who lures her three gullible roommates into the murky waters of seduction and influence.
These four babes in university end up blackmailing and scamming most of the government officials in the country. The ending is not great but the irky storyline is worth the watch.
Sharon Stone the movie starring Genevive Nnaji
5. SHARON STONE
You have never seen Genevieve Nnaji play a character more dangerously!
The movie from 2002 opens up about a female casanova. Yes, you read that right. Sharon Stone is described as the greatest player that ever lived(according to the movie).
 Drawing on lack of sympathy and a stone cold heart, Sharon goes around stealing jars of men's hearts and leaving them wretched, broken and ruined.
She is the badass girlfriend of 3 men who all propose to marry her, and she plays all three. Genevive does a good job portraying the ruthlessness of her character, lying her way out of trouble all the time.
However, as expected things go sour in the end, the 3 men meet each other and things go haywire.
Sharon runs away to start a new life, she tries to follow God but becomes embittered by the hypocrisy in church. She reverts to her old ways and finally finds love with Jim Iyke but her past rears its ugly head.
She's the greatest player who ever lived. There are also two sequels because, clearly, no one could get enough of Sharon.
Genevieve Nnaji are this role and left no crumbs.
6. DIAMOND RING
No one can forget this movie in a hurry even though we all watched it with hearts in our mouths.
Maybe it's because it was the one time everyone could relate Chidi(Teju babyface) display his fitness for a life in the secret cult, as a freshman in the university and the only child of his parents; Chief and Mrs. Ijeoma Dike(Richard Mofe Damijo and Sola Sobowale) Chidi steals a diamond ring from Mrs. Gladys' corpse.
For everyone who was involved the aftermath of the theft results in a vicious battle between between the spirit of Mrs. Gladys(Liz Benson)and members of Chidi's cult group, XG.
The movie released in 1998 was written, produced and directed by Tade Ogidan.
It's storyline teaches one lesson though, never concede to peer pressures.
7. KARASHIKA
The 1996 film 'Karashika' holds the title as one of the most popular horror movies in Nollywood history. With unmatched scary moments the movie stars Becky Okorie as the main character.
This film is included because the fashion choices of the prostitute demons were fancy. Also, Karashika is the queen of seduction-an astonishingly beautiful woman by day and a bloodsucking demon by night.
She is sent by the devil to earth to catch successful men, destroying their relationship with their spouse as well as their careers.
As instructed by her master, Karishika gets her man, charms him–with her beauty and magical powers–into sending his wife away and proceeds to run him down financially and physically.
Everyone fell in love with Regina Askia's character's(Monique) fashion choices, but she was definitely crazy for using juju to put RMD's character in a bottle, in the name of love. 
The 1998 classic was produced by Sunny Collins and directed by Fred Amata, the movie features Richard Mofe- Damijo, Regina Askia, Ameze Imarhiagbe, Obot Etuk, Patrick Doyle, Peter Bunor Jr. among others.
The scenes from the movie were quite epic and pretty memorable.
9. GLAMOUR GIRLS
Glamour girls is definitely one of the best movies starring Liz Benson, Ngozi Ezeonu, Eucharia Anuobi, Pat Attah, Ernest Obi, Zack Orji, and others
The two-part Nollywood film of 1996 tells the story of scandalous independent single women embarking on the dangerous path of prostituition and all the risks involved.
Wild and beyond Nigeria's traditionally patriarchal society, these women chart their own paths. The film gained widespread popularity in Nigeria.