Paris Hilton ties the knot with Carter Reum in "fairytale wedding"
After a series of failed engagements, Paris Hilton finally finds love with Reum Carter as they start the journey to "forever after"....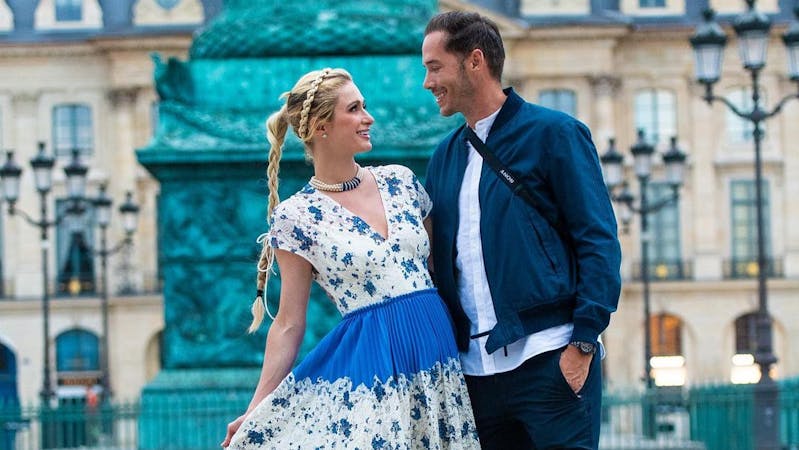 Paris and Reum got married in a dreamy fairytale wedding on Thursday at her late grandfather Barron's Bel Air estate.
Paris Hilton marries sweetheart of 2years Reum Carter
Paris and Carter exchanged their vows in Los Angeles on Thursday.
Sharing the photo on Instagram, Paris wrote: My forever begins today.
According to E! Online, Paris and Carter had their wedding at her late grandfather Barron's Bel Air estate.
 In the episode of the This is Paris podcast, Reum shared what their wedding would look like
 "It is definitely going to be your fairytale wedding," adding, "That first kiss and that first hug and as we always say, the electric bolts that are going to shoot between us—I'm going to think about all those memories."
Paris looked like a beautiful Disney princess dressed in a white Oscar de la Renta gown with floral motifs. 
Paris dressed in white Oscar de la Renta gown with floral motifs.
The heiress invited one per cent of the one per cent of Hollywood to grace the occasion with her. 
The reported guest list included Emma Roberts, Evan Ross, and Bebe Rexha. Also in attendance was Real Housewives star and Paris Hilton's aunt, Kyle Richards Umansky.
Paris's bridesmaids were Halle Hammond, Tessa Grafin von Walderdorff (who is the wife of Paris' brother Barron Hilton II), aunt Kim Richard's daughter Whitney Davis, and Kyle Richards' daughter Farrah.
The wedding celebration comes 9months after the proposal in February. Although Paris hinted that the wedding would hold in August during an episode of The Tonight Show.The Tonight Show.
The heiress invited the one percent of the one percent of Hollywood to grace the occasion with her. 
Recall that Paris's boyfriend Reum popped the forever question with a customized diamond ring" designed by Jean Dusset, during a trip to a private island for Hilton's 40th birthday. 
Bubbling with joy Paris wrote on Instagram at the time.
"When you find your soulmate, you don't just know it. You feel it,"
"My love & I have been together since our first date, and for my birthday, he arranged a special trip to a tropical paradise. As we walked to dinner along the beach, Carter led us to a cabana adorned with flowers and dropped to one knee. I said yes, yes to forever. There's no one I'd rather spend forever with."
Reum Carter proposed to Paris Hilton on her 40th birthday
Hilton revealed during an episode of The Trend Report With Mara Schiavocampo that she and Reum had known each other for 15years.
They had never been romantically involved until they celebrated Thanksgiving together in 2019.
The wedding was a breezy, fun-filled event with guests treated to wonderland dessert and a vending champagne machine.
A classic wedding ceremony, Paris said the trip to the altar would be filmed for her Peacock docu-series Paris in love.
Paris Hilton previous relationships
Paris Hilton's past relationships
Paris Hilton is the daughter of billionaire Richard Hilton and Kathy Hilton.
An open book about love relationships, the socialite Paris has been involved in romantic relationships that ended badly.
Let's take a quick trip down memory lane.
Hilton 21, dated model Jason Shaw, 29
The couple had a swirling time together and were engaged to be married, but they broke up in 2003.
In the same year, Hilton dated Deryck Whimbley briefly.
You can call 2003 the scandalous year for Paris as her relationship with Salomon turned sour after he leaked a sex tape of Paris.
Hilton was on a bumpy ride in her relationship journey as she continued to date.
 From the Backstreet Boys singer Nick Carter, Niarchos, the son of a billionaire Greek shipping tycoon, to the HBO star Chris Zylka.
Zylka proposed in 2018 during a ski trip in Aspen, Colorado, and it sure looked like the last stop for Paris.
But the couple called off their engagement in November 2018.
Congratulations, Paris and Reum, and welcome to forever after!