Top 5 Nigerian artiste who faded from the music scene
Many famous artists in Nigetia who were the rave of the early and late 2000s have fizzled out of the public eye and everyone is wondering where they are now.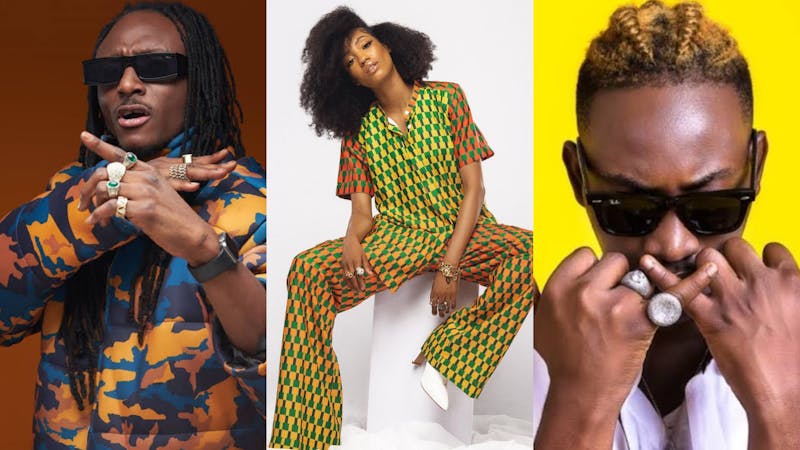 The Nigerian music industry has recorded spectacular artists who have blessed us with quality music in the past.
Although, some of these artists who began their careers in the early 2000s and showed promising futures in music.
Vanished from the industry, their fame first began to dwindle followed by a complete disappearance.
This article focuses on five artists who used to be popular but faded and where they are now.
1. Iyanya
Iyanya arrived on the music scene with  "Kukere". The crooner gave the music industry in Nigeria an upbeat sound and new dance trend(Etigi).
Iyanya who was winner of MTN Project Fame gave us  irresistible tunes like "Sexy Mama", "Jombolo", "Your Waist" and "Gift" to name just a few. He even dropped an EP under Mavin records.
The Kukere crooner's booming career began to wane when he left "Made Men Music Group" which he co-owned with Ubi Franklin to join Don Jazzy's Mavin records.
Apparently it didn't work out for his career.
Where is Iyanya?
The singer was appointed Senior Special Assistant Tourism and Entertainment by 
Governor of Cross River State, Prof Ben Ayade.
Iyanya's appointment was announced on Wednesday September 2021 in a statement by Special Adviser on Media, Publicity, Christian Ita.
To show appreciation the singer posted on Instagram:
"It's forward ever and backward never. I have been appointed the Senior Special Assistant on Tourism and Entertainment to the Cross River State Governor, Ben Ayade.
"I thank God who made this possible and also my Governor for finding me worthy to handle this position," he said.
2. Faze
Richard Chibuzo Orji popularly known as "Faze" is a dexterous vocalist. He was a member of the defunct music group Plantashun Boyz that included BlackFace and 2face.
He split up with the band in 2004 and moved on to launch a solo career.
At first everything looked good and his future in music was promising.
Faze released the melodious and melancholic tune "Faze Alone" which echoed his life experiences with his former music group.
According to his lyrics "dey go hala my name one day eh eh eh" Faze was only popular for a while before he fizzled out into oblivion.
Where is Faze now?
According to Sunny news Faze said 
"My disappearance, as you said, was to study the type of sound being made everywhere so I can fix myself in it without deviating from my real self. That's just it.". ×
3. Ice Prince
Ice prince Zamani was a breath of fresh air with his superstar collection of songs.
Signed under Chocolate City the rapper had a thriving career.
He gave us hits like "Oleku" that left everyone excited and refreshed.
However, his career took a bad hit when he walked out of Chocolate City to start a solo career.
Shortly after he released a single titled "Kolo" featuring Oxlade.
The single was a failed attempt to launch his career after leaving the record label Chocolate City.
Where is Ice Prince now?
Ice Prince was recently signed to 300 Entertainment, the same record label with Young Thug, Megan Thee Stallion, and Gunna.
During an interview in 2021 with Okay Africa Ice Prince spoke on his absence from music:
You know what's crazy is that I don't feel like I've gone anywhere. That's weird. I feel like I've been there, I've been right next to you. So maybe you just love me such that you've missed me so much. I've always been there. I did one of the biggest reality TV shows with Linda Ikeji on Linda Ikeji TV. I gave you records with Masterkraft, I did one with Yung Willis titled "Feel Good." I've been there.
I totally understand, I totally get it. The expectations people have of me sometimes can be a little bit overwhelming. I don't take it as a bad thing. I see it as a good thing actually. If people don't expect from you, then what are you really doing? If people are expecting something from you, it's a good thing."
We hope to see the Superstar make a comeback soon.
4.Di'ja:
Hadiza Bell now Haiza Bell-Olo was  Mavin's star girl who vanished from the music scene 
Popularly known as Di'ja she  was a talented and promising act, who was predicted to be one of the futures of female dominance in the Nigerian music arena.
In 2008 she won the Best New Artist award at the 2008 Beat Music Awards. 
In 2009 she released her debut single "Rock Steady", which was nominated for Best Urban/R&B Single at the 2009 Canadian Radio Music Awards.
Where is Di'Ja now?
Di' Ja joined Mavin records in 2014.
By May that same year she was featured on "Dorobucci" alongside label mates Don Jazzy, Dr SID, Tiwa Savage, D'Prince, Korede Bello and Reekado Banks.
The Nigerian-Sierra Leonean singer who got married in 2015 has two kids with her husband Rotimi.
The mother of two who has been missing in action spoke with "E Vibes with Becky" in 2021 saying: 
"For me, it's a blessing and a learning experience, because I feel my experience between then and now, I have grown in many different facets and I hope it shows in my music. I don't know how to thank my fans they have stuck by me over the years. I never left music, to be honest, I was always doing music," she explained.
5. Paul Play
Paul Play's music was a mixture of excellence and culture. They say an apple never falls too far from the tree, The R'n'B maestro inherited music from his father I.K Dairo who was a legendary Juju.
He is best known for his songs "Angel Of My Life," "Forever," and "You and Me." In 1999, under the music label Kennis Music, he produced a remix of the song "Mo So Rire.
Paul Play won many awards including the prestigious Headies award.
The singer's disappearance from music has left many fans wondering.
Where is Paul Play now?
Speaking with Mobola Sodiq of the Punch in 2020. Paul revealed he has become  the Chairman of LYSI Regimen Limited, a mind health and wellness firm. The singer is also  director of LYSI Mission Foundation and was recently appointed as a director of entertainment for the Atiku Care Foundation. 

"I am still very active on the entertainment scene. I also have Playground Entertainment, where we manage and develop artists for record deals. We also produce content for television and radio."

0