Prank? Real? Belly dancer, Korra Obidi's husband announces plan to divorce her
Dr Justin Dean's announcement comes 7 days after Korra Obidi gave birth to their second child.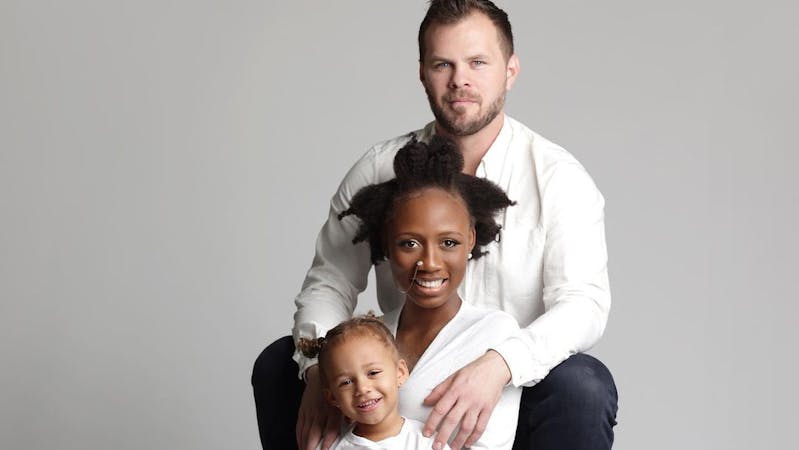 Dr. Justin Dean, husband to popular Nigerian dancer and singer, Korra Obidi has announced his plans to divorce her. Dr. Dean made this known via his Instagram stories shocking some of his followers, while others believe it is a prank as the couple both have their family pictures on their Instagram pages.
He wrote: "Korra Obidi and I are getting a divorce. It's over! I won't be treated this way longer. I did my absolute best to make it work."
He added in the caption: "I didn't want this. I did my best. My heart is broken. 
"I supported her. I loved her. I don't deserve the way I was treated."
However, fans are not buying the doctor's story as Nigerians took to his comment section to ask him to stop exhibiting Nigerian clout chasing behavior.
In reply, Justin replied that unfortunately, it is not a joke. He went on to post a selfie picture "Not a joke" he wrote while frowning.
The doctor's latest announcement is quite unbelievable to many, because,  Justin and Korra Obidi have been great examples of a loving and successful interracial marriage relationship.
With loved-up photos on social media and several interviews about how they have made it work, Justin's divorce revelation from the dancing queen Korra is considered a joke.
Korra obidi and Justin Dean
How did Korra Obidi meet her husband Justin Dean?
Justin Dean and Korra's chance meeting is quite unconventional. The duo Korra and her husband, Dr. Justin Dean, met on the Tinder dating app while she was teaching language through dance in Shanghai, China.
Meanwhile, Justin Dean was a Chinese National Team Sports Medicine Doctor. When the love birds returned to Nigeria, they tied the nuptial knot in 2017.
Not your regular kind of doctor ,Justin Dean is a Los Angeles-based American medical doctor, sports therapist, chiropractor, owner of Dean sports therapy, and co-inventor of the Nero centric Approach.
Korra Obidi is also a charismatic belly dancer whose dance videos cause a stir online but still makes people happy.
Most internet users have wondered how Korra's husband manages her supposed "excesses" in dance expression.
Korra Obidi, husband Justin and daughter June
Korra Obidi and Justin Dean's marriage
Justin and Korra Obidi's unusual love story has seen them work as a team in here videos.
Which clearly points to the fact that Dr Dean supports his wife's dance and singing career on social media.
Even during a Q& A session hosted by  Justin, a fan asked him if he lived it whenever his wife appeared naked in public?
Justin simply replied that his wife had never gone out "naked" and that he supports her 100%.
Asides comments on his wife's physical appearance, according to Justin he has received derogatory comments about his child, June Dean. He said their daughter June has often been called a lizard and him a colonizer.
Despite all of these insulting remarks and statements, the couple have made it work over and over again.
Last year they announced they were expecting their second baby together, Athena Dean who they welcomed about 1 week ago.
The 27 year old Korra Obidi has also spoken up about what a mixed racial marriage can be from cooking and eating separate meals.
The couple share two lovely daughters June and Athena Dean
The couple's love and affection is rare, as it shows true definition of true love, because it's unconditional and true.