Psquare: The reunion after 5years!
Peter and Paul Okoye take the internet by surprise as they put their rifts aside and embrace peace as they turn 40.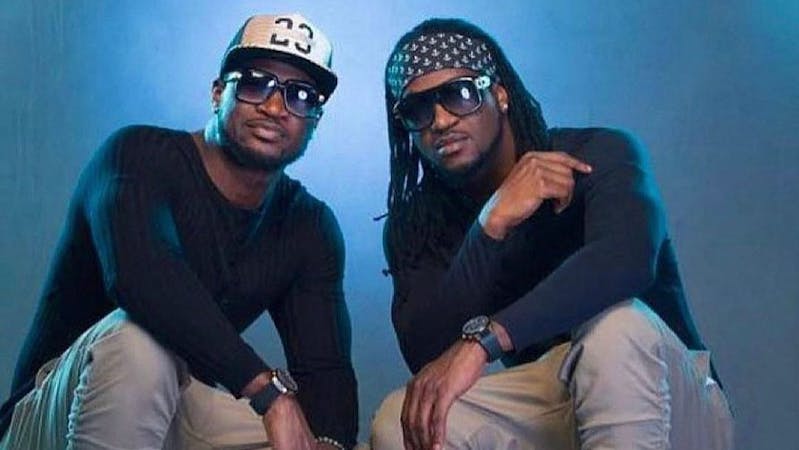 Barely four days after Paul and Peter Okoye followed each other on Instagram, the pair were seen sharing a warm embrace in a video on Instagram.
After 5years of a feud that no one fully understands till now, the disbanded music duo is finally back together.
In a post by Nollywood actor Mike Ezuruonye, the twin brothers hugged as their elder brother Jude had nothing but love and happiness written on his face.
The duo began to hint about their reconciliation after following each other on Instagram four days ago.
Also, a few days back, Lola Okoye (Mr. P's wife) shared a video on Instagram showing Peter taking her kids on a Christmas shopping spree in the UK.
The musical duo are back together
Besides, Peter Okoye celebrated Lola for the first time in 5 years on her birthday via his Instagram stories a week ago...
Note that Psquare's reconciliation comes ahead of their 40th birthday celebration today. The twins have since posted birthday wishes for each other.
Paul wrote: "Happy birthday to us" and tagged his brother Peter.
Peter wrote: "It's our birthday," ❤❤❤❤❤❤❤❤❤❤❤❤
This is the duo's first birthday celebration together after five years of snubbing each other.
Why did Psquare separate?
In 2016 Peter and Paul Okoye announced that they had split up. According to a letter by Peter (also known as Mr. P) sent to their lawyer Festus Keyamo (SAN), Peter demanded a termination of the contract between the group.
"What I am about to do has been a very difficult decision to make. I have decided to use this medium to terminate the agreement between Psquare."
Peter's letter raised serious allegations against Paul and their older brother Jude(who also doubled as their manager at the time).
Peter accused Paul of not cooperating with him and sidelining him on major projects. Peter aka Mr P also canceled their U.S tour, at the time..
He claimed that Paul was slandering his wife and Jude had threatened their lives.
"Me and my wife have been getting life-threatening messages and I fear for my life and the life of my family. Remember Jude has threatened to kill me and shoot my wife in the presence of Paul and Mrs. Imoke," he said.
Paul, Jude and Peter Okoye
Things became so heated between the two to the extent a viral video online showed the twins at each others throat.
They were filmed verbally abusing each other and nearly coming to blows during a mediating session at their lawyer's office in 2017.
All of this outburst of pent up anger left their many fans confused.
During an interview with Net Magazine in 2016, Peter opened up on their rift. Mr P claimed that Rudeboy disrespected his family many times, especially Lola, his wife.
He further went on to say that he had told Jude, their elder brother to stop being their manager in 2012.
Seemed like that was the last straw as Paul threatened to leave the group once Jude stepped down.
The musical duo's relationship got worse after Peter said Paul started a music group behind his back and wanted to take all credits for P-square.
Peter and Paul Okoye at the MTV Awards
"This whole thing began when Paul went online and started posting lyrics of most of our songs on Instagram [and saying]that he wrote them all, just because Peter brought in something to the table. I had been trying to bring more business for Psquare.
I didn't know it was going to cause problems".
The duo separated in 2016
'On December 14, 2015, we sat down to have a meeting hoping to set a proper structure in place, but Paul noticed that it wasn't working the way he wanted, so he said he's starting a new group.
I thought he meant he wanted to start a record label, and he was like no, he's starting a new group that he belongs to. And Jude simply said, 'anybody stop you?' He picked up his phones and walked out of the meeting.
I felt it had already been discussed behind me. I later found out that Paul was already recruiting for the group and Jude is their manager."
Since that time Paul and Peter went solo to perform as Rude boy and Mr P.