Reactions as Femi Otedola gifts 3 Ferrari Portofinos to DJ Cuppy and 2 other daughters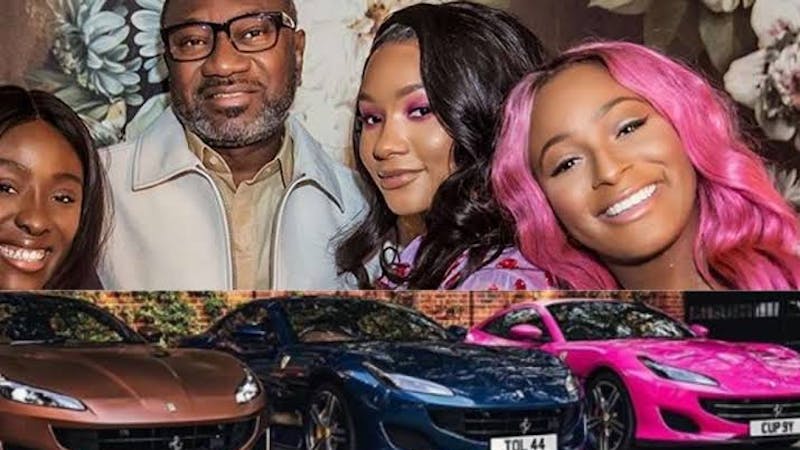 Famous Nigerian billionaire and business tycoon Femi Otedola has set the internet ablaze as he recently gifted his three daughters three brand new Ferrari Portofino cars.
On the morning of Wednesday, 17 September, Florence Ifeoluwa, a.k.a DJ Cuppy, who is one of the three daughters to the billionaire Otedola, had taken to her social media page on Twitter to share the mind-blowing picture of three brand new Ferrari Portofino cars which their father purchased for them.
"Papa took us shopping and bought one of each!" DJ Cuppy tweeted alongside the pictures. Femi Otedola had spoilt his three daughters, Florence Ifeoluwa (DJ Cuppy), Temi Elizabeth and Tolani, each with a Ferrari Portofino car.
Each of the Ferrari Portofino cars has the name of the owner inscribed right on the front plate. DJ Cuppy had the inscription CUP 9Y, Tolani had TOL 44, while Temi Elizabeth had the note NI JTO.
This has left social media agog with different reactions from many people. Some wished they were in the shoes of Femi Otedola's daughters, pleading that Otedola should adopt them as his children. They won't mind being part of 'Femi Otedola Children'.
Some took to their social media pages to compare their parents with the Femi Otedola, asking where their parents were when the likes of Otedola was gathering the money with which he used in gifting his daughters 3 Ferrari rides.
Some of the men on social media went as far as pledging their love and loyalty to the beautiful Otedola girls, saying they won't mind cleaning and washing for them so long as one of them would consider them for a relationship.
Others, on the other hand, defended their parents saying that their parents might not be as wealthy as Otedola, but they made huge sacrifices for them worth a Ferrari Portofino car.
This display of love from Otedola to his much-cherished daughters blew people's minds away thus, making many pledge to work harder so that they can be able to gift their children such expensive car or similar item in the future including Davido.
Social Media Reactions
Some people somehow saw this as a medium to start up a gender war. Such people made tweets like;
"Nah woman wey her em papa rich like Otedola, we go marry", "Girl, if your papa no get, hustle o, make men dem drag who go cook for you", "Nah man wey fit buy em children Ferrari we go marry".
One of the men went as far as asking if DJ Cuppy and Tolani are single (since it is already known that Temi and Mr Eazi are dating). To this, DJ cuppy had replied saying, they (she and Tolani) are both single.
Nigerians celebrities were not left out in the reaction to the news of the Ferraris which Otedola gifted his daughters.
Top music executive, Don Jazzy vowed to do the same for his unborn children while singer Peter Okoye who is known to own several luxury cars vowed to work harder, saying that Femi Otedola has given him an assignment.
The singer, Mr Eazi who is dating one of the Otedola girls, Temi also reacted to a post which a Twitter user posted. The Twitter user said he doesn't want to see Temi's Ferrari in any music video by Mr Eazi.
To that troll, Mr Eazi replied saying that he has already booked, his girlfriend, Temi's Ferrari for a music video shoot.
Applauds from Prominent Nigerians
Many other prominent figures took to their social media to applaud billionaire Femi Otedola and to commend him for his efforts at keeping his family united and happy.
Many are awed at the level of home training which his children were given as they say Femi Otedola children, especially DJ Cuppy, are an epitome of beauty, humility and intelligence.
Despite their father's wealth, they are still hardworking, are talented and strive for the best in everything they do, many people commented.
Who are Femi Otedola's daughters?
The act of love shown by Femi Otedola to his daughters has left many people asking more questions about his daughters. Who are they, what are the names of Otedola's daughters, and what do they do for a living?
While Florence Ifeoluwa a.k.a DJ Cuppy is the most popular among the Otedola daughters; she is not the first daughter. Tolani Otedola is the first daughter of Femi Otedola and his love child with his first woman, Olayinka Odukoya.
It was alleged that after the birth of Tolani Otedola, Femi's mother had refused her son marrying Tolani's mother, Olayinka. Femi Otedola later left Olayinka and got married to Nana Otedola.
Femi and his wife Nana had given birth to two beautiful daughters, DJ Cuppy and Temi. A son, Fewa Otedola came later. However, he was diagnosed with an autism disorder.
Tolani Otedola is a singer and songwriter. Unlike the other two sisters, she likes keeping a low profile. Tolani can be found on Instagram with the handle, @tolani and on Twitter, with the handle, @shestolani.
Florence Ifeoluwa (DJ Cuppy) is a DJ and music artiste. Temi Otedola, on the other hand, is a style blogger and an aspiring actress. Recently, news had it that she made her acting debut in Kunle Afolayan's upcoming movie, "Citation".
Femi Otedola's net worth
Femi Otedola, according to list of Nigerian billionaires by net worth published by Wikipedia in 2016, is worth as much as $1.85 billion. Also, in Forbe's list in 2016, Femi Otedola was listed as Africa's 50 richest 2015
With this recent development, the wealth of the business tycoon is not to be doubted as the price of a Ferrari Portofino car in Nigeria is very high.
DJ Cuppy's Ferrari price
For those wondering the price of DJ Cuppy Ferrari Portofino car, it is estimated at 84,323,750.00 Naira ($218,750), starting price, according to Car and Driver price review for 2020.
Little wonder, the social media users have been awed by this act of generosity from Femi Otedola to his daughters.
DJ Cuppy at the end of the day, tweeted, "I stopped Nigeria for the day. I'm done now; everyone can carry on. Goodnight!" And, indeed, she did stop Nigeria as she had Nigerians talking about Otedola, his wealth and his family for 24 hours.
Otedola Ferrari photos
Here are more photos of the brand new Ferrari cars Femi Otedola purchased for his daughters
A closer view of the Otedola Ferraris
The Otedola girls are already set to start rocking their new Ferrari rides
DJ Cuppy said her Ferrari is not for rentals!