Rihanna: The latest National hero of Barbados
Dressed in a silky orange dress that loosely clung to her curves, with a black protective mask around her face, Rihanna was all shades of gorgeous as she received the honorable award.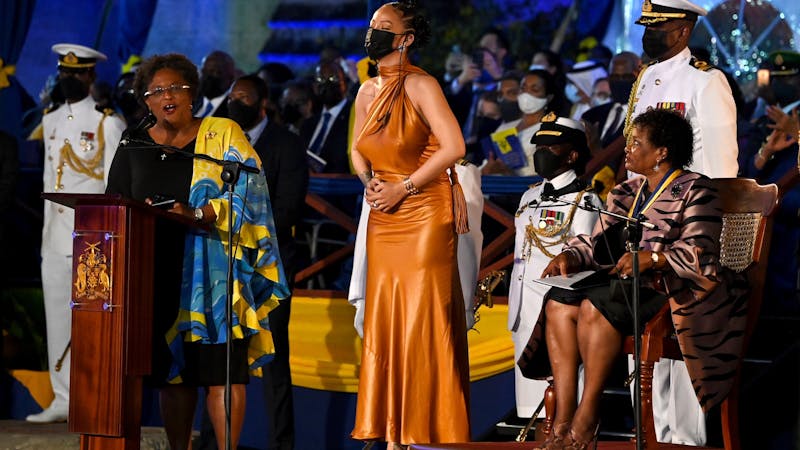 Barbadian singer Rihanna has just been declared a national hero of the republic of Barbados during its inauguration.
"On behalf of a grateful nation but an even prouder people, we, therefore, present to you, the designee, for the national hero of Barbados, ambassador Robyn Rihanna Fenty.
May you continue to shine like a diamond.' Those were the words of Prime minister Mia Mottley.
Mia Mottley bestowed accolades on the sweetly dressed Rihanna.
Rihanna accepted the honor to loud cheers from the crowd. The ceremony was part of celebrations as Barbados became the world's newest republic.
The Fenty billionaire is the second woman to receive the award and the 11th recipient of the national hero award in the history of Barbados and has served as Barbados ambassador since September 2018.
Rihanna is the second woman to receive the prestigious title.
The Barbados story.
November 30, Bridgetown, at the stroke of midnight Barbados, became the world's newest republic.

The Royal Standard flag representing the Queen of England was lowered over a crowded Heroes Square in Bridgetown.

Chief executive officer of the National Cultural Foundation, Carol Roberts-Reifer, announced Barbados' transition to its new constitutional status.

Hundreds of people lining Chamberlain Bridge in the capital cheered

As hundreds of people lining Chamberlain Bridge in the capital cheered and a 21-gun salute fired as the national anthem was played, Dame Sandra Mason was sworn in as president by the chief justice and took the oath of allegiance to her country

"Republic Barbados has set sail on her maiden voyage," Mason said in her inauguration speech as the first president of the country, recognizing the "complex, fractured and turbulent world" it would need to navigate.

"Our country must dream big dreams and fight to realize them," the former governor-general told those gathered for the ceremony.

For the last 396 years, the Caribbean Island of Barbados has been subjected to the reign of the British Monarchy system.

In a warm message sent via Prince Charles, the Queen shared the warmest wishes to the republic

"On this significant occasion and your assumption of office as the first president of Barbados, I extend my congratulations to you and all Barbadians.

"I first visited your beautiful country on the eve of independence in early 1966, and I am very pleased that my son is with you today.

Since then, the people of Barbados have held a special place in my heart; it is a country rightly proud of its vibrant culture, its sporting prowess, and its natural beauty that attracts visitors from all over the world, including many people, from the United Kingdom."

Prince Charles addressed the republic at the ceremony.

The ceremony marked the end of Queen Elizabeth's 55year reign over the region of Barbados.

0