Rita Dominic's wedding: Highlights of the traditional marriage in Owerri
Rota Dominic and Fidelis Anosike's lavish traditional marriage is the topic of social media conversations.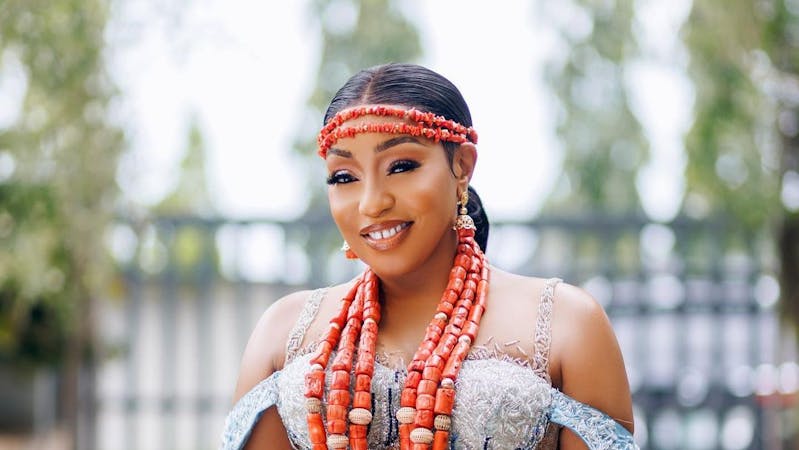 Nollywood veteran actress Rita Dominic and her groom, Fidelis Anosike just had their traditional marriage ceremony in Owerri Imo State yesterday, April 19,2022.
In what BellaNaija calls, painting the town green, the couple's stellar traditional marriage ceremony has been trending on social media.
Here are some key highlights from the star studded traditional wedding party
Fidelity dances in with his people
Fidelity Anosike arrives with his people
The Daily Times publisher Fidelis Anosike, who was excited, was seen in a video showing some dance steps as he and his people arrived in Imo state for the marriage ceremony. In the video which has spurred sweet reactions on social media.
Many fans and well-wishers reiterates Fidelis's grand luck to have landed such a pretty bride.
While many Nollywood stars have stormed Imo state to show support for their colleague Rita, a video that has gone viral on social media showed the moment.
From Fidelis's body moving dance steps it was obvious that the group was here to take his bride. 
Rita Dominic gracefully makes her entrance with her bride maids of honour.
Rita Dominic makes her royal entrance
Dressed in a lovely sky blue corset dress, elaborate beads around her waist, neck and a horse tail, Rita Dominic looked like a Queen people only see in dreams.
Dancing majestically and so graceful, Rita Dominic made her entrance with her entourage. What followed was the wine presentation. Rita and her squad sure looked gorgeous in their traditional outfits as the excited crowd cheered them on.
Nollywood, Chidi Mokeme, Uche Jombo and others
Stars of Nollywood, Ini Edo, Uche Jombo and others dazzle in green
Nollywood actresses Ini Edo, Unche Jombo and others graced the occasion in aso-ebi outfits that would leave anyone green with envy. No doubt they understood the assignment and left no crumbs!
Second one flashes a smile as she dazzles in coral dress
Rita Dominic stuns in second outfit 
Adorned in a form fitting orange and white, embroidered hand beaded coral cold shoulder dress, Rita Dominic's second outfit was indeed a charmer! 
The actress looked breathtakingly beautiful as she posed for photographs.
Rita Dominic and her husband Fidelis sealed the deal in Imo Owerri
The couple pose with their cake
Fidelity Anosike and Rita Dominic are seen giggling and laughing like teenagers as they pose in front of their traditional marriage cakes. Before they hold hands and give the photographers their attention.
Rita and Fidelis have their first couple dance
In the now trending video on Bella Naija, the latest bride and groom are seen locked in an intimate hug as they sway gently to the music. Once again warm wishes pour in for the couple from fans and well wishers.
The ceremony wraps up with a private reception party at Landmark.
Rita Dominic's gorgeous outfits were designed by Turbo brides and her makeup was by bibyoncd