Rosy Meurer responds after being dragged for sending birthday wishes to Tonto's son
Gambian Nigerian actress, Rosy Meurer is married to Tonto Dikeh's ex husband , Churchill.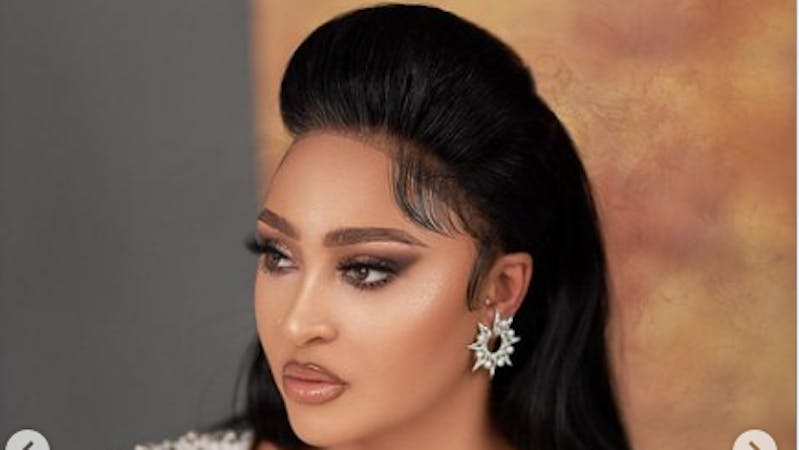 Despite a frosty relationship with Tonto Dikeh, Rosy Meurer went ahead to wish King Andre a happy birthday last week. Andre Churchill is Tonto Dikeh and ex-husband Olakunle Churchill's only son from their marriage that crashed in 2017.
The Gambian-Nigerian actress Rosy Meurer put up a post to celebrate her stepson Andre on his 6th birthday.
However, Rosy's action sparked mixed reactions from social media users. Several critics lashed at her for posting her stepson's picture regardless of the messy situation between her and Tonto.
Rosy Meurer has now responded to all of the negative comments and insults received for her supposed "good intentions".
In a post via her Instagram page on Sunday, February 20, 2022,the actress revealed that her intentions were pure when she wished Tonto Dikeh's son a happy birthday.
Rosy also wrote that "At the end of the day" she knows that she remains a good person who is not perfect but one with a good heart. 
I am far from perfect, but my intentions are good; my heart is pure, and I love with everything I have. Because of these things, I AM WORTH IT. ALWAYS HAVE BEEN, ALWAYS WILL BE. 🤍 #letloverule #checkyourself,''#letloverule #checkyourself she wrote.
After the movie star put up King Andre's picture to wish him happy birthday, social media users came for Rosy in the comments for being insensitive. In her defense, Olakunle her husband counselled their 'social media in-law to allow his wife "breath"
The 30 year old, mother of one, Rosy Meurer was involved in the entanglement ensuing between Tonto Dikeh and Olakunle in 2017.
At the time of Tonto and Churchill's messy divorce scandal, Rosy was accused by Tonto that she was sleeping with her husband. Olakunle and Rosy refuted the claims insisting that their relationship was strictly business.
However, to the shock of social media fans, Olakunle married Rosy Meurer in 2019  and they welcomed their first child together in 2021.
After Olakunle went public about their marriage, Meurer came out to clear the air about the notion that she ruined his previous marriage.
Olakunle Churchill and Rosy Meurer got announced their marriage 2021
In an attempt to clear the air about being the reason for Tonto's failed marriage to Churchill, Rosy hosted a question and answer session on her Instagram page on where she told her curious followers that she was not responsible for the collapse of her husband's previous marriage to Tonto.
According to Rosy, even though she described Mr Churchill as a brother in the past, they are not related by blood, and that her marriage to him is nothing but the will of God taking place in her life.
"No one broke anyone's home. It is just what it is. Life happened. Some things you don't plan. I let God's will in my life take place. I lost my own relationship in the middle of all the online.
He got married eventually and unfortunately only God knows what really happened and why it ended the way it did and why I was dragged into what I had no knowledge of. 
Rosy also said that after Olakunle Churchill's marriage collapsed, the father of two was heart broken and emotionally shattered and that she had no interest in him except pity.
The Gambian actress added that time healed Churchill and two ears later he proposed to her, one year ago he did the necessary rights. "By the grace of God today we are happy," she wrote.
Rosy Meurer Gambian-Nigerian actress
Who is Rosy Meurer
Rosaline Meurer is popular Nigerian Gambian actress born in 1992. The model turned actress was discovered by Nigerian actor, Desmond Elliot which paved way for her first function in Emem Isong's movie Spellbound with Ini Edo, Desmond Elliot, Joseph Benjamin, and Uche Jombo.
Rosy starred in a minor role in 'Weekend Getaway', after which she took a break from acting for a while to return back to school in 2012. Upon her return to Nigerian in 2014, she joined the cast of the TV series 'Oasis', starring in a lead role as Kaylah.
By 2015 she played the role of Nneka in 'Damaged Petal' and also starred in 'Red Card' and 'Open Marriage'. That same year, she became an ambassador of the Big Church Foundation on Women and Child.
Meurer, who describes herself as a Gambian-born Nigerian actress, is best known for her role in Ayo Makun's 2018 movie: Merry Men: The Real Yoruba Demons.