Sandra Iheuwa and husband Thompson allegedly back together
The trouble in the paradise of Sandra Iheuwa and her husband Thompson seems to have ended with an apology. After washing their dirty linen in public it looks like the Ubi Franklin's baby mama may have settled with her husband.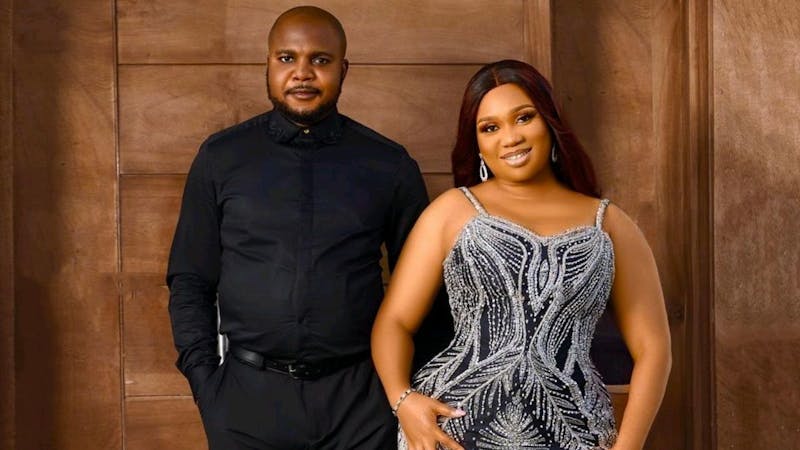 Ubi Franklin's baby mama Sandra Iheuwa and husband seem to have made up after searing drama during the weekend.
Steve Thompson, Sandra's hubby, had apologized for his comments on Sunday about his wife.
Initially, Thompson dragged his newly wedded wife of 5 months on social media via his stories and established the fact that their marriage had ended,
On Wednesday, January 12, 2022, in a post on social media, the businessman apologized and said a lot would be worked on.
"Kindly pardon my outburst on Sunday here on Instagram, some bloggers were writing nonsense about my person," he wrote.
"A lot will be worked on; being a better person is the best thing that can happen to anyone; all will be well."
Thompson said his outburst was due to the misinformation bloggers spread about his personality.
After the big fight, Sandra took down her husband's name from her Instagram page following reports of trouble in their marriage. Recall that the socialite had been hinting at reconciliation with her husband.
Sandra shared photos on the gram with her wedding ring in bold sight for all to see. She also put up her husband's name on her Instagram page.
Why did Thompson send Sandra Iheuwa packing 5months after the wedding?
On Sunday. January 9, the businessman and husband to Ubi Franklin's fourth baby mama, Sandra Iheuwa via a series of Insta story posts, revealed he had sent his wife packing from their matrimonial home.

"I have to make a statement and this will be my first and last. My marriage to Sandra can never work again because of her too much use of social media.

"She doesn't care about the home. She is bragging about how she cooked three times," he wrote.

"Truth is I will not let anyone tarnish my good image. I married the wrong woman that knows how to fight. She is fighting everyone.

"She even lied that I gave her std. I have been (on) my own for 4 years ooooo. Now just 5 months wahala wants to kill me.

"I moved her things myself immediately she left for the village. Her stuff are in my sister's place in Phase 1.

Thompson claimed to have spent a whopping N45 million marrying someone he knew nothing about.

Sandra Iheuwa and Thompson got married last year and are expecting a baby.

The businessman disclosed that his marriage to Sandra was his second attempt at love. He further wrote about how hr sent her packing himself before she killed him.

'She did not move out, I moved her before her wahala kills me and told the estate gate not to let her in.

"This is my second marriage, right now I will focus on business. No man can marry this babe. I wasted N45 million marrying someone I don't even know."

Sandra Iheuwa and Steve Thompson tied the nuptial knot last year in an elaborate wedding.

The estranged couple is expecting a baby together.

0