Temi Otedola & Mr Eazi: An unconventional love story
Mr Eazi and Temi Otedola have been dating for half a decade now.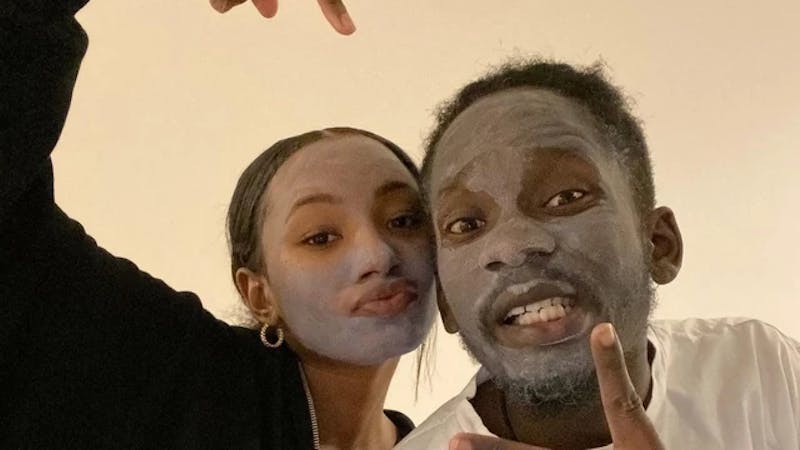 They say you find love in the most unusual places, and this was the case for billionaire heiress Temi Otedola and Banku artist Mr Eazi.
The couple, who got engaged on Sunday, April 11, 2022, revealed in an interview that they met in London in 2016 through DJ Cuppy.
According to Mr Eazi, he met Temi when her sister, DJ Cuppy, his friend, invited him to one of her many events in London, United Kingdom. He said,
"I met Temi in London. It was an event; her sister invited me to an event. Her sister was playing at the event somewhere in Knightsbridge, and she said, oh, come out, follow me to this event.
So I followed her to the event, and then she was deejaying, and all of a sudden, it was just me and Temi sitting down and just watching her."
What started as two individuals staring at each other awkwardly in Knightsbridge has blossomed into one of the most beautiful love stories on the internet.
The power couple has continued tensioning internet users with lovely pictures of their surprise engagement which they posted today.
Many have wondered how the pair has maintained and preserved their romantic affair. Speaking on their joint podcast, it was revealed that Mr Eazi was late to his first meeting with his fiance's father, Femi Otedola.
Eazi was to introduce himself as his daughter's boyfriend. Temi had to keep her father calm while waiting. Femi Otedola is one of Nigeria's wealthiest men.
It is in the light of Femi Otedola's net worth that conversations have surfaced in regards to how they handle the financial aspects of their relationship; In an episode of the podcast, the couple confirmed that Mr Eazi pays for their dates while Temi is responsible for planning them.
Temi has no problem paying for dates because she doesn't believe in the social construct around the gender roles that put it upon the man to pay for dates, but Mr Eazi does not care.
Mr Eazi believes men should be paying for dates and advised men to always do so in their relationships.
According to Temi, Mr Eazi is not a jealous lover, especially when she made her acting debut in Citation- Temi had to kiss a man, the singer said that 'she was doing her job.'
Mr Eazi was born Oluwatosin Ajibade. He is a Nigerian singer, songwriter, and entrepreneur. He is a pioneer of Banku Music, a fusion of sound he describes as a mixture of Ghanaian highlife and Nigerian chord progressions and patterns.
Mr Eazi began his career by booking artists to perform at college parties in Ghana in 2008. His interest in music after recording a guest verse on "My Life", a song that gained traction and became a popular record at KNUST.
Mr Eazi later released his debut mixtape About to Blow in July 2013 and gained an international audience following the release of the Efya-assisted single "Skin Tight". His second mixtape, Life Is Eazi, Vol. 1 – Accra To Lagos, was released on 10 February 2017.
His fiancee Temi Otedola is the younger sister to DJ Cuppy, she is also an actress, beauty and fashion blogger.