The Russia, Ukraine crisis: Klitschko & 2 others who vow to fight for their country
Amidst the devastating chaos in Ukraine caused by Russia's invasive attack, several sports stars have come out to speak against the ensuing battle that has left the streets of Ukraine in blood and rubbles.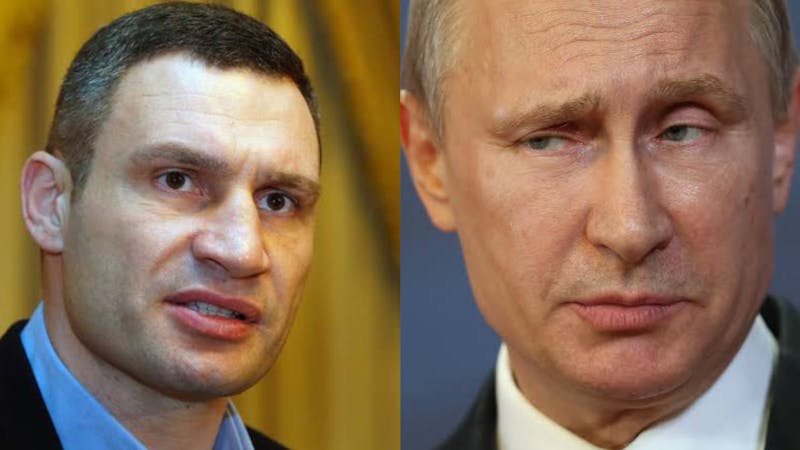 After many weeks of tension and heated speech warnings between Ukraine and Russian President Vladimir Putin. Ukraine was invaded by the Russian army on Thursday morning 24, February immediately after an effective declaration of war by Russian president Vladimir Putin.
The recent attacks have plunged the nation into a state of frenzy with many citizens left homeless and stuck up in train stations for safety.
In the wake of these Russian attacks, some Ukrainian sports stars have stood their ground and vowed on Ukrainian soil that they will fight for their country against Russia's attacks.
NBA Ukrainian players, Alex Len(Sacramento Kings center)and Toronto Raptors wing Sviatoslav Mykhailiuk released a joint statement condemning the Russian invasion of their homeland.
The duo grew up in Ukraine before heading to the US to chase their basketball career. 
Other Ukrainian sport stars have also spoken out against the attack, especially the country's famous Klitschko brothers, who have promised to take up arms for their country.
Here, Clacifed brings you all the latest sports stars and athletes who have sworn to fight Russia in this unforgettable war.
1.Vitali Klitschko
Retired Hall of Fame boxer and Mayor of Kyiv since 2014, Vitali Klitschko spoke to the world on Good Morning Britain to confirm his stance against the Russian invasion of his jurisdiction and home.
Reacting to the ugly turn of events in Ukraine, Klitschko says "It's already a bloody war. And that he is left with no choice as a political leader but to stand up and fight for his home country.
" I don't have another choice. I have to do that. I would fight."
As a boxer, Klitschko has made history as the second heavyweight boxer in history to defend a world title after turning 40 alongside colleague George Foreman.
The 45 year also won multiple world heavyweight championships. He held the WBO title from 1999 to 2000, the Ring magazine title from 2004 to 2005, and the WBC title twice between 2004 and 2013. 
In all Klitchsko and his younger brother Wladimir made Guiness World records as brothers with the most heavyweight title fight wins.
A true legend of boxing between 2006 to 2015, Vitali dominated the boxing industry as a consistent heavyweight champion-a feat that became renowned "Klitschko Era" 
2. Wladimir Klitschko
Following his elder brother's statement on Good Morning Britain, heavyweight champion Wladimir has also vowed to take up arms for the survival of Ukraine.
In a written statement on LinkedIn, the younger Klitschko laid hefty allegations against Russian president Vladimir Putin: "Now, the Russian president [Vladimir Putin] is using war rhetoric ... he makes it clear that he wants to destroy the Ukrainian state and the sovereignty of its people. 
Wladimir condemns Putin saying that his words are backed up by physical and life-threatening actions via "missiles and tanks."
Spitting fire, the younger Klitschko's reveals that a blanket of death and destruction has enveloped the nation of Ukraine. He implored all Ukrainians to brace up in the face of tragedy and fight for the safety of their sovereign.
……"We will defend ourselves with all our might and fight for freedom and democracy."
Wladimir Klitschko is a Ukrainian former heavyweight boxer internationally regarded as one of the best heavyweight champions ever for his great footwork and extraordinary knockout power. 
Winning a gold medal for his country, Ukraine in the super-heavyweight division at the 1996 Summer Olympics. Wladimir has often been named among Ukraine's most influential people.
3. Oleksandr Usyk
Reigning Heavyweight champion Oleksandr Usyk has also reacted to the ongoing mayhem in Ukraine.
Although there were popular opinions that he fled from Ukraine.
Usyk in response explained that he was attending a publicity event for a videogame at the time. However, he quickly confirmed through Instagram that he is back home and made a plea for unity: "Some wrote to me that I ran away; I didn't, I was at work but I'm back, I'm home. 
The cruise weight champion Usyk who stripped Anthony Joshua of all his championship belts pleaded with citizens to unite and defend Ukraine soil.
"Friends, we have to unite because it's a hard time right now and I'm really emotional and worried about my country, and our people. 
Friends, we have to stop this war; all of us together."
The 45year old Usyk is a world champion in two weight classes, having held the unified WBA (Super), IBF, WBO and IBO heavyweight titles since defeating Anthony Joshua in September 2021; and the undisputed cruiserweight title from 2018 to 2019, being the first cruiserweight champion to hold all four major world titles. Oleksandr is one of Ukraine's greatest boxers of all time, with his victory over Anthony Joshua.
Usyk went on to become one of only three boxers to have unified the cruiserweight world titles and earn a world heavyweight champion title alongside, Evander Holyfield and David Haye
Ukraine President Zelensky and Vladmir Putin Russian President who are at war
Russia's unnerving attacks and missiles on Ukraine have left the world bewildered as to the root cause of the brewing feud between both governments.
Why Russia is invading Ukraine and the origins of the conflict
Russia's attack on Ukraine could be the start of World War III over Vladimir Putin's demands for the US and NATO to end the eastern expansion of military bases
.Long before, Ukraine used to be a Soviet republic. However, there had been tensions between Russia and Ukraine for a long time, but things began to spiral out of control in 2021.
Ukrainian President Volodymyr Zelenskyy urged US Presiden Joe Biden to let Ukraine join NATO in  January last year,
Zelensky's request angered Russian President Putin, which started sending troops near its Ukraine border for "training exercises" in spring last year and increased it during autumn. By December, the US became suspicious of the deployment of the Russian troops and warned Russia of severe sanctions if it.  invaded Ukraine.
However, Ukraine and Russia's feud is a culmination of 8 long years of unspoken grudges fueled by the US and NATO.
The mass protests in Ukraine that toppled the country's pro-Russian President Viktor Yanukovych, which began over his abandonment of a trade agreement with the European Union, are one of the many offenses that Putin holds against the modern Ukrainian government.
From Putin's speech, two probabilities stand, first, the Russian president believed that Ukraine is a part of his country and should quit behaving like they are a different country.
On the other hand Putin also believe that Zelensky wasn't officially elected into power rather it was handed over to him after President Viktor was toppled.
At the same time, Ukraine's request to join NATO will give the EU permission to expand their military base to Russian border(Ukraine) an attempt that may put the Russian nation at risk too.