Timaya threatens to beat Ubi Franklin again
Timaya called Ubi Franklin a nanny to Davido's son, Ifeanyi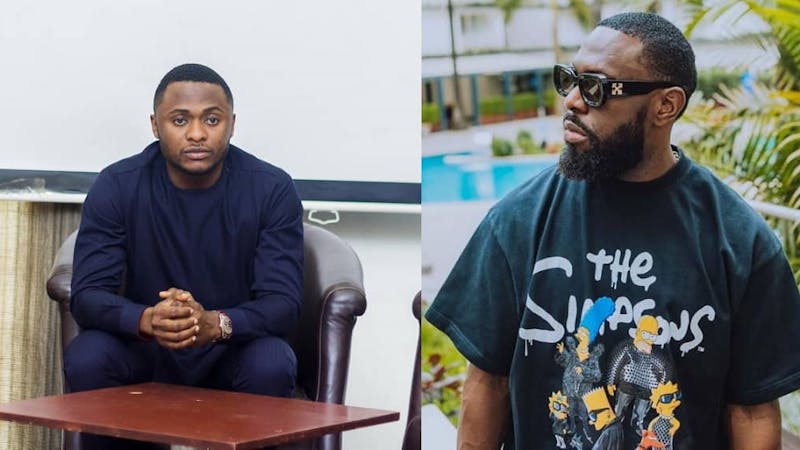 Seems like Nigerian music star Timaya and Ubi Franklin may have gotten on each other's wrong foot.
The "Ogologoma" singer issued a stern warning to the music executive Ubi Franklin on Twitter.
The Dancehall reggae singer, via his Twitter page on Wednesday, March 30, 2022, described Franklin in sarcastic terms as Davido's employed nanny and also threatened to Ubi to a pulp.
"Ubi Franklin, u remember the beating I gave you in January last year? Don't let me beat u again, and pls, I like your new JOB as Ifeanyi's NANI and pls don't mess it up. Davido is a good guy he can make ur life. Pls focus on ur new JOB. Thanks," he tweeted.
Reacting to the tweet, the father of four, Franklin, asked Timaya to recount what happened on that fateful day correctly.
"See Timaya wen senior men help comot for hand dey talk say em beat me. Do you don forget wetin happened that day? Or you don high?" he shared on his IG page.
It is not clear what the rift between Ubi and Timaya is all about, but it is obvious they both have a long-running feud.
However, this is not the first time Franklin will be getting trolled about being Davido's nanny.
Earlier in March, Davido, on Wednesday night, sent a private jet to carry his baby mama Chioma Avril Rowland and their baby Ifeanyi to London for his music concert at the 02 Arena.
Along the line, Ubi Franklin joined Chioma on the trip. In some of the online photos, Davido captured  Ubi carrying Ifeanyi and called the music executive "our nanny".
Ubi Franklin playing with Ifeanyi, Davido's son with Chioma.
Ubi was seen fawning over  Davido's son, from carrying him while on the plane, playing games with him, to tagging along with Davido for shopping and during the concert.
This generated diverse reactions from netizens who mocked him for playing the role of a nanny to Davido's son when Chioma had family members who could help her.
Ubi shared this response in a live Instagram video on Sunday, March 6, where he addressed his critics, saying that whatever they were saying, he didn't care.
Ubi insisted that he loves kids, and seeing his friendship with the music star, Davido and his baby mama, Chioma, he enjoys their company, and that's why he most times helps to carry their son, Ifeanyi.
"Listen, I love kids…….Reacting further, the Cross Rivers State-native also mentioned that Chioma is like a sister to him, and if at any point in time, she asks him to help her carry her son, he's going to do it.
"if Chioma says, Ubi, please help me carry my baby throughout this week, I will do it".
This is coming days after Franklin took a swipe at comedian Bovi Ugboma for making jokes about his kids.
"Comedy should not be used as a decoy to disrespect people on national tv. Bovi, you did this at last year's Headies, and I sent your friends and close alleys to warn you, do not to try it again.
I am struggling with stuff and trying to put myself together, and you go on live tv to talk about my kids? Bovi until next time. Thank you."
Ubi further said he doesn't tolerate violence, but sensitive things like that shouldn't be used as jokes on live tv. Although it is not clear what the beef may be about.