Tiwa Savage, Seyi Shay: Celebrity feuds of 2021
From Seyi Shay's squabble with Tiwa Savage to Annie dragging 2baba on the streets of social media, this year, there has been no shortage of trouble in the world of fame and popularity.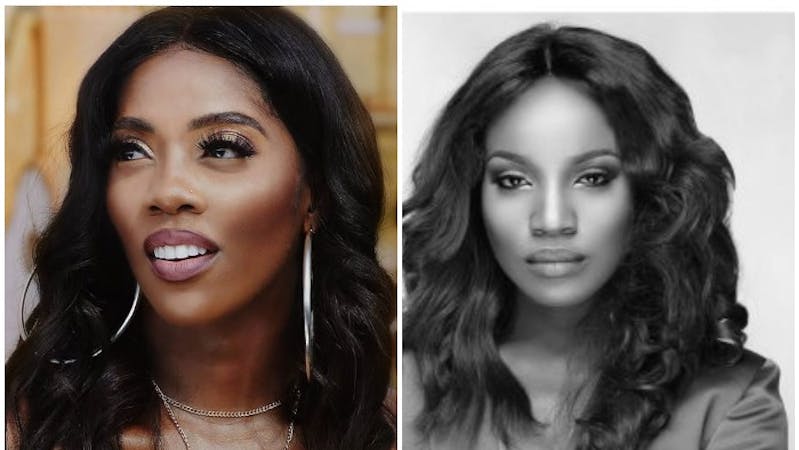 Celebrity fights? A few drags here and there? We all enjoy celebrity conflicts even more than their sweet love life stories. 
From Seyi Shay's squabble with Tiwa to Annie dragging 2baba on the streets of social media, this year, there has been no shortage of trouble.
Harsh words, Twitter fights, and even full-blown confrontations as famous personalities  brew iconic rivalry and cold wars.
Alright, let's take a look into all the messy fights between famous stars.
Seyi Shay and Tiwa Savage
1. Tiwa Savage and Seyi Shay
Talk about a quarrel that quickly escalated into one of Nigeria's biggest beef stories, or at least that's what most people thought.
Earlier this year, two of Nigeria's finest female singers, Tiwa, and Seyi Shay, were involved in a nasty fight in a salon in Lagos.
In a now-viral video, both parties were seen exchanging heated words as onlookers and salon staff prevented them from tearing each other apart.
According to Seyi Shay, she had walked up to Tiwa to exchange pleasantries, but that did not end well. You would wonder why a simple courtesy greeting could aggravate Tiwa so much.
However, various events led up to the building tension between both singers. Read through the timeline that caused the big fight between Tiwa and Seyi.
Tiwa Savage, Seyi Shay, Victoria Kimani and Kizz Daniel
In January 2019, Kizz released the F*ck You song aimed at his ex.
In no time, the hit song gave birth to the #FvckYouChallenge, promoted by other celebrities.
In March 2019, Tiwa released her version also aiming at her ex.
By April 2019, Seyi and Victoria Kimani released their covers of Kizz Daniel's hit song, 'F**k You,' where they had subtly dissed Tiwa Savage.
Seyi, in her lyric, said, "You know I'm not Savage, I pay my bills."
Kimani accused African Bad girl[Tiwa] of blocking her from getting shows in her lyrics.
"Grandma African Bad girl, turning 45, you still think that you a bad girl," dissed Kimani.
So the episode at the salon was a trigger of their 2year beef as Tiwa called the Yolo singer derogatory names.
2. Annie Idibia and 2Face
Even legendary singer Tuface and his wife Annie are not left out from the drama of 2021.
Long before now, speculations were made on the looming trouble in their marriage of 9 years. 
Tuface who has a track record of 2 baby mamas and five children from his previous relationships shared a tweet in February 2019, hinting on trouble in the Idibia paradise.
I'm sorry to say that I have fucked up so much. I have fucked up as a role model as father and as a husband. annie im sorry. i know u tried your best''.
2years later the last nerve was hit and Annie Idibia dragged the African Queen hit maker in a series of captions and audio recordings.
The mother of two, accused Tuface of infidelity with baby mama Pero, a mother of three in the U.S 
In response Tuface's younger brother Charles Idibia washed Annie's dirty linen in public by speaking on her attitude to his elder brother.
Amid the crisis that hit their marriage, Tuface parked out of their matrimonial home to an undisclosed location. Annie in a heated rage released a recording vowing that she was going to leave the marriage.
Throughout the event, 2face made no response.
However, on Annie Macaulays 37th birthday she wrote a lengthy apology caption for Tuface and the idibia family.
"I want to apologise to my husband, Inno. I am so sorry I threw you out there like I did (so unwise). That isn't the kind of woman you married. I'm totally sorry for all the mental stress and heartbreak it caused you.
"So sorry I put both our families out there the way I did (I still be your smallie o). To my beautiful mothers, my amazing mother and my beautiful mother-in-law, I am so sorry I let both of you down.
"To both my families- The Macaulays and the Idibias, I am sorry for all the pain and disrespect towards both families. Please forgive me. Una No Fit Throw Way Una Pikin ooo," She wrote on Instagram.
Annie and Tuface Idibia got married in 2012 and have two children together.
3. DJ Cuppy and Zlatan
Following the success of their song together "Gelato" Cuppy and Zlatan had a few rocky relations with one another.
 It started months ago when the disc jockey informed her fans that Zlatan had blocked her on WhatsApp and Instagram. 
She tweeted, "10 months later and I sometimes still wonder why Zlatan Ibile blocked me on WhatsApp and Instagram without ever saying why; we were actually friends and "Gelato" was a hit!"
The Zanku singer did not respond to her viral tweet till he was interviewed on a show, The Switch, where he denied knowing DJ Cuppy.
To defend Zlatan, Afeare Israel also known as Israel DMW, logistics manager to Davido divulged that the rapper did not make any money from his collaboration with DJ cuppy on their hit song 'Gelato'.
Israel's claims led Cuppy to accuse Israel DMW of defamation and filed legal proceedings against him.
Months after the feud, Cuppy in a tweet shared a video where she showed up at the O2 Arena and surprised Zlatan by joining him on stage.
Tonto Dikeh and Prince Kpokpogri
4. Tonto Dikeh and Prince Kpokpogri
Controversial Nollywood actress Tonto Dikeh and former lover Prince Kpokpogri put their romantic feelings aside as they fought tooth and nail.

Making the headlines, Prince Kpokpogri, who is also the chairman of the Anti-Corruption and Integrity Forum, described his Tonto as "Helen of Troy" and claimed their 2 month affair was a disaster.

"We dated for barely three months and it was more or less a living hell! So much has happened in such little time that I overlooked it for the sake of the so-called relationship and my sanity,'' Kpokpogri said while reacting to the news of their break-up.

In the ensuing case, Tonto Dikeh on September 6, filed a petition against Prince Kpokpogri addressed to the Commissioner of Police, FCT Command.

Dikeh through her counsels in Festus Keyamo Chambers, Okechukwu Uju-Azorji, and Arinze Egbo, said Kpokpogri's entered into her life and started to court her with a proposal to marry her.

In no time Kpokpogri was detained and later released. Accusing him of blackmailing her and owning several sex tapes of other women, popular Instagram sexy dancer Janemena was also dragged into the brawl. 

Ever since then both parties have remained in a cold war.

0