Toke Makinwa: Biograpy, surgery and networth
Toke Makinwa also tagged "Nigerian Kim K is a popular TV personality, vlogger, radio host and lifestyle entrepreneur with a track record of gorgeous outfits and numerous endorsements under jet belt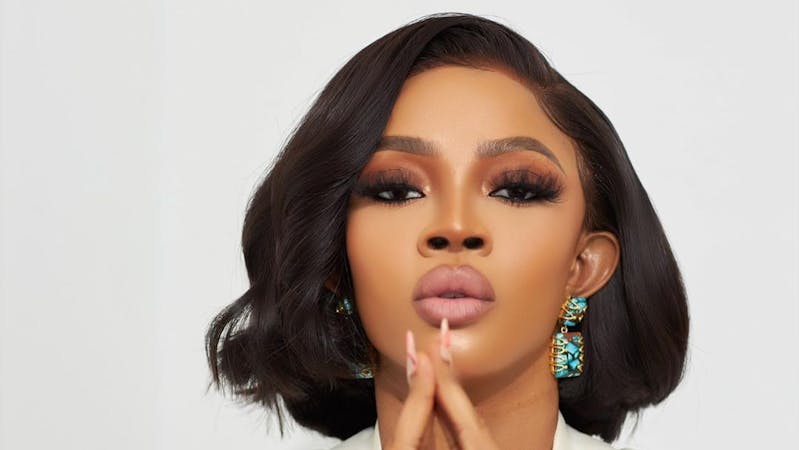 The name "Toke Makinwa" has become popular on the lips of Nigerians.
Either for her controversial statements or her fashion killer vibes with every outfit on the gram.
Tagged as Miss Makinwa'sindependent Toke Makinwa the blogger boasts of fleets of cars, several endorsement deals and growing net worth.
Who is Toke Makinwa?
Toke Makinwa is a beautiful Nigerian author, television host, blogger and radio personality who achieved impressive and tremendous growth in her field of career known for her expensive and Drop Dead Gorgeous outfit she is famous for championing independent women.
 some have called her the Nigerian Kim Kardashian  while others have tagged her as controversial.
However the celebrity influencer has turned deaf ears to naysayers and has continued to push her brand as an influencer for beauty and fashion.
Toke's personal life
Toke was born on November 3 1984 to late Mr Caleb Ifemayowa Makinwa and late Mrs Madupe Monica Makinwa. At St. Nicholas Hospital Onikan, Lagos State.
Hailing from the tourist attractive area of Idanre Local Government area, Ondo StatE and the  second of four children. Toke lost her parents when she was eight years old in a tragic fire accident.
Initially residing in Abuja, after the accident, Toke moved to Lagos to stay with her foster parents[Chief and Mrs Pius Akinyelure]. It
Despite the death of her parents, Toke attended Federal Government Girls college, Oyo State. After her secondary education, she gained admission to University of Lagos to study English and Literature.
Credits to Instagram/@tokemakinwa
Toke Makinwa's career
Toke Makinwa's thriving career kicked off on a good note, when she co hosted The Morning Drive show on 93.7F.M in 2010.
A multitasker, she began a late night talk show called "Rhythms of the Night" in the same year.
By 2012, she got her first feature with the MBGN pageant as a host which aired live in Nigeria.
Toke Makinwa was also a co-host to Tosyn Bucknor and Oreka Godis on the Fly TV show titled 3 Live Chicks in the same year.
In 2012, Makinwa launched her YouTube vlog series Toke Moments. In 2013 she won the Nigeria Broadcasters Award for Outstanding Female Presenter of the Year. She was nominated for 'Radio OAP of the Year' in the Nigeria Entertainment Awards  The same year, she became an ambassador of the United Africa Company of Nigeria.
Things only got better for Toke Makinwa as she went on to host the Future and City People Award in 2013 and the 2014 Headies award.
On January 2014, the delectable Yoke became was announced host of Hip Pop world Magazine interview and talk series "Trending".
From then on it has been a roller coaster ride for the influencer as she became a co host for Ebony Life TV Flagship show moments.
In 2021 she co hosted " The Voice Nigeria" with actress Nancy Isime.
Taking a leap, Toke Makinwa was co host for BBNaija season 6 grand finale.
On October 16, 2021 Toke was unveiled as the host of survival reality show "Gulder Ultimate Search 2.
Although, the announcement sparked unpleasing comments about her being a suitable fit.
Toke Makinwa also made her acting debut in a comedy movie, 'Makate Must Sell.'
The movie, directed by Don Omope, is a collaboration of Filmone Distribution, Screenart.
Toke has also been seen in movies like " Sugar Rush, King of Boys etc.
As a businesswoman, Toke Makinwa launched a luxury handbag line in 2017 with the brand name 'Toke Makinwa Luxury. She also launched a skincare product called Glow by TM the following year.
Credits to Instagram/@tokemakinwa
Toke Makinwa's Endorsements
In 2014, the TV host signed a multi-million Naira contract with Nestlé Nigeria to become the new face of Maggi. 
In 2015- She bagged an endorsement deal with Lipton over an ad campaign and 
Chicken Republic television advert campaign tagged;"A girls gotta eat"
In 2016- She became the brand ambassador and face of Mecran Cosmetics. She was also an ambassador for Payporte and Ciroc. 
In 2018, she partnered with Buluwa Inc. to launch a skin lightening product line called 'Glow by TM.' 
In 2019- Toke Makinwa became the face of OPPO mobile 
In 2020- Toke inked a multi millionaira brand endorsement deal with Fair and White-Skin care brand.
In 2022, January Toke Makinwa became brand ambassador alongside Nancy Isime for Hollatex designs.
In a post shared on Instagram Makinwa, wrote on the deal "it is great to find a brand that values originality. As a brand ambassador, I could not imagine a better partner to work with. I am happy to be working with Hollatex," 
Toke and ex hubby Maje Ayida
Toke Makinwa's marriage to Maje Ayida
Toke Makinwa was formerly married to Maje Ayida, a professional fitness coach and mental health advocate. The ex-couple got married on January 15, 2014, after dating for about 8 years.
However, things went sour in that couple's love story. They got separated on November 8, 2015. Their divorce was finalized in October 2017 at Igbosere high court.
Toke Makinwa accused Maje of adultery and impregnating his ex-girlfriend.
In her book "Becoming," Toke Makinwa revealed Maje's betrayal and infidelity
In an interview with Chude, she discussed how badly her marriage to Maje affected her self-esteem and overall mental health.
However, in February 2017, Maje Ayida filed an N100 million naira defamation lawsuit against his ex-wife, claiming that her book 'On Becoming' was filled with lies and false information against his personality.
Unfortunately for Toke, Maje won the case in November 2020 after a three-year battle and was awarded N1 million in settlement by Judge Olukayode Ogunjobi of the Lagos State High Court.
Toke was also mandated to stop producing more copies of her book, and pages staining Maje's reputation be removed.
Credits to Instagram/@tokemakinwa
Toke Makinwa's surgeries
The TV personality has never denied going under the knife to achieve her iconic hourglass figure.
A question and answer session on one of her episodes of Toke Moments on Youtube said she had surgery done on her body and had a lip filler.
The 37-year-old Toke Makinwa said she has no regret for undergoing surgery.
"Yes, I worked on my body, but my breast is natural. I had a lip filler because I wanted to launch my lipstick brand, but now I don't think it is necessary.
"Also, I enhanced my body after I got my fibroids removed. I did that because I wanted to feel better in clothes.
"I do not regret enhancing my body because it's the best thing I've ever done, and I wanted to look curvy, and I love it."
Toke has also undergone surgery to remove a 7year old fibroid after many failed attempts at getting spiritual help.
The brand influencer also confessed to bleaching her skin when she married Maje to match his ex.
She said Maje had a thing for light-skinned women.
But, the internet wasn't finding her reasons acceptable. As usual, Toke received heavy backlashes from the public as pictures of her before and after began to trend. Holding her head up high undetered, she went on to launch a skincare business.
Credits to Instagram/@tokemakinwa
Toke Makinwa's Cars 
However, there have been several alleged reports on Toke Makinwa's source of wealth being from sugar daddy relationships with Chief Festus Fadeyi and others.
Looking through her many endorsement deals and business acumen, it is probably safe to say that Toke has gradually worked her way to the top.
The most influential media personality in Nigeria, Toke, is worth $800,000.
She makes her money from her hosting gigs and as a brand ambassador.
With 4.9million followers on Instagram, Toke Makinwa's influencing skills is unmatched.
According to Carman, Toke owns a fleet of cars.
Range Rover Sports worth 
Bentley Continental GT worth -N71million
Where does Toke Makinwa live?
The celebrity brand influencer lives in Ikoyi