Top 10 interesting highlights of the week
Clacified brings you all the latest gist in the entertainment scene with a brief news roundup of all the news that broke on the internet.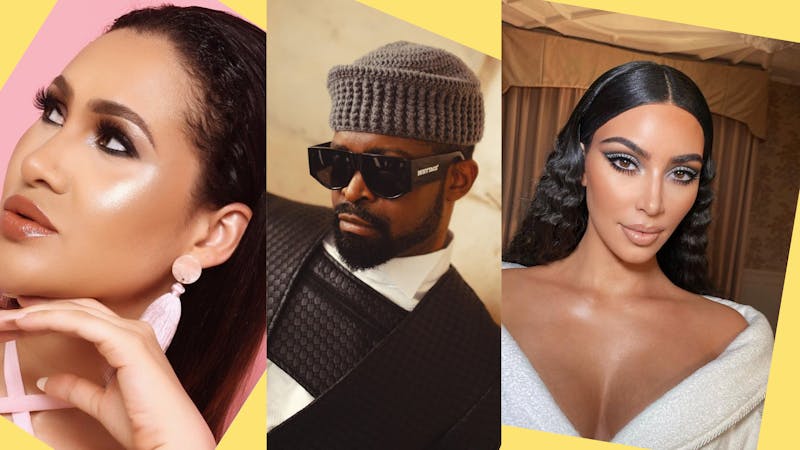 Happy weekend! It's that day of the week again. Stay up to date on all the drama, music and movies that broke headlines during the week. Here are top 10 interesting story highlight of the week.
Carolina Danjuma says she and Timaya are just good friends.
1. Caroline Danjuma denies dating rumours with Timaya
After rumour speculation of Carolina having an affair with Timaya, the Nollywood actress denied the rumors.
The movie star, via her Instagram page on Sunday, February 6, 2022,  blasted bloggers and everyone who has continued to spread false news about her.
"When stooopid bloggers decide to type rubbish without confirmation, that is something I will NOT TOLERATE THIS YEAR. Same rubbish has been written about me concerning a footballer when I was in a serious relationship 2 yrs ago, and it was false," she wrote
Danjuma admitted to being friends with Timaya but with no strings attached.…... "like two opposite-sex adults can't be ORDINARY friends again? Something must happen?......... Don't cook up stories for clout."
She went on to deny all false news about dating the music star while accusing one of his baby mama's, Tamar, as the source behind the rumors.
 Timaya is my friend. You can drink poison respectfully if it hurts 😘. Tamar, I see your handwork. you will be fine."
Responding to Carolina Danjuma's accusations against her, Timaya's second baby mama, Tamara Sinclair, called her a cola nut.
"If I'm with Timaya and I'm worried about him being with other woman/women up to a low point of contacting bloggers, trust me sist, you can never make that list! COS NA COLA-NUT YOU BE!....
Tamara further revealed that the actress was a one-time 'Cola nut' to her elder brother.
"Not so long ago, you were my elder brother's COLA-NUT, so I was shocked to see on a blog that you've changed base. Little girl, your SOUL needs surgery as well," she alleged.
Tamara is Timaya's second baby mama, and they welcomed their child in 2018. Carolina Danjuma was also formerly married to billionaire Musa Danjuma, and they have three kids together.
Dbanj advises musicians to get other streams of income.
2. Dbanj says music is not enough to fund the luxury lifestyle 
Nigerian music star  Daniel Dapo Oyebanjo popularly known as D'banj, said music alone is not enough to satisfy that luxury lifestyle that musicians love.
Koko master, Dbanj discloses this in a chat with Premium Times on why he has looked at other sources of income to keep his family and fame intact.
"It's my sixth year in marriage, and ever since then, I've looked for different platforms that would keep my fame and family intact. So if you were to Google Jay Z or the wealthiest musicians in the world, you would see that only 10 percent of their wealth is probably from music."
Dbanj added that although music is profitable, "but music alone is not enough to attain that luxury lifestyle that musicians love."
3. Olamide signs new artist Asake to YBNL
Olamide recently introduced a new talent, Asake, into the YBNL Nation via Instagram. Olamide wrote that "Mood 💨 ...... @asakemusic welcome to #YBNL."
Asake's sixth single in three years, 'Omo Ope,' is currently the Nog on Apple Music 100 Nigeria. YBNL and EMPIRE released the record.
Before the announcement, Asake was among the artists Olamide collaborated with during his December 2021-January 2022 run. Some other artists were Portable, T.I Blaize, Peruzzi, Davido, and others.
Comedian Basketmouth puts out new music
4. Basketmouth's hosts listening party for new album Horoscope
The Comedian Basketmouth who is gradually delving into music, hosted on Sunday, February 7, 2022, a listening party for his upcoming sophomore album, Horoscopes.
The album has now featured Buju, Wande Coal, Peruzzi, Oxlade, 2baba, Fireboy, Blaqbonez, The Cavemen, Falz, iLLBliss, Efya, Dremo, Magnito, and Flavour.
Rema's new single "Calm down" is out
5. Rema releases a single from his new album
Mavin Records artist Rema revealed the release date of his highly anticipated album while teasing the new single Calm Down. A  quick tempo love song for hopeless romance, Calm down arrived just in time for the valentine's day celebration.
Onyeka Onwenu's memoir 'My Father's Daughter' will be adapted into a TV series directed by ace filmmaker Izu Ojukwu..
6. Onyeka Onwenu's memoir adaptation is set to commence
Onyeka Onwenu's recently released memoir 'My Father's Daughter' will be adapted into a TV series directed by ace filmmaker Izu Ojukwu.
The filmmaker confirmed the production at a media conference held in Lagos on January 28, 2022.
"We have not decided if it would be in six or eight parts, but I can confirm it would not be just one," said Onwenu confirming the report.
The series will tell the" story of Nigeria, and the story of the film and music industry."
Kim Kardashian says that she will spend her 40s doing the things she loves and making herself happy.
7. Kim Kardashian reveals reason for divorce from Kanye
Keeping up with the Kardashian star, Kim K finally disclosed the real reason behind her divorce from Kanye West.
Speaking with Vogue Magazine in an interview, the SKIMS CEO said setting her priorities right and choosing happiness was the game-changer.
"For so long, I did what made other people happy. And I think in the last two years I decided, I'm going to make myself happy. And that feels really good," she said. 
"And even if that created changes and caused my divorce, I think it's important to be honest with yourself about what really makes you happy. I've chosen myself. I think it's okay to choose you."
The 41-year-old Kim said she would spend her 40s "being Team Me" and being her best self. Kim and Kanye's ended their marriage in February 2021.
Kylie Jenner has given her 4-year-old Stormi a baby brother.
8. Kylie Jenner welcomes second baby with Travis Scott
Forbes billionaire Kylie Jenner disclosed the arrival of her baby with rapper, Travis Scott. The Kylie Cosmetics founder confirmed she gave birth to her second child on Feb. 2.
"💙 2/2/22," Jenner captioned the black-and-white photo of her newborn's hand.
Sparking reactions from fans and well-wishers pointed out the blue heart emoji revealed the baby's gender. Some even went as far as deciding what Kylie will name her son.
 On Friday the reality TV star said that she and Travis Scott (née Jacques Webster) named their baby boy Wolf Webster, a far cry from the predictions made by fans.
Last year, Page Six broke the news that Kylie was pregnant with her second child in August. Jenner later confirmed the news by showing off her baby bump in September via a video.
Jenner, 24 and Travis are both parents to 4year old Stormi(their first child).
Kanye Ye West requested that Billy Eillish apologize for making insensitive remark about Travis Scott.
9. Billie Eilish and Kanye West clash
While performing on her Happier Than Ever World Tour on Feb. 5, Billie Eilish stopped her show at the State Farm Arena in Atlanta, Ga, to offer help to a distressed fan.
After Billie was sure her aides had attended to the fan, she faced the crowd and said,
" I wait for people to be OK until I keep going"(remember Astroworld tragedy). This remark seemingly sounded like Eilish was dissing Travis Scott.
Well, her statement did not sit well with Kanye, who requested that Billie apologize to Travis.
"COME ON, BILLIE WE LOVE YOU PLEASE APOLOGIZE TO TRAV AND TO THE FAMILIES OF THE PEOPLE WHO LOST THEIR LIVES," Kanye wrote.
Kanye, the Rapper, who is set to headline Coachella, requested Billie apologize before his Coachella performance.
"NO ONE INTENDED THIS TO HAPPEN TRAV DIDN'T HAVE ANY IDEA OF WHAT WAS HAPPENING WHEN HE WAS ON STAGE AND WAS VERY HURT BY WHAT HAPPENED, AND YES, TRAV WILL BE WITH ME AT COACHELLA, BUT NOW I NEED BILLIE TO APOLOGIZE BEFORE I PERFORM."
Eilish, 20 replied in the comments she wrote, "literally never said a thing about Travis. was just helping a fan."
American rapper Eve Cooper welcomed her first child on the 1st of February.
10. American rapper Eve welcomes her first baby
American rapper Eve Jihan Cooper and hubby Maximillion Cooper have welcomed their first child together.
The music star, Even, 43, announced the good news on Thursday, February 10, 2022, via Instagram, where she shared a photo of her newborn son.
"Our Beautiful boy was born February 1, 2022, 💙 Wilde Wolf Fife Alexander Somers Cooper 💙 Words can't describe this feeling ✨✨✨," she captioned the photo.
Eve and her husband, Maximillion, started dating in 2010 and married in 2013.