Top 10 interesting highlights of the week
Stay updated on all your favourite music artists and movie productions weekly only on Clacified.com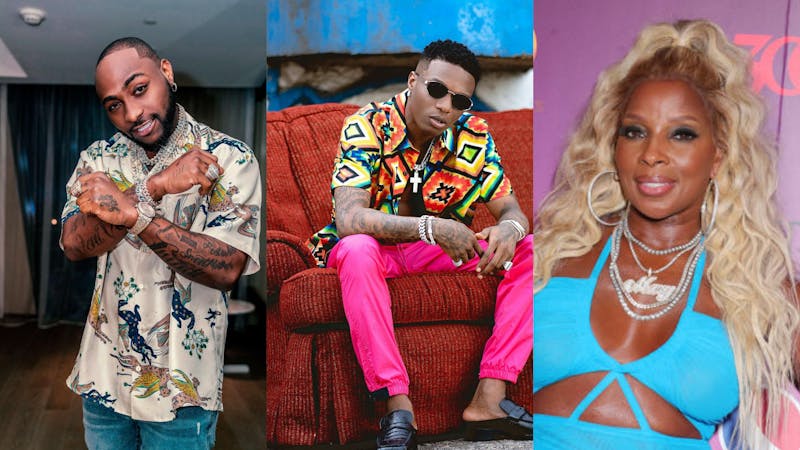 Stay abreast on all your favorite entertainment news gist from in the world of showbiz.
From all the latest updates on celebrity lifestyle to movie productions. It's time to not just keep up with the Karsdashians but with latest music collaborations and story updates.
Here's a summary of the top interesting celebrity news that broke this week.
Madonna features Fireboy on hit single "Frozen" (remix)
1. Madonna features Fireboy on "Frozen" remix
American Queen of Pop Madonna recently announced her collaboration with, Nigerian singer, Fireboy DML on February 28, 2022
The duo was spotted in new photos with the legendary Madonna. While Madonna announced on her Instagram page.
Read the full story here
Omah lay and Justin Bieber
2. Omah Lay features Justin Bieber on a new track
Fast-rising Nigerian buzzing singer Omah Lay has dropped another bombshell with his new track "Attention" featuring Canadian award-winning singer Justin Bieber.
The new song, "Attention," is from Omah Lay's upcoming debut album "Boy Alone," which will be released later in the year.
3. Wizkid's 'Essence' gets certified double platinum in the US
On March 3, 2022, Nigerian singer, Wizkid's 'Essence' featuring Tems got certified double platinum in the US. This comes after it became the first Nigerian song to be certified platinum in the US.
An album or single is certified platinum when it moves the equivalent of two million physical sales in the US.
According to chart data, on October 5 it was reported that 'Essence,' Wizkid and Tems' hit song was certified platinum in the US.
4. Funsho Adeoti accuses Mercy Aigbe of betrayal
Following Kazim Adeoti and Nollywood actress, Mercy Aigbe's interview with Media Room Hub, Funsho Adeoti, Kazim's first wife and "supposed" friend of Mercy Aigbe according to her debunked the recent claims of the controversial couple.
Funsho Adeoti alleged that Mercy Aigbe was her friend who betrayed her by sleeping with her husband(Kazim) after she introduced them.
Based on her claims, Mercy Aigbe was the major reason for all the problems in her marriage. Funsho also refuted Kazim's claims of them staying married. Saying she would rather get divorced
5. Davido sells out 02 arena
Tomorrow, Sunday, March 5, 2022, Nigerian superstar, Davido will headline a second show at the O2 Arena in London.
However, on March 3, 2022, the official Twitter account of the O2 announced that the father of three(Davido) had sold out he 
The account wrote, "📣 @davido has officially sold out at #TheO2 👏👏👏 #DavidoatTheO2."
6. DJ Cuppy opens up about struggles at Oxford University
Billionaire heiress Florence Otedola aka DJ Cuppy has continuously lamented about her decision to bag the third degree.
DJ Cuppy made this known via her Instagram and Twitter page on Wednesday, March 2, 2022.
"Counting down the days left at @Oxford_Uni 📚 Hilary Term has been TOUGH and I'm honestly struggling. Sometimes it feels like I'm not good enough to be here 🧠💭," she wrote on Instagram.
Last year she was accepted into the prestigious university, making it her second master's degree in six years.
Cuppy earned a master's degree in Music Business from New York University in 2015.
7. Timaya reportedly arrested over hit and run incident
Nigerian singer, Inetimi Alfred Odoh was recently accused of a hit and run which left his victim injured and hospitalized.
According to a lady identified as Omowunmi who is related to the injured victim, Timaya zoomed off roughly and even blocked them after they asked for funds to treat the lady hit by his vehicle.
However, Timaya revealed his side to the story...
Read the full story here
8. Kim Kardashian removes 'West' from her Instagram profile
On Wednesday, March 2, 2022, American reality TV star Kim Kardashian was declared single by Judge Steve Cochran. Barely hours after her declaration in court Kim Kardashian removed her former husband Kanye West's name from her Instagram profile
The mother of four took down her former husband's name and reverted to her maiden name, Kardashian.
According to Page six, after the judge read the questions and told her she now has her single status back, Kim smiled.
9. Mary J. Blige to produce a film based on her 'Real Love' hit song
Popular Black American singer, Mary J. Blige is making a comeback to Hollywood but, this time as an executive producer on a Lifetime production based on her 1992 hit song 'Real Love'.
The Coming of age "Real Love" film was written by Sonja Warfield and Rachel capture the story of  Kendra, a studious teen who sets off on her own for the first time to attend college in upstate New York but falls in love with Ben
Caught in the web of disapproving parents, financial hardships, and competition to become top students, Kendra and Ben rewrite their love story.
The movie is based on the real-life experiences of Mary J Blige while featuring more songs from Blige's music catalog. 
"I wrote 'Real Love' based on my real-life experiences and my fans connected to it in a deeply personal way," Blige said in a statement confirming the production at a press conference.
10. Dolly Parton to host Monday's Academy of Country Music awards
Country singer Dolly Parton will host the 57th Academy of Country Music Awards, on Monday at the Las Vegas event alongside fellow singer-songwriter Jimmie Allen and rising star Gabby Barrett.
Featuring Grammy-winning singer Kelly Clarkson at the awards ceremony will give a tribute to the 76-year-old Parton, one of country music's most beloved artists and a cultural icon who transcends the genre.