Top 10 interesting story highlights
Get the latest, breaking entertainment news on Nigerian celebrities, music, movies and events recap. Check out Clacified's entertainment news round up for the week.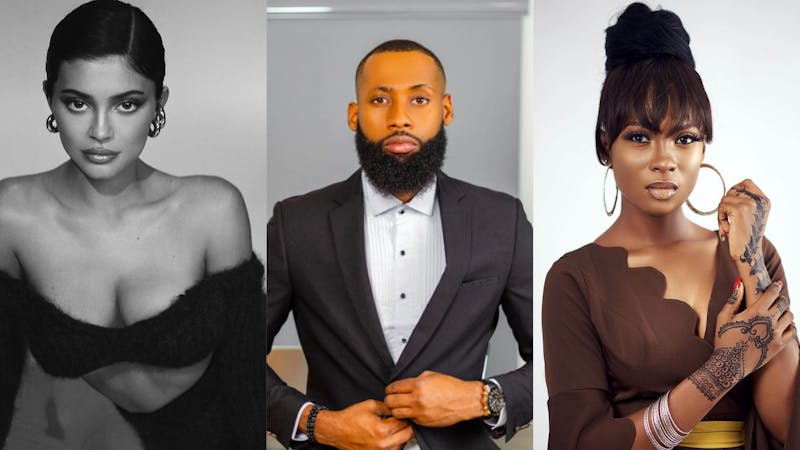 Every week Clacified brings you all the latest trending stories in entertainment. From breaking stories, to celebrity gifts, music and your favourite movies and TV shows.
Check out our entertainment news story roundups for this week below.
Sandra Iheuwa and Thompson
1. Sandra Iheuwa's marriage crashes after 5months
Ubi Franklin's fourth baby mama, Sandra Iheuwa, who recently tied the nuptial knot some 5months ago, was allegedly thrown out of her matrimonial home on Sunday, January 9, 2022.
Steve Thompson Sandra's husband shared a series of story updates on his Instagram on why the marriage could no longer work out.
Sandra Iheuwa, who is expecting a baby with Thompson, immediately reverted to her maiden name on the social platform.
According to Thompson, he wasted "N45million marrying someone he didn't know" and "Everything about her is a lie."
However, other reports say that Sandra Iheuwa left the marriage because of Thompson's infidelity.
Tochi's relationship has sparked crisis rumours following his deletion of video post.
2. Tochi deletes engagement video
Ex BB nails housemate Tochi shared a video of his proposal to American based dancer and entertainer girlfriend, Chioma.
He captioned the video, "To-chi 2022 loaded. @beautiifulchii let's go on this journey together! Ladies and gentlemen, we have a wedding to plan."
Following a cryptic message from his fiancée, Chioma on Tuesday; "There's so much to life than the attention and validation that you seek, so much from the outside world but it's not be that's gonna be used to trend… everybody rest in," she wrote.
The reality star deleted the engagement video post leaving fans wondering if all is well in their relationship.
Kaffy is divorced from Joseph Ameh.
3. Dance Queen, Kaffy is divorced
On January 11, professional dancer, Kaffy disclosed shocking news of separation from her husband of 9hears, Joseph Ameh.
The 42-year-old mother of two revealed why her marriage failed in an Instagram post.
The news came as a shock to fans and well wishes. Read the full story here.
Credits to Instagram/AGbaby
4. Simi, Adekunle Gold pen sweet messages for 3rd wedding anniversary
Nigerian music celebrity couple Simi and Adekunle Gold celebrated their 3rd wedding anniversary on Jan 13, 2022.
The couple known for their enviable romantic relationship celebrated each other on Instagram.
Read the full story here
Credits to Instagram/jemimaosunde
5. Jemima Osunde blasts man for appraising politician
Nollywood actress Jemima Osunde has slammed an aide of presidential aspirant, Bola Tinubu who shared a post credited to the Lagos chapter of the All Progressive Congress (APC).
The statement shared on the Twitter page of Gawat Jubrin, that the Lagos state chapter of the APC supports Bola Tinubu presidency in 2023 to show appreciation and pay him back for being"a man of honor and destiny helper for a whole lot of people."
The actress immediately gave him a piece of her mind.
"Then you guys should throw him an 80th birthday party you can even make it a surprise for him. "They don't use to use a whole country to say thank you,"she tweeted.
Muyowa Olarewaju awarded OBE
6. Gospel singer Muyiwa Olarewaju recognized by Queen Elizabeth II with OBE award
BBC One talent show judge, radio host and award-winning British gospel singer, Muyiwa Olarewaju, was awarded an OBE in the Queen's Birthday Honours List 2020.
He was handed the award on the 12th of January 2022 by Prince William.
Muyiwa has brought his unique style to music fans around the world as he's toured with legends such as Stevie Wonder and Mariah Carey.
Credits to Instagram/AG baby
7. Adekunle Gold set to release new music.
On January 14, 2022, Nigerian singer, Adekunle Gold announced the release date for his fourth studio album, Catch Me If You Can.
The album, which will drop on February 4, 2022, will be a follow-up to the popularly acclaimed 2020 album, Afro Pop Vol. 2.
Credits to Instagram/Kyliejenner
8. Kylie Jenner is the 1st woman with 300 million followers on IG
On January 14, 2022 American model and reality TV star Kylie Jenner made history for being the first woman to reach 300 million followers on Instagram.
Closely followed by Ariana Grande and Selena Gomez with 289 million followers as of now. Kylie usurped Ariana Grande's throne of the most followed woman on Instagram.
The billionaire reality star is expecting her second child with husband Travis Scott.
9. American actor Jason Momoa and Lisa Bonet end marriage
Aquaman actor Jason Momoa and his wife Lisa Bonet have split up. In a joint post the pair reveal they have ended their marriage and decided to part ways via his Instagram page on Wednesday, January 12, 2022.
"We have all felt the squeeze and changes of these transformational times. A revolution is unfolding and our family is of no exception…feeling and growing from the seismic shifts occurring,"
"And so We share our Family news that we are parting ways in marriage. We share this not because we think it's newsworthy but so that as we go about our lives we may do so with dignity and honesty."
The couple started dating in 2005 before secretly getting married in 2017.
They have two children together.
10. Alec Baldwin surrenders phone for investigation
On Friday, January, 14 according to officials, after authorities secured a warrant for the device following a fatal shooting on the set of the movie "Rust," Alec Baldwin turned his cellphone over to Long Island police.
According to New York Post Police in New Mexico got a warrant for the cellphone on Dec. 16 and the case's lead detective quickly notified Baldwin's attorney, police said.
But Baldwin failed to turn it over for weeks, forcing Santa Fe authorities to team up with the Suffolk County Sheriff's Office on Long Island last week to get it.
January 8, Baldwin in a video said he was simply trying to protect his personal information.
Baldwin shot Hutchins with a prop gun on the set of Western flick on Oct. 21