Top 10 exciting highlights of the week
It's officially the weekend, and Clacified brings all the nuggets from the entertainment industry.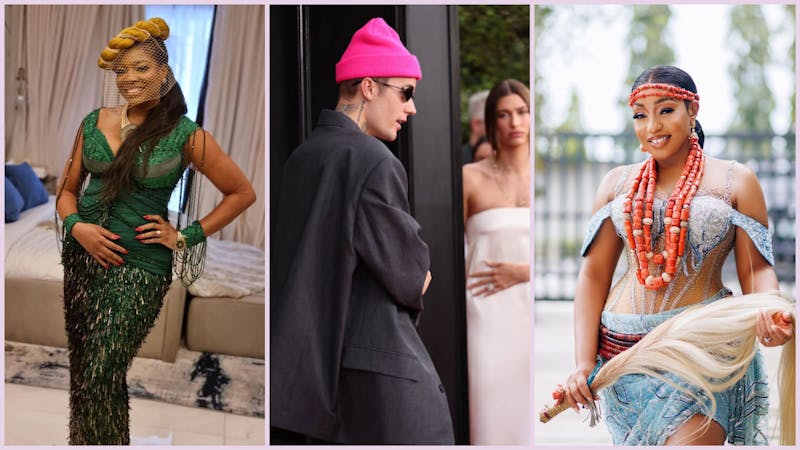 Catch up on some of the best entertainment news stories that made headlines, from celebrity weddings, new music, anniversaries, birthdays to legal issues and movie updates.
Here is Clacified's entertainment weekly recap of all that you might have missed during the week.
Tim Godfrey and fiancee Erica all set and ready to wed
1. Gospel singer Tim Godfrey and fiancee, Erica set to walk down the aisle
Gospel singer Tim Godfrey who announced his engagement to beautiful fiancee Erica are set to be joined in holy matrimony.
The singer announced the wedding via his Instagram page with a video reel of their pre wedding photoshoot on Saturday April 23, 2022.
"Today's about to be one of the best days of my life ! I've never been more ready to take this step"you can see the excitement on my face "😂
Walking down the aisle with you today, I can't stay still. Tim x Erica#Stillwaters#TheGodfreys
Rita Dominic and Fidelis Anosike
2. Rita Dominic and Fidelis Anosike tie the knot in Imo State
On April 19, 2022 all roads led to Owerri the capital city of Imo state where the traditional wedding ceremony between Nollywood actress Rita Dominic and her husband, Fidelis Anosike was held.
The actress who dazzled in two gorgeous outfits for the ceremony had several Nollywood A-list actors in attendance to celebrate with her.
Joke Silva, Chidi Mokeme, Ini Edo, Uche Jombo, Hilda Dokubo, Lilian Bach and Shan George were among the various celebrities who came to felicitate with the latest bride to be.
The movie star and her partner Fidelis Anosike got engaged earlier in April.
She was hosted by friends to a very beautiful and colourful bridal shower.
Dominic's partner, Anosike, is the founder of Folio Media Group, a multi-media company that owns Daily Times Nigeria (founded 1926), the country's oldest newspaper
Josh 2funny and wife Bina
3. Nigerian comedian Josh2Funny and wife are expecting their 1st child
Famous Nigerian comedian and skit maker Josh Alfred popularly known as Josh2Funny and his wife, Bina are expecting their first child together.
The popular skit maker shared the big news via his Instagram page on Wednesday, April 20, 2022.
"Hello," he captioned the photos of himself and his pregnant wife.
Josh2Funny got married to his Ethiopian wife, Bina on Friday, December 18, 2020. The couple, got engaged in October and tied the knot at a court wedding. The wedding was done amidst a few relatives and friends at the Ministry of Interior's Federal Marriage Registry in Ikoyi, Lagos.
Oritsefemi and wife Nabila
4. Oritsefemi and wife Nabila Fash celebrate 5th anniversary
Popular Nigerian music star Oritsefemi and his wife Nabila Fash celebrated their fifth wedding anniversary.
On Wednesday, April 20, 2022, Nabila took to her Instagram page to celebrateher hubby.
"Thankful for another anniversary…5 years no be joke o 😀 Please say a prayer for us @oritsefemi 💕💕 #MrandMrsO #20April #Anniversary #5years,'' she wrote.
The music star also wrote a sweet note to his wife on their anniversary. He thanked God for " unlimited blessings in our dear life".
Oritsefemi got married to his wife, Fash in 2017 at a flamboyant wedding ceremony.
However, in 2020, their marriage went through turbulent times on account of infidelity allegations.
Davido reveals he is in a relationship
5. Davido reveals he is in a relationship
Billionaire heir and Nigerian music star David Adeleke popularly known as Davido has revealed that he is in a relationship.
The father of three revealed this while reacting to a post by his record label signee and friend, Peruzzi.
Peruzzi took to his Instagram page on Thursday, April 21, 2022, where he hinted about his friends being single.
"All My Niggas Single. Damn,'' he wrote.
 Davido's reply cleared the air about his relationship status."Me I'm not," he wrote.
The 29 year old Davido has been mute about his relationship since his alleged split with fiance, Chioma Rowland.
However, recently rumours of their reunion have been trending because the  two were spotted together earlier in the year during a family gathering.
Also during Davido's 02 arena concert, Chioma flew in a private jet with her son Ifeanyi to support the singer. 
6. Seyi Shay welcomes baby girl
Nigerian singer and former Nigerian Idol judge Seyi recently welcomed a baby girl.
The singer who covered the 'Blanck' magazine gave an insight on navigating the ups and downs of her career, to advancing towards self-acceptance and personal joy.
"I'm grateful for how far I've come, and I know I'm still on a journey, so, if this is just the middle, I'm grateful for the journey and looking forward to the future. I'm happy that I'm still progressing," she said.
Earlier in the year, the " Big Girl" singer announced her engagement during an interview with Beat FM, the Big Girl singer confirmed that she said YES!
The interviewer asked her about the diamond ring she had on her finger and how she got it. 
Showing off the ring, she responded, "Some guy gave it to me and said, 'hey would you marry me?"
"It's a diamond ring for real, and it's forever," she continued. 
The new mom has not yet unveiled the father of her baby girl.
JJC Skillz and his son Benito
7. JJC Skillz's ex-partner narrates why he beat up their son
Mella has called out the music star for physically assaulting their son, Benito.
On Friday, April 22 in a post shared via her Instagram page on Mella revealed that Benito was expelled for bringing alcohol to school.
"Benito and other children brought some alcohol into school, it was wrong but he didn't deserve to be beaten like that. No child does," she wrote.
She also bragged about her son's admission to college despite the humiliation from his dad.Mella's post is coming days after Benito recounted how his father assaulted him after he was expelled from school.
Benito began trending on social media after he alleged that his stepmom, Funke Akindele was a horrible person. Benito's allegation reports came amidst rumours of the crisis in JJC and Akindele's marriage.
Over the past few weeks JJC Skillz's ex partner Mella has been dragging the singer and his wife Funke Akindele on social media.
Mella later released the photos of JJC and Funke's twins. According to her, it was a retaliation for exposing her family.
JJC has since deleted the photos of Benito from his Instagram page.
Kemi Adetiba and Heman Ackah tie the knot in civil wedding
8. Kemi Adetiba and Heman Ackah tie the knot in civil wedding
Nigerian filmmaker, music video director, movie director, television director and producer, Kemi Adetiba whose works have aired on MTV Base, BET, Channel O, Soundcity and Netflix, has officially tied the knot with her Ghanaian lover, music executive, Oscar Heman-Ackah.
The King of Boys writer, producer and filmmaker Kemi Adetiba shared a beautiful photo of herself in a green dress and fascination.
Recall that Kemi Adetiba had shared beautiful moments from her surprise marriage proposal, which occurred in Ghana on 28th January 2022.
9. Justin Bieber sued for 'stealing' Grammy-winning song '10,000 Hours'
Justin Bieber is under heat for copyright infringement of his 2021 grammy award single("10,000 Hours,") which dropped in 2019 and debuted at No. 4 on the Billboard Hot 100
Justin Bieber is being sued alongside country duet Dan + Shay.
On Thursday, International Manufacturing Concepts, Melomega music and Sound Gems filed the lawsuit alleging that Bieber and the duo of Dan Smyers and Shay Mooney "stole the core portion" referring to the chorus, verse and hook of "The First Time Baby Is A Holiday," a 1973 song originally written by Palmer Rakes and Frank Fioravanti, according to documents obtained by People.
According to the suit the song was not released until 2014, about five years before "10,000 Hours" dropped, and alleges there are "unmistakable similarities."
10. Chris Brown Shares New Photos Of Baby Lovely Symphani
Popular American performer Chris Brown showed off some adorable photos of his baby girl, Lovely Symphani Brown. 
The baby,pictured with a bright yellow headband, was seen showing off her big smile.
Chris Brown's baby mama, Diamond Brown, originally posted the photos of their child to her Instagram profile. Lovely is Chris Brown's third child.
The rapper recently revealed he is the father of Diamond Brown's child after reposting another one of Lovely's baby photos to his Instagram story earlier this month.