Top 10 interesting story highlights of the week
Get all the spicy details of all that happened in the world of entertainment this week.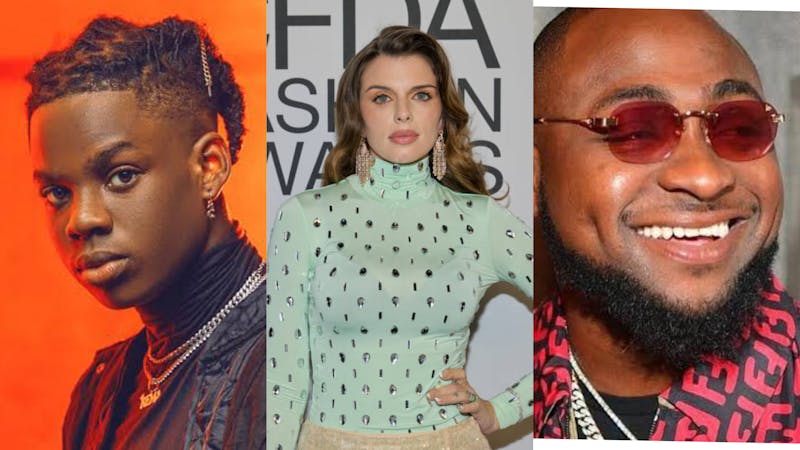 The new year started with a bang!
Not for everyone, though, but a leading majority of influencers and celebrities.
Anyways, you should stop trying keep up with the news and sit back as we bring you highlights of the week.
This week's roundup is all versions of cruise, joy and a sprinkle of drama.
Quick grab a drink and let's go.
Tobi Bakare welcomes baby with wife Anu Oladosu.
1. Ex-BB Naija housemate, Tobi Bakare welcomes baby
On Saturday, January 1st, 2022, the Ex BBN star announced the birth of his son via his Instagram page.
The boy was born, Thursday, 30th Dec 2021.
Alongside a photo of the baby's hand, Bakare wrote: "If I had to write a perfect 2021, couldn't have written a better ending than this
."Love you son 30/12/21 in the books forever. Happy new year from me and mines."
The "Double wahala " reality star got married on 21st August 2021 to his wife Anu Oladosu in a celebrity-packed wedding ceremony in Lekki.
2. Davido set to open new house in Banana Island
Award-winning Nigerian American singer Davido bought a masterpiece property on Banana Island Lagos in 2020.
In a tweet shared via his Twitter page on Thursday, January 6, 2022, the music star said all is now set for the opening of the new house.
"I open my new house today !! 2022 ALL BLESSINGS AMEN !!" he tweeted.
3. Burna Boy splashes #250 million on Lamborghini
The Grammy award winner via his Instagram Stories on Thursday, January 6, 2022, shared photos of his newly acquired Lamborghini Urus worth N250M.
"Merry Christmas and happy new year Damini. God loves you, your family loves you and I love you. You don't need nothing else," he captioned one of the photos.
In 2019 Burna boy bought two expensive cars within two weeks. First was the Ferrari sports car and then the Rolls Royce which he announced via his Instagram page.
4. Rema gains admission to Unilag
Divine Ikubor popularly known as Rema amidst music and fame has decided to finish his education.
The 21 year old Mavin Record label signee made this known via his Twitter page on Friday, January 7, 2022.
"What if I told y'all I got an admission into Unilag? Lol Mom said I still need to get a degree sigh, oh well see you guys in class!" he tweeted.
Rema is in the Creative arts department in Unilag.
"I go try drop the Album before I enter school, make dem no go beat me for Unilag, plus I'm in the Creative Art Department. 🤭😂
Rema rose to prominence after he released the single 'Iron Man.'
5. Burna boy and Wizkid's Ballon d'or video is out now
After enjoying a fun filled 2021, Burna boy and Big Wiz are warming 2022 up for great music.
The Grammy award winning singers have released the video of their single which hit digital platforms last year, 2021.
The single Ballon D'Or is produced by Nigerian British producer P2j, and inspired by one of the most prestigious trophies given to professional soccer players —Ballon D'Or( recipients are valued as the best male football players in the world).
6. BB Naija Vee and Tolanibaj end beef on dance floor
The "Pepper dem" ex housemates of BBN Vee and Tolanibaj who were at each other's throat during the reunion show have declared truce.
Coming as a shocker to fans and others, both women were seen partying hard together at a club.
Although, It is not clear when and how the reality TV stars made a truce but it sure does look like they are now on the same page.
Tolani Baj and Vee broke the net during the reunion episodes for the fifth season of the reality TV show.
From slut shaming to name-calling, it was an ugly fight that trended on social media.
Gucci Mane, wife and son.
7. Gucci Mane spoils wife with $1 million in cash as gift
Rapper, Gucci Mane outdid himself on his wife's 37th birthday on Thursday 6th of January.
Gucci Mane gifted his wife, Keyshia Ka'Oir, $1 million in cash.
The model, who shares 1-year-old son Ice Davis with the rapper, squealed in shock at the wads of cash as she revealed the lavish present on her Instagram Stories during her birthday party.
Gucci Mane further penned a sweet message on Instagram.
"Happy Birthday to my wife the most beautiful woman in the world and the best thing ever came into my life I love you Mrs Davis 4ever and appreciate and will never take you for granted. I got the perfect wife and family and I got your back 4life @keyshiakaoir ❤️."
The couple have been married since 2017 in a lavish $2 million dollar wedding ceremony.
8. Forbes announces top Tik Tok earners of 2021
Yesterday, Friday, January 7, Forbes  unveiled the seven top-earning creators on TikTok 
According to Forbes' the video-sharing app's top seven creators, under the age of 25, "collectively earned $55.5 million," with most of their money coming from sponsored content.
See top seven earners of 2022 below:
#1.Charli D'Amelio made $17.5million.
#2. Dixie D'Amelio made $10million.
#3.Addison Rae made $8.5million.
#4.Bella Poarch made $5million
#4.Josh Richards made $5million
#5.Kris Collins and Avani Gregg made $4.75
9. The Weeknd hints at dating Angelina Jolie
Following several rumors about the superstar and actress dating after being seen together severally last year.
The Weekend released his new album Dawn FM on Friday, January 7, and on one song called Here We Go… Again he sings: "My new girl, she's a movie star."
However, Weeknd and Angelina Jolie haven't confirmed their relationship. They've been spotted having dinner. "They're not trying to hide [the dinner date]," a source told Page Six.
According to a source from US weekly, "Both Angie and Abel(the Weeknd)/are telling people they are just friends, but those who know them think something romantic is going on." 
10. Julia Fox reacts to after being compared to Kim and Pete Davidson
On Friday in an article published in the New York magazine's The CutNew York York magazine's The Cut 

Julia said "I mean, it's all just happening so quickly."

"I'm going with the universe and the flow and seeing where it takes me," she said, before noting, "where it takes all of us."

The "Uncut Gem" actress has been making headlines since she became official with Kanye West.

Especially after their steamy impromptu photo shoot broke the net.

0