Top 10 exciting highlights of the week
Get all the latest entertainment news story highlights that broke within the week. Enjoy brief recaps all the news from your favourite Nigerian and Hollywoid celebrities.(Jan 30-Feb4)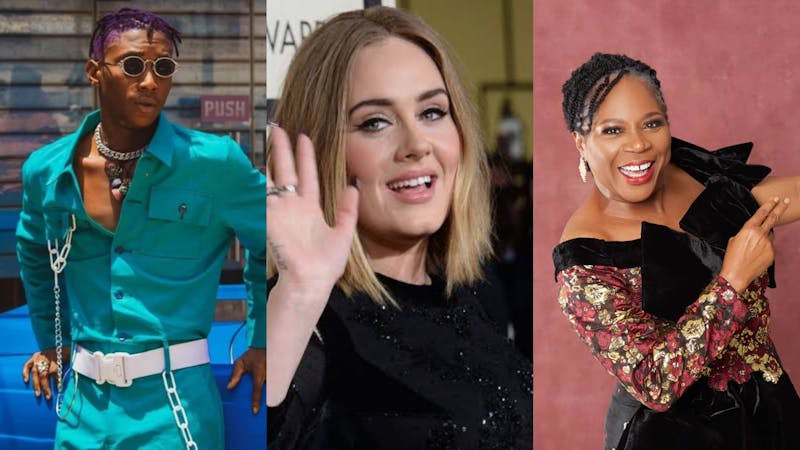 We are almost one week into the month of love, February!
As usual, at the end of every week, Clacified.com brings you some of the hottest, latest, and exciting stories from the entertainment scene. And we juggle from trending news stories to album releases and celebrity drama.
If it's not Davido's surprise gift to crew members, it's the latest addition to singer, 9ice's family or Bella Shmurda's latest reply to Lagos State University.
Clacified captures all of these exciting highlights in ten brief headlines. Stop playing catch up as you read and enjoy a quick recap of stories you might have missed.
AY comedian's wife Mabel Makun narrates painful and traumatic pregnancy ordeal.
1. AY Comedian's wife, Mabel, talks about difficult pregnancy journey
Comedian, AY Makun's wife narrated her sufferings of three miscarriages, an*l ble*ding, and other medical conditions before the birth of their second child.
In a lengthy Instagram post on Sunday, January 30, 2022, Mabel Makun shared the pains and trauma she endured during her 13 years waiting period before their second child.
According to beautiful Mabel Makun, she lost three pregnancies without any medical explanation.
''Three miscarriages with no medical explanations as to the reasons why. It was the same pattern as before, every single thing that happened with the others, happened again, only this time more, but I was determined to hold on tight to God and not fail,'' she wrote.
The mother of two further disclosed how she bled,  had difficulty breathing, and suffered mental exhaustion from all the miscarriages.
"Anal bleeding, threatened miscarriage, difficulty in breathing, I wasn't psychologically and mentally stable and that, was the most challenging part for me, my emotions were all over the place.
Mabel added that she was sharing her experience to encourage many people and to appreciate God. Mabel and AY Makun married in 2008 and had their first child, Ayomikun. 13 years later, they welcomed their second baby.
Bella Shmurda has refused to go back to school, says he would rather make money and music.
2. Bella Shmurda reacts to LASU's statement about resumption.
'Cash app' singer, Akinbiyi Abiola Ahmed, popularly known as Bella Shmurda, has decided to turn deaf ears to the Lagos State University's request for him (LASU) to return to school.
Following Shmurda's post on January 30th, 2022. The music star has no intention of returning to LASUU. According to him, "Now playing: 4 years in @LASUOfficial is nothing," he tweeted.
"Better get that money! The economy is starving!"
Earlier on, Bella Shmurda tweeted about his terrible experience at LASU with hunger and bad grades compared to becoming worth 550 million streams.
In response, LASU urged Bella Shmurda to return to school.
Davido buys Toyota Venza for Isreal DMW
3. Davido, in generosity, gifts a loyal aide a new car.
Nigeria's music star, Davido, bought a car gift for his crew gift, Israel DMW.
In a viral video on social media, ecstatic Israel jumped and hailed Davido as presented the Toyota Venza car.
"I am now a car owner o! Oga, thank you, sir!" he screamed as he ran to hug Davido in excitement.
Israel DMW is one of Davido's aides and loyal staff.
Thompson blocks Sandra Iheuwa on social media after chat with her friend gets leaked.
4. Sandra Iheuwa' husband, Thompson, blocks her on social media
Ubi Franklin's fourth baby mama, Sandra Iheuwa's marriage, maybe heading for the rocks soon as husband Thompson stops her on Instagram.
The recent development comes after a chat between Sandra's conversation with a friend got leaked on social media.
According to the chat, Thompson sent Sandra's kids out of the house because 'he doesn't like kids.'
Sandra also disclosed in the chat that Thompson always talked down on her and the kids, saying 'he is doing us a favor by roofing us.'
Recall that last year in 2021, Thompson dragged Sandra Iheuwa online and sent her packing. Later, Thompson apologized and claimed that blog rumors fueled his outburst.
Onyeka opens up about her difficult marriage Credits to Instagram/onyekaonwenu
5. Veteran singer Onyeka Onwenu opens up about her marriage 
Nigeria's 'Elegant Stallion' singer, Onyeka Onwenu, recently revealed heartbreaking  details of her marriage journey in an interview with Kikilomo Atanda-Owo on her show "Real Talk with Kike."
According to that veteran singer, Onyeka Onwenu, she had put in all the work to keep her marriage, but it was fruitless.
"I went through it. It wasn't easy because I didn't want my marriage to end, but I could not take it anymore. She said.
The 70year old singer, Onyeka further revealed that she single-handedly raised her two kids from kindergarten to MSC level without support from her husband.
'I raised my children from kindergarten to Masters Degree.' 
Onyeka Onwenu is a Nigerian singer, songwriter, human rights activist, broadcaster, and actress.
She starred in a popular Netflix movie directed by Genevieve Nnaji, 'Lionheart' in 2018.
Credits to Instagram/official9ice
6. 9ice welcomes second baby with wife
Gongo Aso, singer  Alexander Abolore Adegbola Akande, also known as 9ice, welcomed a second child with his wife, Sunkanmi.
On February 4, 2022, the couple flooded social media with lovely photos from their pregnancy shoot.
"My baby just delivered a baby," 9ice captioned one of the photos.
The couple recently celebrated their second wedding anniversary.
Credits to Instagram/simoncowell
7. Simon Cowell involved in severe 2nd bike crash
British TV personality Simon Cowell was involved in a ghastly bike accident on February 3, 202,2 near West London. Although, Cowell survived the accident with a broken leg, he is fortunate to be alive.
According to reports from Page Six, the "America's Got Talent" judge was riding the bike when he "slipped off" and fell, but he is "OK."
Although this is not the first time Cowell will be involved in a bike accident; Back in 2021, Cowell broke his back in three places while riding the $20,000 bike outside his Malibu mansion.
According to the Sun, Cowell was "lucky to be alive" since he was hurled off the bike after driving 20 mph and was not wearing a helmet.
A$AP Rocky and Rihanna are expecting their first baby together.
8. Rihanna and A$AP Rocky are expecting their first child together
Barbadian singer and Fenty billionaire recently showed off her baby bump during a walk with boyfriend, A$AP Rocky.
The 'Umbrella' singer was spotted wearing a pink jacket with one button holding the outfit together at the top. At the same time, her baby bump was adorned with an expensive diamond-encrusted cross.
Rihanna, 33, also took to her Instagram page on Thursday, February 3, 2022, where she shared a photo of her growing baby bump.
"how the gang pulled up to black history month," she captioned the photo.
Adele debunks breakup rumors of her relationship with Rich Paul.
9. Adele debunks breakup rumor with boyfriend Paul
Amidst speculations of Adele's relationship crash with Rich Paul, the 'Rolling in the deep' singer seems to be having fun.
Following the rumors of Adele's split from Rich Paul after she was heard shouting and crying on the phone during rehearsals. Adele made an announcement.
The music star made this known via her Twitter page on Tuesday, February 1, 2022, announcing plans to perform at the Brits award.
"Hiya, so I'm thrilled to say that I am performing at the Brits next week!! Anddddd I'll also be popping in to see Graham for a chat on the couch while I'm in town too! I'm looking forward to it! Oh, and Rich sends his love," she tweeted.
Kim Kardashian and Kanye West are at each other's throats amidst the divorce process.
10. Kanye West accuses Kim K of kidnapping their daughter Chicago
As Kanye and Kim K's divorce process gets messier, the 'Donda' album maker has dragged the mother of his four kids for not granting him access to the kids.
Before this, Kanye had sought public advice on how to handle their daughter, North's arrival on Tik Tok against his will.
Enraged Kim K in response, posted a lengthy scathing statement on Friday.
"As the parent who is the main provider and caregiver for our children, I am doing my best to protect our daughter while also allowing her to express her creativity in the medium that she wishes with adult supervision — because it brings her happiness." Kim wrote.
In reaction to Kim, Kanye posted a damning statement, accusing his ex-wife of kidnapping their daughter.
"What do you mean by the main provider? America saw you try to kidnap [sic] my daughter on her birthday by not providing the address,"
Kanye and Kim K ended their marriage last year February, ever since then both parties have had hiccups of public quarrels. Most of the quarrels has been fueled by Kanye especially since her relationship with Pete Davidson became official.