Top 10 interesting story highlights of the week
Catch the exciting stories of your faves and see what they have been up to throughout the week.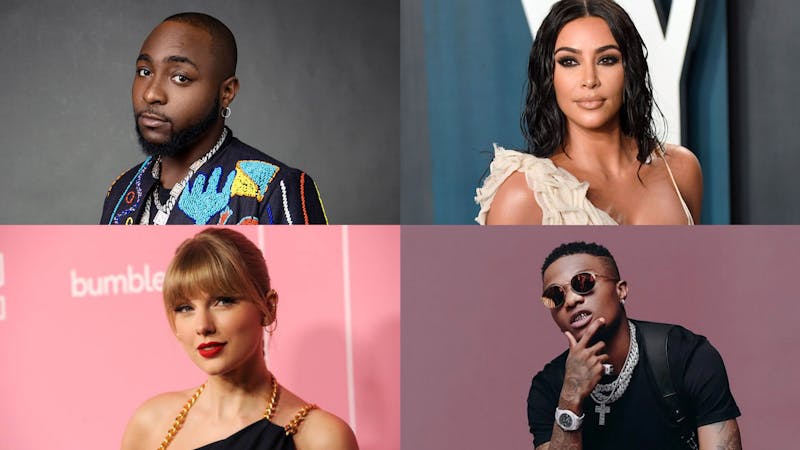 Here's a quick roundup of some of the most exciting stories of the week. Some stories will take you by surprise, and others might leave you with questions.
1. Peruzzi indulges himself with a new Mercedez Benz on his birthday.
In a video that went viral on the 7th of December, Peruzzi was recorded as he received his Mercedes-Benz GLE to mark his 31st birthday.
The Nigerian music star splurged between $68,150–$71,350 for his five-seat, mid-luxury Mercedes Benz, according to car dealer sites.
The singer is signed under Davido's DMW record label and has recorded significant hit singles with "Majesty" and other songs.
The estranged couple Fani Kayode and Precious Chikwendu
2. Femi Fani Kayode and his estranged wife fight dirty.
Ex-beauty Queen and ex- wife of Femi Fani Kayode, Precious Chikwendu, called out ex-husband over children custody.
During an interview with Chude Jidenowo on his show #WithChude, the mother of four said,
"The children are with him; I haven't seen them since August 2nd, 2020.
Yes, since August 2nd, 2020, I haven't seen my children, and I've been physically prevented from seeing them," 
Following her disclosure on the show, Chikwendu filed a lawsuit against Fani Kayode because the former aviation minister had erectile dysfunction.
Reacting to the allegations leveled against him, Fani Kayode's legal team issued a statement.
The statement labeled Chikwendu as suffering from bipolar disorder and schizophrenia. It also pegged her as "totally insane."
The minister also revealed that all pending issues would be addressed in court.
Fani and Chikwendu have been at each other's throats since their separation after 6years together. The estranged couple has four boys together.
Davido buys himself a Lamborghini.
3. Davido splashes N300 Million on Lamborghini.
30billion gang leader, Davido aka OBO, has just bought himself a Lamborghini Aventador worth N300M.
Posting on his stories, Friday, December 6, 2021, Davido shared photos and videos of his new car. 
According to car dealer sites, Davido's new baby is worth $417,826 - $517,770.
The last vehicle that the singer bought was a Rolls Royce in March.
Nigerian star singer, Wizkid.
4.Wizkid reveals the secret behind the success of " Essence."
In a chat with Apple Music, Big Wiz disclosed that he worked on the song "Essence" for 3years.
"I felt it coming. I would say I'm lying if I didn't feel it coming because it took me three years to work on that album. So I felt like there would be a shift, but I didn't know how it would come.
Wizkid's song Essence featuring Tems gained global accreditation with a recent Grammy nomination for best music and international album.
5. Big Brother Africa returns in 2022
MultiChoice' South African TV network Mzansi Magic announced that the show would return after a 7year break.
The show has begun casting for the show tagged 'Big Brother Mans.
Randburg-based Red Pepper Pictures will produce it
M-Net's Executive Head of Programming, Nomsa Philiso, said:
"This year marks 20 years since the very first Big Brother on MultiChoice's M-Net, and we are excited to celebrate this milestone by commissioning a new Big Brother season, which will be housed under our Mzansi Magic stable."
The last show aired in 2015 with Ace Khumalo and Ntombi Tshabalala emerging winners.
Dr Dre and ex-wife Nicole Young
6. Dr. Dre celebrates divorce in grand style.
American rapper Dr. Dre threw himself a party following the finalization of the divorce process with a partner of 25 years, Nicole.
The 56-year-old rapper posed with a display of " Divorced AF" balloons to celebrate his new status in a picture posted by Breyon Prescott on Thursday, Dec 9.
Hey Well, My Brother @drdre Just Told Me It's Final !!! Congrats (champagne bottle emoji) Still Dre (goat and flexed bicep emojis),' Prescott captioned the photo.
Dr. Dre's ex-wife Nicole Young filed for divorce in 2020 after 25 years of marriage and two adult children, Truly, 20, and son Truice, 24.
Nicole accused Dr. Dre of physical abuse amidst their irreconcilable differences.
The duo has been involved in a $1billion legal suit and validity of their prenuptial agreement.
American actor Jussie Smollet.
7. Jussie Smollet in big trouble
American actor Jussie Smollet has been found guilty of staging his attack on Jan 29, 2019.
The Empire actor who lied about a racist attack pleaded not guilty to six counts of felony and disorderly conduct for allegedly filing a false police report.
The Cook County jury's guilty verdict, was announced in Judge James Linn's courtroom after more than nine hours of deliberation.
The former Empire star faces a three-year jail term or option of a $25,000 fine based on the criminal statute.
American singer Taylor Swift.
8. Taylor Swift in messy copyright case
American pop singer Taylor Swift has been accused of copying lyrics "Shake It Off from another song."
The 2017 lawsuit against Swift was initially dismissed, but the appeal court later reversed the decision.
Songwriters Sean Hall and Nathan Butler alleged in 2017 that Swift copied the lyrics to the 2001 song they co-authored for 3LW, "Playas Gon' Play."
Swift's lyrics in "Shake It Off"(2014) "Cause the players gonna play, play, play, play, play and the haters gonna hate, hate, hate, hate, hate" -infringes on the copyrighted material from 3LW "Playas, they gon' play and haters they gonna hate."
Swift's trial is set for August 30, 2022.
Kim K and estranged husband Kanye Ye West.
9. Kim K ignores Kanye's pleas as she files to be legally single
One day after Kanye Ye West pleads for Kim to run back to him, the beauty influencer filed documents to become lawfully single.
During the Free Larry Hoover Benefit Concert, on Thursday with former enemy Drake, Kim's estranged husband Kanye soberly performed "Runway" in dedication to "Kimberly."
According to TMZ reports, the 41-year-old mother of four filed the paperwork Friday afternoon, which, if signed by a judge, will separate issues of child custody and property from marital status.
Kim is also set to drop the "West" surname as she intends to pick up her maiden name, "Kardashian."
Despite various efforts from Kanye on reconciliation, Kim has refused to budge as in November; she was spotted several with her date Pete Davidson.
"You will die at 20" Sudan Movie.
10. You Will Die At 20' unveiled as Surreal16 Film Festival's closing film
Amjad Abu Alala's critically acclaimed film 'You Will Die at 20'was submitted as Sudan's first-ever Oscar entry in 2020.

The film has been confirmed as the closing debut edition of the Surreal16 Film Festival.

Unfortunately, the film got no nomination for the Best International Feature Film Oscar category list.

0