Top 10 interesting story highlights of the week
Catch up on all the latest stories on the entertainment scene during the week. (January 17 to January 22, 2022)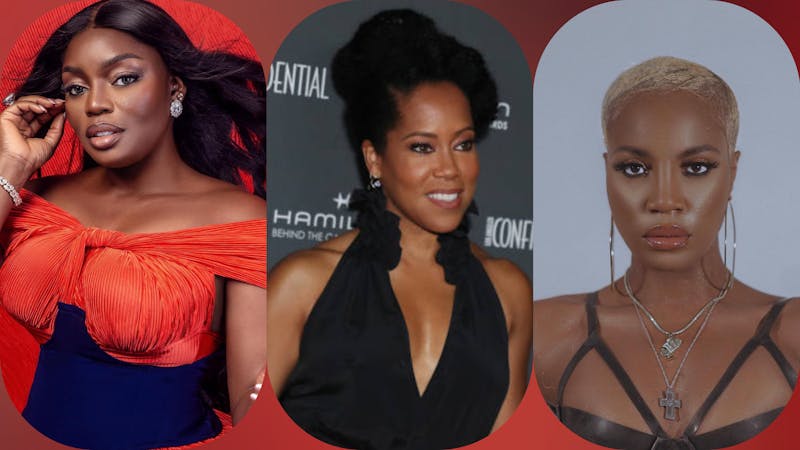 Every week Clacified brings you top 10 interesting stories from around the world in Entertainment.
This way, you can keep up with all the latest updates on your favourite celebrities. Now you can stay up to date with the latest trends and stories in the Entertainment industry.
This article covers stories that broke during the week.
1. AY Comedian and wife welcome 2nd child after 13 years
On Tuesday, January 18, 2022, popular Nigerian comedian AY Makun and his wife Mabel welcomed a baby thirteen years after their first child.
AY shared a video of his wife and their newborn baby in the hospital.
"Our prayers in the last 13 years has been answered. AYOMIDE thank you for making @realmabelmakun and I, Mummy and Daddy again," he captioned the video.
Credits to Instagram/iamseyishay
2. Seyi Shay is engaged
The music star made this known during an interview with Beats FM.
She was asked about the noticeable diamond ring on her finger and she explained how she got it.
"Some guy gave it to me and said 'hey would you marry me?'' she said.
Seyi Shay confirmed her engagement saying it is one of the reasons she has been glowing. According to her, her relationship sealed the entire package.
The music star who is also pregnant has not revealed the identity of the lucky man she is about to walk down the aisle with.
Credits to Instagram/Sholzy23
3. BBNaija's Omashola and fiancee are expecting a baby
The reality TV star took to his Instagram page on Thursday, January 20, 2022, where he shared an ultrasound video of his fiancee and her growing stomach.
"All these years I was thinking my pee pee don't work, finally we got a very long leg start 🍾🎊💝," he captioned the video.
Credits to Instagram/@toyinabraham
4. Kolawole Ajeyemi responds to notion that Toyin Abraham funds his lifestyle
On Thursday, January 20, 2022, actor Kolawole Ajeyemi via IG said all the fake people who can't stay away from his private life will die in the process.
There have been speculations on social media that the actor's wife was behind his recently acquired Lexus SUV.
Ajeremi recently purchased a Lexus SUV to mark his birthday.
While the actor celebrated his new gift, some people believed that his rich wife(Toyin Abraham)was behind the purchase of the gift.
Credits to Instagram/@Iambisola
5. Reality TV star Bisola Aiyeola marks 36th birthday in style
On Friday 21 January, former Big Brother Naija housemate Bisola Aiyeola  released some gorgeous photos to mark her 36th birthday.
The reality TV posted the pictures via her Instagram page.
"This is 36. Thank you lord. #QueenBiyesi,'' she captioned the photos.
6. Grammys rescheduled for April 3 in Las Vegas
The 64th annual Grammy Awards ceremony has been rescheduled for a new date — and a new location. 
According to announcements on Tuesday the show would now broadcast live from the MGM Grand Garden Arena in Las Vegas on Sunday, April 3, from 8-11:30 p.m. on CBS.
 It's the first time the show will take place in Vegas.
The postponement comes amid a surge of the omicron variant.
Trevor Noah is still set to return as host for the show.
7. Cardi B to cover cost of funeral for victims of deadly fire incident in New York
American rapper Cardi B pledged to cover the cost of the funeral for all the victims of the deadly fire incident that happened in New York on January 9.
An inferno wiped across a 120-unit apartment building in the Bronx, New York, earlier in the month killing several residents including children.
According to TMZ Cardi B sympathized with victims saying, 
"I cannot begin to imagine the pain and anguish that the families of the victims are experiencing, but I hope that not having to worry about the costs associated with burying their loved ones will help as they move forward and heal," 
Several people lost their lives during the fire on Jan 9, 2022.
8. Nick Jonas and Priyanka Chopra welcome 1st baby
 Ex beauty queen Priyanka Chopra and her husband American singer, Nick Jonas are parents for the first time.
The couple via their Instagram pages on Friday, January 21, 2022, announced the big news.
"We are overjoyed to confirm that we have welcomed a baby via surrogate. We respectfully ask for privacy during this special time as we focus on our family. Thank you so much," they wrote.
Priyanka and Nick tied the knot in a lavish three-day celebration in December 2018.
The couple has not revealed the sex of their baby.
9. Arnold Schwarzenegger Involved in Multi-Car Accident
On Friday, Jan. 21. Arnold Schwarzenegger was involved in a car crash.
According to TMZ the former governor of California was driving his SUV in Los Angeles when he allegedly collided with a red Prius around 5 p.m. The outlet published photos of Schwarzenegger, 74, on the scene of a crash.
Police did not confirm the identities of the people involved in the accident.
10. Actress Regina King's son dies by suicide
American actress Regina King's only son Ian Alexander Jr. has died by suicide.
The family released a statement expressing their sadness.
"Our family is devastated at the deepest level by the loss of Ian. He is such a bright light who cared so deeply about the happiness of others. Our family asks for respectful consideration during this private time. Thank you," the statement read.
Ian was a 26-year-old Disc Jockey
Ian was King's only child with her record producer ex-husband Ian Alexander Sr.