Top 10 Nollywood Evil Actors And Actresses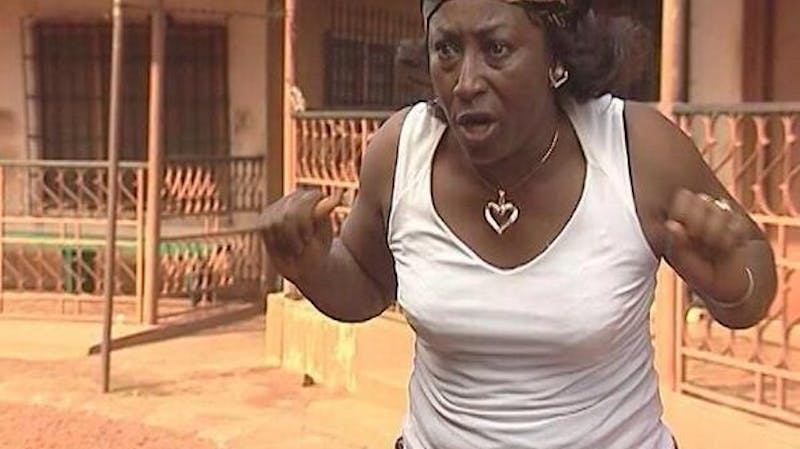 It is usually said that a great movie hero needs a great villain. A Villain is a character whose evil actions or motives are important to the plot.
Let us be honest, Movies without an enigmatic or thrilling villain often becomes distasteful and boring.
A good Director has this in mind and will always do everything possible to characterize the villain in such a manner that you might subconsciously wish he or she remains in the movie until the end.
In an industry where type casting is majorly predominant, in no particular order, below is a list of some of Nollywood's most notorious villains.
1. Margret Dele Olayinka aka Iya Gbonkan
Talented Nollywood actress who stars majorly in Yoruba movies, Margret Dele Olayinka "Mojoyinola" popularly called 'Iya Gbonkan' became famous for her roles as a powerful, mean, unforgiving and selfish aged woman.
She is also known for her scary appearances whenever she plays her witch roles. She has featured in many evergreen movies and TV series.
Her natural physique aided and befitted all her wicked roles. She hit the spotlight in the early 70s when her first acting career was recorded during the legendary Ifa Olokun's TV series by Pa Yemi Elebu'bon.
She became a character to look out for when she acted 'Olori Emere' in late Alhaji Yekinni Ajileye's groundbreaking movie, 'Koto Orun'. She has since become a sensation for wicked and witch roles.
Margret Dele Olayinka is also known for her scary appearances whenever she plays her witch roles.
2. Alex Usifo
Multiple award-winning Nollywood actor, Alex Usifo Omiagbo has featured prominently in movies as a bad guy in almost all his entire roles.
He is notable for playing the role of the person that teaches everyone else how to fish from the river of money rituals.
In 1988, Usifo gained recognition when he starred in Zeb Ejiro's soap opera, 'Ripples' where he played Talaab Abass.
The show was a huge success as it broke ground in television because a few soap operas existed then. Talaab Abass was a villain, a character Alex interpreted with bulging eyes and a baritone voice.
Alex Usifo is notable for playing the role of the person that teaches everyone else how to fish from the river of money rituals.
3. Patience Ozokwor
Patience Ozokwor a.k.a Mama G is no doubt one of Nollywood's villain personified. There is virtually no one who knows how to play the role of an evil wicked mother, mother-in-law or wife more than her.
She is gifted in playing the character of an evil woman who derives pleasure in physically intimidating and spiritually manipulating her victims so well.
Mama G has met with God and is now born again.
Patience Ozokwo now preaches the gospel more than she used to do. Not only that, she has abandoned her old ways of dressing; no more make-up, trousers, dreadlock and even her popular name Mama G.
Patience Ozokwor is know for her villain roles in Nollywood Movies.
4. Patience Oseni
Veteran Nollywood actress, Patience Oseni is another Nollywood character known for her evil roles in movies.
She started her acting career in 1995 when she first starred in the movie 'Deadly Passion' but gained prominence in the late 1990s.
The movie 'End Of The Wicked' brought her to limelight. She starred as a witch and a mother-in-law who grew a penis with which she rapes her daughter-in-law.
Before her demise, Patience Oseni also featured in 'Heat Of The Moment', Wale Adenuga's Super Story Series and a host of other movies. She died on Monday, February 17, 2020, in Calabar, Cross River State.
Patience Oseni was famous for her lead role in Helen Ukpabio's 1999 hit movie, 'End of the Wicked'
5. Camilla Mberekpe
Famous for playing wicked roles in movies, talented Nollywood actress, Camilla Mberekpe is one known for acting wicked 'witch' roles.
Her sterling performance and characterisation led her to fame, it also earned her a nomination for the Best Actress in a supporting role at the Africa Magic Viewers Choice Awards.
Camilla Mberekpe is also known for her roles in
The Guilty 2 (2006),
Game Fools Play (2007), and
The Guilty (2006).
Camilla Mberekpe is also among Nollywood Actresses who call themselves 'Born-again' Christians, the actress visited The Synagogue Church Of All Nation (SCOAN) for prayers around April 2013.
Camilla Mberekpe is a Nollywood actress, she is know for her villainous roles in movies.
6. Chiwetalu Agu
Apart from being funny and famous for his usage of specific language slang, phrases or cliche's in movies, Chiwetalu Agu is pretty popular for playing villainous roles.
Chiwetalu Agu is especially known for movies which involved killing his brother, nephews and friends to inherit their land, wives or other properties.
He is also known for his roles as an evil village uncle or elder who is capable of causing havoc on a village.
Agu is married to Nkechi and has three sons and two daughters. Agu was the winner in the first-ever Nollywood Movie Awards 2012 for 'the best actor in an indigenous movie: non-English speaking language' for his role in Nkwocha.
Chiwetalu Agu is especially known for movies which involved killing his brother, Nephews and friends
7. Kanayo .O. Kanayo
Veteran Nollywood actor, Anayo Modestus Onyekwere popularly called Kanayo .O. Kanayo rose to fame for playing the role of a ritualist, cult member or a wicked uncle.
Kanayo became popular for playing the role of a wealthy man whose main source of wealth is through blood money, a regular occultist who recruits his friends into the cult without telling them the repercussions of their actions.
Sometimes Kanayo is cast as the wicked uncle who has refused to help his other family members grow even when he has money.
In 1992, Kanayo made his debut movie appearance in the film Living in Bondage. Kanayo has starred in over 100 films. He was nominated in 2008 for African Movie Academy Award for Best Actor in the movie "Across the Niger
Kanayo enrolled with the University of Abuja and in 2019 graduated with a Law degree before proceeding to the Nigerian Law School Abuja campus.
8. Pete Edochie
Nollywood Legend and star actor, Pete Edochie became famous for his evil roles as an evil king, father, husband, uncle or a cultist.
He became a symbol of evil and the occult world, who would stop at nothing to do anything for money and power or until he achieves his wicked plans.
He came into prominence in the 1980s when he played the lead role of Okonkwo in an NTA adaptation of Chinua Achebe's all-time best selling novel, Things Fall Apart.
Chief Pete Edochie, MON is a Nigerian actor. Edochie is considered one of Africa's most talented actors
9. Emeka Ani
Nollywood actor Emeka Ani is a known figure who undoubtedly interprets his roles as a ritualist or herbalist perfectly. He started his acting career in the 90s.
He embodies the image of an occult leader, a role he played mostly in movies.
Emeka Ani is popularly known for
Last Wedding
666 (Beware the End Is at Hand)
Signs of End time 2
Evil Melody
Adoration Power and
Cash and Carry are just a few of the films in which Emeka Ani played the villain `character to perfection.
Emeka Ani was a lead character in the movie 666 (Beware the End Is at Hand) and its sequel Signs of End time 2
10. Zulu Adigwe
Can you still remember Zulu Adigwe? He was very popular during the '90s. Zulu Adigwe is a famous Nollywood actor and a television personality.
He acts mostly as an elder, titled chief, father, father-in-law and traditional ruler in several Nollywood movies alongside with Pete Edochie, Chinwetalu Agu, Ngozi Ezeonu, Patience Ozokwor.
Zulu Adigwe is a famous Nollywood actor and a television personality.
In Movies Zulu Adigwe always portrays the notorious man in Igwe's cabinet or Elders' meeting, More often hindering progress with his actions and inactions.