Top 10 interesting highlights of the week
Read up on ten of the most interesting stories in the world of entertainement every week.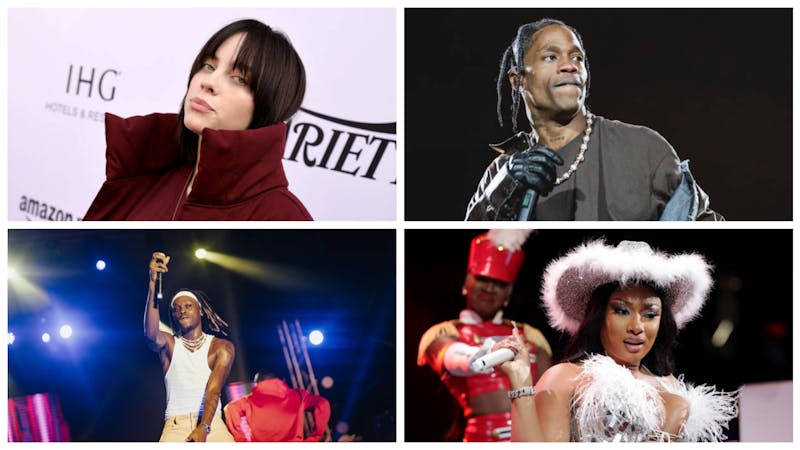 Are you struggling to catch up on your favourite celebrity stories? Or are you tired of surfing the net for a weekly recap of top events in the world of entertanment?
Right here on Clacified we bring you weekly story highlights on some of the most buzzing news stories.
Yeah, check out our top ten list below.
The trio stormed the concert and thrilled fans
1. Fireboy, Wande Coal, Ayra Starr, others excite fans at 'The Live In Concert
On the 11th of December 2021, Panda Entertainment had its debut edition of 'The Live In Concert'. 
This event was held at Ultima Studios, Lekki, and the turnout was enormous. Fireboy, Wande Coal, Ayra Starr headlined the concert.
The concert saw performances from upcoming acts: Shayo Davids, Toje, Smada, TMP, Tobi Peters, and several others.
Fireboy DML gave an electrifying performance, wearing a golden yellow jacket and leather pants. 
One of the highlights of the night, Fireboy the rave of his moment was followed by Wande Coal's hit medley which brought up a crescendo for the event.
 Ayra Starr closed the night as she performed her hit singles "Beggie Beggie".
The couple will get married on Wenesday Dec 22nd.
2. Nollywood actors Lateef Adedimeji and Bimpe Oyebade set to tie the nuptial knot.
Celebrity couple Lateef Adedimeji and Adebimpe Oyebade have announced wedding dates.
On Wednesday, 15th December, the lovebirds posted their invitation card on Instagram.
"Bismillah Rahmani Raheem. Love, Laughter, and happily ever after...
May the Almighty be praised. #adeadeforever #lovelikemovies," Adedemeji captioned the photo of their wedding invitation card.
Flooding the gram with lovely pre-wedding pictures, Lateef and Bimpe are set to wed on the 22nd of December.
The duo gained popularity for their roles in Ayinla and other Yoruba movies.
NFVCB to ban smoking in Nollywood movies.
3.NFVCB intends to ban smoking in Nollywood films
The National Film Video & Censors Board (NFVCB) announced new plans to pass a non-smoking law in Nollywood movies.
The NFVCB executive director Adedayo Thomas disclosed that the action follows the proof of the entertainment industry's impact on tobacco use and community health.
"Stakeholders observed that smoking in movies and the entertainment sector is a pathway to young people embracing smoking," the board executive said. "The tobacco industry uses a sophisticated marketing mix to promote smoking on set and in the entertainment sector."
According to Adedayo, the board will increase awareness among stakeholders. It plans to ban the use of tobacco or anything that depicts it.
Davido is Puma's cultural Ambassador.
4. Davido is Puma's newest Ambassador
One of Nigeria's most successful artists, Davido, has just been signed as a cultural ambassador for Puma.
Puma is a Sports company known for stylish and classic sneakers.
PUMA's General Manager EEMEA Distribution, Johan Kahlo, said
"Throughout our history, PUMA has had strong roots in Africa, football, and beyond. Signing Davido is both a clear commitment to Africa as a key market and a sign that African culture is becoming more and more relevant globally".
After the announcement on Friday 17th December, Davido will function as brand ambassador for PUMA in sub-Saharan Africa, North America, and across the world. He will don PUMA's Sportstyle collections, including the company's iconic T7 tracksuits.
Yetide, Mo Abudu and 50Cents.
5.Mo Abudu and 50Cent collaborate on a new African drama.
CEO of Ebonylife studios Mo Abudu and American rapper 50 cents will work together on a new movie project.
The project  'Queen Nzinga' will be set in 17th century Angola and features the coming of age story of fearless warrior queen Nzinga.
The lead role is actress Yetide Badaki ('America gods'), who doubles as the show's co-executive producer alongside 50 Cent, Abudu, and Steven A. DeKnight.
Mo Abudu shared: "The continent of Africa has a treasure trove of stories that are yet to be told. Queen Nzinga is a story that I have wanted to know for a long time, so when EbonyLife Studios finally found a home for this project at Starz and Lionsgate, it was a dream come true.
Megan recently became a health administration graduate.
6. Rapper Megan thee Stallion signs new deal with Netflix
American rapper Megan Thee Stallion joins the train of Netflix's first-look partnership deals.
Megan, who recently graduated from the university, said in an interview:
"I've always had a passion for telling creative and entertaining stories, so I'm thrilled about this partnership with Netflix.
"Venturing into production is the next step in my journey as an entrepreneur, and I can't wait to bring all my ideas to life and for my Hotties to watch," she added.
The exclusive partnership deal will see the 26-year-old produce exclusive content, including shows for Netflix.
Miss Alaska Emma Boyles is a Korean American.
7.Miss Alaska crowned Miss America 2022
Miss Alaska Emma Broyles was crowned winner at the 100th anniversary of the Miss America pageant on Dec 16.
The annual competition was held at Connecticut's Mohegan Sun Resort and broadcast live across all time zones on NBCU.
During Emma's onstage interview, she said,
"I want to show people that I am just like everybody else. I think that people tend to put Miss America and Miss America titleholders up on this pedestal."
According to E! News, fifty women from across the U.S. competed for the title of Miss America 2022 and the $435,000 scholarship award.
Including a $100,000 sum that will go directly to the winner.
Travis Scott was under heat for the tragic incident at the Astroworld concert.
8. Astro world tragedy: Cause of deaths revealed.
A month after the crowd surge at Travis Scott's Astroworld Festival that left 10 people dead and many others injured, fresh revelations have been made.
Authorities released the official cause of death of those who died. 
According to E! News, a Harris County Institute of Forensic Sciences report divulged that all 10 victims died from compression asphyxia.
Compression asphyxia, also known as traumatic asphyxia, occurs when external pressure is placed on the chest that prevents normal breathing and is often "associated with internal injuries," according to the National Library of Medicine.
Also, "combined toxic effects of cocaine, methamphetamine, and ethanol"  was a contributing cause of death For Mirza Danish Baig, 27.
Therefore the cause of death for all 10 victims was ruled as an accident.
Billie Eilish started watching porn from age 11.
9.Billie Eilish speaks out on porn addiction
Grammy award-winning singer Billie Eilish revealed the negative impact of porn on her life.
Eilish revealed her thoughts on "The Howard Stern Show" on Monday.
"As a woman, I think porn is a disgrace," she said. "I used to watch a lot of porn, to be honest.
I started watching it when I was like 11. I think it destroyed my brain and I feel incredibly devastated that I was exposed to so much porn."
The 20 year old disclosed how much it messed her dating life up and gave her nightmares.  
According to Billie, some of the content she watched was violent and abusive.
Elish referenced the sexual content in her song "Male Fantasy," one of many tracks of disillusionment from her newly Grammy-nominated album "Happier Than Ever."
"I didn't understand why it was a bad thing. I thought that's how you learn how to have sex," she told Stern, adding that she would also watch it because it helped her feel like "one of the guys." She said.
The singer's revelation calls for more conversations on pornography and its impact on mental and sexual health.
Tristan and Maralee Nichols had a 1 month affair which allegedly resulted in him fathering a third child with the fitness model.
10. Maralee Nichols speaks up on affair with Tristan Thompson
Following cheating scandals and Tristan Thompson's paternity case dismissal in Texas. Nichols opens up about a secret affair
In a statement issued to E! News, Nichols(a fitness model) spoke about the case surrounding the father of her child
"Over the past couple of weeks, many inaccurate and false stories have been circulated about me. I have not at any point released—nor have I directed anyone else to release—any information regarding Tristan Thompson or any litigation involving him. I have never spoken to any media outlet, nor have I leaked any information to anyone at any time. I am providing this statement because I feel I must defend my character."
The mother of one added that she met Thompson at a party at his Encino, Calif., home in 2020. "He told me he was single and co-parenting. I would never have gotten involved with Tristan if I thought he was in a relationship."
The fitness model has said that she wants to raise her son without any trouble.
"Instead of focusing on any negativity, I am choosing to embrace being a mother and doing the best I can for my son. I do not want any further media attention, nor do I want a romantic relationship with Tristan. 
My goal is to raise our son in a safe, healthy, loving, and private environment.
Tristan Thompson has not released any statement after Nicols statement at the time of this article.