Top 4 most Influential female artists in Nigeria
Nigerian female artists have had to work harder to prove themselves constantly in the music industry than their male counterparts.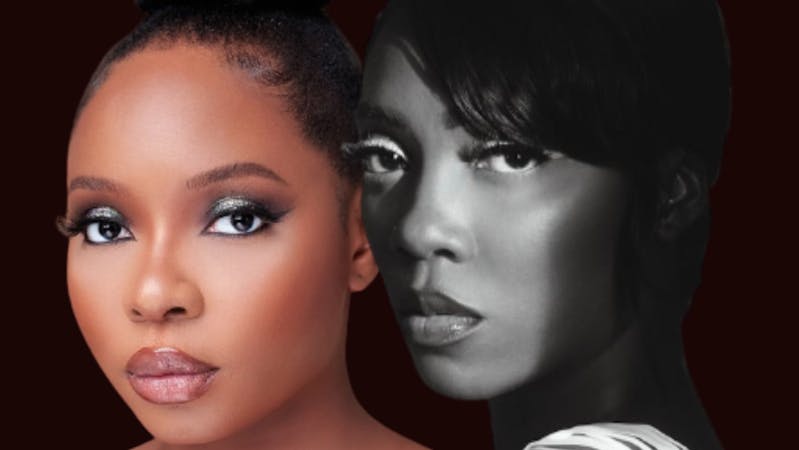 The music industry in Nigeria has always been dominated by men giving women little or no room to push or drive their art. 
But for the longest time, women have been present in the creation and production of music either directly or indirectly.
And whether they're given their proper dues or not, women have been shaping and changing the industry.
They may not be at the forefront of the Nigerian music industry compared to their male counterparts. But they have influenced the public's tastes and popular styles for thousands of years. 
Unfortunately, female musicians are rarely given the same accolades and recognition as their male counterparts.
Clacified.com has decided to shine more light on these often overlooked yet influential Nigerian female musicians.
Tiwa Savage, Queen of Aftobeat.
1. Tiwa Savage
Tiwa Savage became the first female winner of the "Best African Act" category at the 2018 MTV Europe Music Awards.
Bearing the tag as Queen of Afrobeats, Tiwatope Savage's influence in Nigerian music transcends her rich vocal texture. It's in her fusion of English and Yoruba lyrics with a confident and sexy attitude.
If you listened to her song "Kele Kele Love", an understanding of the depth of her musical prowess shines through during a time when female singers weren't so famous.
When Tiwa Savage sings, she's addressingg very particular things to Nigerian culture. 
Tiwa's expansive catalogue of songs managed reflected men, especially in love and relationships and has remained easy to dance to and fun to listen to.
Although plagued with controversies from her marriage, rumours of flings with other colleagues and messy fights with other female artists. Tiwa Savage remains the boss lady whose rise to fame paved the way of possibility for other female artists.
At 44, Tiwa has shown doggedness and commitment to her craft as she reinvents herself with every single.
Her hit single from last year with Brandy "Somebody's son" resonated with not just women in Nigeria but every woman across the world.
2. Yemi Alade
Yemi Eberechi Alade, aka Yemi Alade, earned her numerous fans after releasing the 2013 international hit single "Johnny," which was included on her debut album, King of Queens, in 2014.
With a mix of everything African from reggae, R&B, rap, and Afro-pop, Yemi's music screams culture and heritage.
 Her follow-up album, Mama Africa, was released in 2016 and featured the singles "Do as I Do" and "Ferrari." A companion EP, Mama Afrique, followed in 2017.
A flash of bold African prints, artistic make-up, and her powerful fiery vocals give Yemi Alade's audience a feel of what an African Queen should look like. The Igbo singer's lyrics and beats feature a defined combo of Igbo, Yoruba and English.
Yemi Alade was also a recipient of the MTV Africa Music Award for Best Female in 2015 and 2016 consecutively.
3. Simi
According to Apple Music, Simi is one of the most critically acclaimed pop stars in Nigeria, nominated for more than 25 awards and best known for her Headies-winning Album(Simisola).
Although Similola Kosoko's smooth, feminine soprano might be her greatest asset. Her music combines emotional, relatable anecdotes and incredibly written lyrics. 
Her journey began after releasing her debut studio album in 2008, Ogaju. 
In 2014, Simi signed with X3M Music. She released "Tiff", which gained much prominence, and was nominated for Best Alternative Song at The Headies 2015.
Simi presents love as the primary theme of her artistry which she expresses in tracks like "JAMB Question", "Love Don't Care", "Joromi", etc.
Her debut album, "Simisola" peaked at number 5 on the Billboard World Albums Chart. Simi's Duduke" scooped the inaugural Best Written Song award and "Know You", Best Collaboration at the 2020 Headies.
The 33year old mum of one had also redefined the stereotype of motherhood, especially when she bagged the AFRIMMA award for Best Female Artist West Africa in 2020 after birthing her daughter, Adejare.
4. Teni
Teniola Apata aka Teni Makanaki became a music sensation after releasing the hit singles "Askamaya", "Case" and "Uyo Meyo". "Askamaya" was ranked 15th on MTV Base's year-end list of the Top 20 Hottest Naija Tracks of 2018.
Popular for her socially conscious lyrics, Teni's influence in music is a blend of dexterous vocals, unmatched musical prowess and gifted songwriting.
Teni the Entertainer exudes an aura of self love and confidence in her craft. 
A studio rat, making music is a seamless, and effortless venture for the 29 year old Teni who swept the world with her debut E.P, Billionaire on the 11th of October 2019. That same year(2019)Teni was featured on YouTube Music's Trending Artist on the Rise.
On May 3, 2019, she released the video for "Sugar Mummy". On June 14, 2019, she released a new single titled "Power Rangers" which received massive airwaves.
Teniola who arrived in the music scene about 3years ago won Rookie of the Year at the 2018 Headies Awards, and Most Promising Act to Watch at the 2018 Nigeria Entertainment Awards.
Later she won Best New Artist at the 2018 Soundcity MVP Awards Festival. She was listed on Premium Times' list of the Six Nigerian breakout stars, viral sensations of 2018.