Top 4 Nigerian celebrity breakups of 2021
Many Nigerian celebrity relationships failed in 2021, some were at the brink of breaking up completely while others ended it abruptly.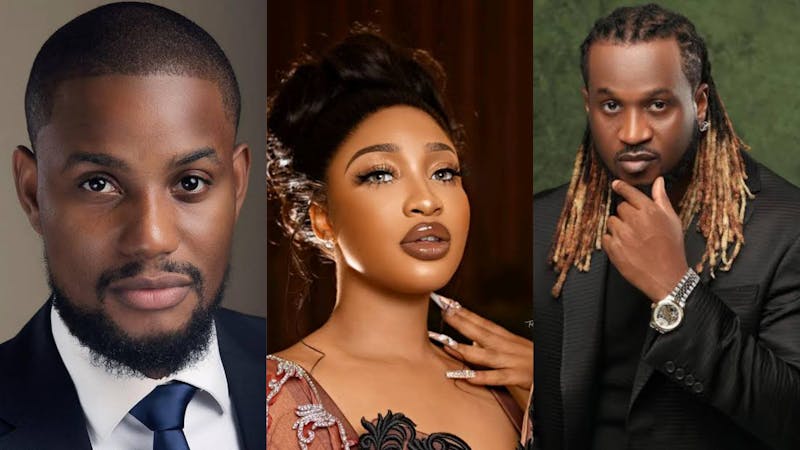 For many decades fans have modeled their lives after celebrities and industry stars.
And their love lives have never been an exception.
But in recent times, the trend of failed marriages in the entertainment industry has hit a significant milestone.
Especially with the good, bad, and ugly breakup stories constantly making the headlines. 
The Celebrity culture of failed marriages hit an all-time high in 2021. A year that everything seemed to fall apart in love and relationship.
Here are Top 4 Nigerian celebrity breakups that came as a rude shock.
Anita Okoye allegedly filed for a divorce from Paul Okoye following irreconcilable differences.
1. Paul and Anita Okoye
On Friday, August 20, 2021, the social media space took a hit after leaked divorce papers of Anita Okoye filing for separation were exposed.
It was reported that Anita Okoye, wife of Paul Okoye (Rudeboy), allegedly filed for divorce from him on irreconcilable differences.
Before the leaked papers came out, there had been hints of trouble in the Okoye paradise. At some point, Rudeboy was accused  of domestic violence, which was one of the reasons why she moved to the States with her children
This may have been the cause of all their problems.
The Anita Okoye demanded N7.8 Million Monthly Spousal Support from Paul Okoye
Paul had Anita get married in 2014 and have three children together.
The monarch's marriage to Naomi ended after 3years.
2. Ooni and Queen Naomi
Naomi Silekunola's to Ooni of Ife Oba Adeyeye Ogunwusi Ojaja II crashed last December.
In a lengthy social media post, Naomi announced that her marriage to the Ooni had ended.
She further alleged the hypocrisy of the monarch, stating that Ooni's public perception is different from his true character. 
Her post read, "I bless the Lord almighty for His faithfulness in the last 3 years of my marriage.  
Indeed it is well. I made my journey into the ancient throne of Ife with faith in my heart and love for the keeper of it.
"Few impressions I would love to correct. If anyone knows otherwise, they are free to come up with facts. 
Let it be known that this decision to move on did not come because his majesty is married to another queen. 
As many would love to assume, throughout our life as a couple, I was the only married wife to him.
There were side attractions, but it was never an issue. She wrote.
Naomi later opened up about their marriage and how she became the wife of the Ooni of Ife. The light-skinned woman also described that her son with the Ooni is her first child
"Tadenikawo; my son is my first ever pregnancy with medical reports to back it up."
" I, at this moment, announce that I shall no longer be referred to as a wife to the Ooni of Ife or as Queen of Ile-Ife but as the Queen of the people and mother of my adorable Prince."
The Prophetess's announcement came as a rude shock to the public. The palace at first disregarded the news and claimed her account had been hacked. But later on from reports, the Queen had moved out of the court to Akure.
Ooni married Naomi in 2018 and they have a son together.
Tonto Dikeh and Prince Kpokpogri's relationship took an ugly turn.
3. Tonto and Prince Kpokpogri
Nigerian controversial Nollywood actress, Tonto Dikeh and new lover Prince Kpokpogri broke up after 3 months of dating
The Nollywood actress Tonto Dikeh unveiled her man on July 27, but sparked breakup rumors in October after she blocked her politician boyfriend, Prince Kpopogri, on Instagram.
A  few weeks after, a voice note of Prince Kpokpogri allegedly accusing Tonto of cheating on him and complaining about the actress's unrepentant behavior sufficed and went viral.
Things went from bad to worse as leaked voice notes and premium dragging became the order of the day.
Confirming the news, Tonto Dikeh said in a voice note now-deleted. She disclosed the recording was a private conversation illegally recorded by Prince Kpokpogri and had nothing to do with the recent.
Kpokpogri further established his stance by hailing Churchill, Tonto's ex-husband for being with Tonto despite her terrible character.
Mr Kpokpogri, who is also the chairman of the Anti-Corruption and Integrity Forum, described his ex-lover as "Helen of Troy" and claimed their short-lived affair was turbulent.
"We dated for barely three months and it was more or less a living hell! So much has happened in such little time that I overlooked it for the sake of the so-called relationship and my sanity,'' Kpokpogri said while reacting to the news of their break-up.
Everything fell apart when Tonto dragged Instagram fire dancer, Janemena into the feud.
The curvy actress claimed that Kpokpogri recorded women's sextap to blackmail them and Janemena was on the list.
Social media caught fire with comments and reactions flying. Dikeh further noted that those trying to blackmail her would be brought to justice.
Alex and Fancy's relationship ended 3months to their wedding.
4. Alex Ekubo & Fancy Acholonu
Nollywood actor Alex Ekubo and Fancy Acholonu were the talk of the town after their engagement video went viral.

The #FalexxForever became a trending hashtag as fans anticipated the wedding date announcements.

After much social media buzz, fans noticed that both parties had unfollowed each other.

Speculations began to spread of a possible breakup story or trouble in their relationship. Some theories said it was a publicity stunt.

Later on, Fancy Alex's fiance confirmed their breakup. 

"Hey guys, I am writing to officially inform you that I have ended my relationship and engagement, and I have called off the wedding with Alexx Ekubo," the American-born model wrote.

"I am aware this may be a shock to many people. I made the best decision for myself because everyone must find happiness and live in their truth.

 At this time, my family and I ask you all to please respect our privacy. Thank you so much."

The duo also deleted the joint Instagram page created for their wedding.

0