Trouble! Police arrests A$AP Rocky over 2021 November shooting
The Barbados rapper, ASAP Rocky 33 was nabbed by the LAPD at LAX airport in Los Angeles by 8:02 am.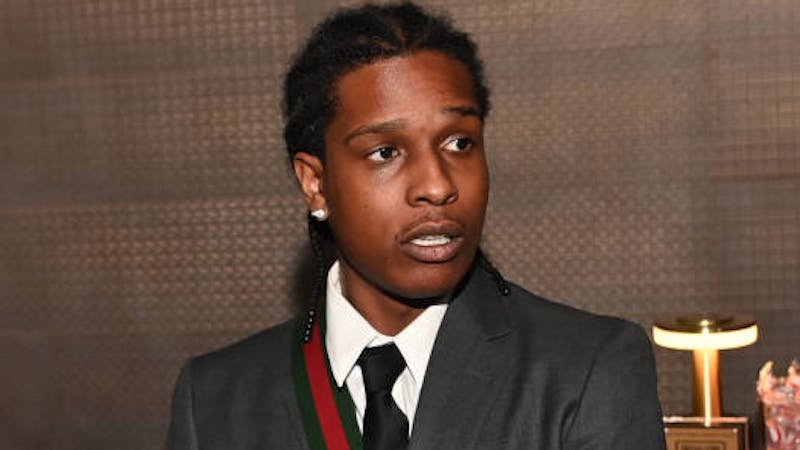 On Wednesday, April 20, 2022, Barbados Rapper, Rakim Mayers, famously known as A$AP Rocky, was arrested at Los Angeles International Airport about a shooting in November, according to the Los Angeles Police Department(LAPD).
According to reports Mayers was arrested upon arrival on a private plane from Barbados, where he had been on vacation with his pregnant girlfriend, the singer Rihanna. Reports also suggest that following his arrest, the LAPD carried out a search warrant of the rapper's Los Angeles home.
Although the shooting incident was not reported, LAPD took to Twitter to give details on the case, saying Mayers is the suspect in a Nov. 6 shooting near Vista Del Mar and Selma Avenue around 10:20 p.m.
 "Early this morning, LAPD officers arrested Mayers for assault with a deadly weapon (firearm) at the Los Angeles International Airport. The case will be presented to the Los Angeles County District Attorney's Office for filing consideration."
Based on the shot victim's accusations, Mayers, who was walking with two others, approached him with a handgun on the street. The victim claimed Mayers shot at him three to four times and that he suspected one of the bullets grazed his left hand, according to police reports.
ASAP and Rihanna started dating in 2020.
However, Mayers(ASAP Rocky)was released less than three hours later after posting a bail bond of USD 555, 000. The records show he was reportedly investigated by the Homicide division and has a court date set for Aug. 17.
Rocky had recently flown to Barbados with Rihanna amid rumours of their relationship crisis over a cheating scandal. Although ASAP and Rihanna debunked the rumours as they stepped out for date night in Barbados. 
The Fenty Forbes billionaire, Rihanna is currently expecting her first child with Rocky. The singer has confirmed that she's already in her third trimester. The couple announced their pregnancy earlier this year in January.
Rocky and Riri started dating in 2020 during the pandemic. Sources say that the new move on Rocky's arrest was unexpected for Rihanna whose only focus has been her unborn baby.
However, this is not the first time that ASAP would be in trouble with authorities or arrested.
The rapper ASAP Rocky has been arrested before in the past
All the times A$AP Rocky has been arrested
In 2006, he served two weeks on Rikers Island for drug dealing, where he shared a cell with future rapper Casanov.
On July 19, 2012, ASAP Rocky was arrested after alleged participation in a scuffle that took place in downtown Manhattan involving a 21-year-old artist named Rome.
In 2019, Rocky, now 33, was arrested in Sweden after a fight on the street between his entourage and two men. At the time, President Donald Trump protested for his release, warning Sweden it would face negative consequences if he was not freed.
Nonetheless, Rocky was convicted of assault, given a suspended prison sentence, and had to pay more than $1,000 in damages. He served a month in jail before the sentence was handed down, so he did not have to serve any additional time.
In the light of these several arrests, many would wonder how trouble always seems to find ASAP Rocky. Unfortunately ASAP Rocky had a turbulent childhood that left him selling drugs at age 15.
ASAP Rocky's brief profile of a rough childhood
Born Rakim Athelaston Mayers(ASAP Rocky) on October 3, 1988, in the Harlem neighborhood of Manhattan to Barbados father. ASAP grew up with an older brother and an older sister, Erika.
At age 12 Mayer's father went to jail in connection with selling drugs; he died in 2012. When Mayers was 13, his brother was killed in Harlem. The death inspired Rocky to take rapping more seriously.
But things were tough for the young champ and his mother and sister as they moved around homeless shelters. By age 15, Mayers was selling crack in the Bronx. After living for a period in a shelter with his mother in New York City, he moved to Midtown Manhattan.
Fortunately August 2011, Rocky's single "Peso", got leaked online and within weeks received massive airplay on the high-profile Hot 97 New York radio station.
After the released music video for his song "Purple Swag", Rocky caught the attention of several record labels. In October, he released the mixtape Live. The public attention got him a two-year, $3 million record deal with Bryan Leach's Polo Grounds Music, which at the time was distributed by Clive Davis.