Update: Toyo Baby reveals shocking revelations about Timi Adigun
Jenifa' Diary actress, Olayode Juliana has levelled several sexual allegations against the Pastor Timi Adigun in new videos.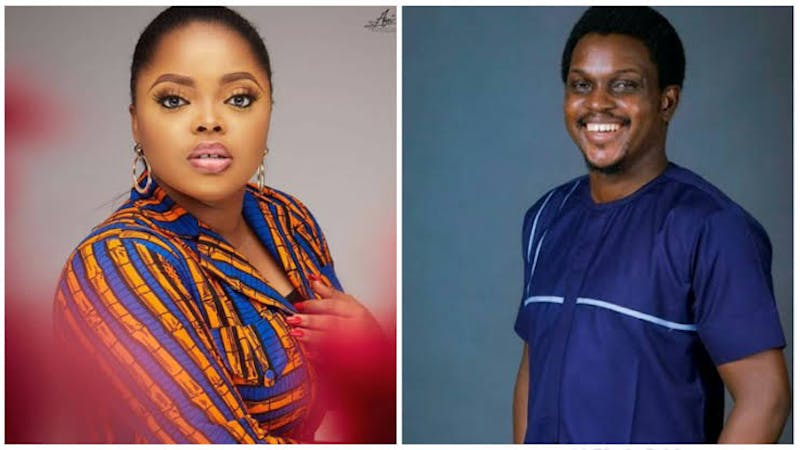 Since Tuesday Instagram has been agog with rants and reactions following Jenifa's Diary actress, Olayode Juliana's video, calling out Timi Adigun over social media passwords.
Remember that Clacified.com reported the news of Olayode's video that made the headlines yesterday accusing Pastor Timi Adigun of allegedly un-publishing her Facebook page.
In reaction the  Pastor of MINE Ministry Timilehin Adigun denied that any password was in his possession.
Pastor Timi Adigun opened his video by saying he noticed an increase in followers, which only happens when he has giveaways.
According to him he was shocked by her outburst and went on to recount details of his last meeting with Juliana in 2020.
The clergyman Timi Adigun explained that Toyo baby had called herself a bad person and said she couldn't forgive. But he had promised to make it up and begged for a second chance.
However, the Pastor added that the actress Juliana disrespected him by coming to his church and calling him by his first name.
In Timi Adigun's three-part-video on his Instagram page, he also stated that he knew some secrets about the actress but would not want to expose her.
Obviously, Pastor Timi Adigun's statement of not wanting to expose Olayode's secret angered her. Thus, leading to a lengthy three part video of Olayode divulging dirty secrets about Timi Adigun
Juliana accused Timi Adigun of abusing her sister sexually.
Toyo baby bashes Timi Adigun for sexually molesting her sister
In an attempt to rubbish Timi Adigun's claims and defend her image.
Olayode,  dared him to reveal the secrets about her.
She said, "I am begging you to reveal my secrets. Please tell the world my secrets, I'm begging you."
According to her she wanted to let sleeping dogs lie but, since Timi Adigun was playing the secret card with her she would play his game.
Further enraged, Juliana expressed her disgust for the man of God and warned him to never refer to her as his "spiritual daughter."
The actress, Toyo Baby made references to issues she had in the past with Adigun while noting that his response has brought back sad and painful memories she has tried to put behind her. 
In her most recent post on her Instagram story, she labeled the pastor as being shameless, reiterating that he has "no heart".
Olayode wrote, "Timilehin Adigun, just saw another part of the video you posted now. You're very shameless, you have no heart. Are you listening to yourself at all?"
Juliana, obviously upset described how she had stood by the man of God and submitted her life to him.
In yet another video, the actress recounted how she trusted Adigun so much and would always listen to everything he had to say even to the detriment of her career.
Tokyo baby revealed things went sour for her after Timi Adigun sent an email about a fee raise in Jenifa's diary.
Olayode Juliana speaks on Jenifa's Diary
Speaking on her rift with Funke Akindele of Jenifa's diary, Olayode referred to Timi Adigun's letter regarding Jenifa's Diary contract.
According to Olayode, Timi Adigun sent an email (as her manager at the time) requesting a fee raise of N3000 per episode. Speaking on the incident, Toyo baby said immediately her contract was canceled, and her career journey wrecked.
According to earlier reports, Olayode disclosed she quit acting because she detests kissing scenes.
"I might be wrong, but I don't think you have changed. You say you don't have my passwords...hmm...you know, before now, I could put my life on the line that you'll never lie...it's okay...no problem...no problem at all.
Olayode Ju