Nkechi Blessing's marriage crashes badly!
"I am not husband to lesbian" Opeyemi Falegan confirms split. And Nkechi calls him a "beggar" as she also speaks on reason for their separation.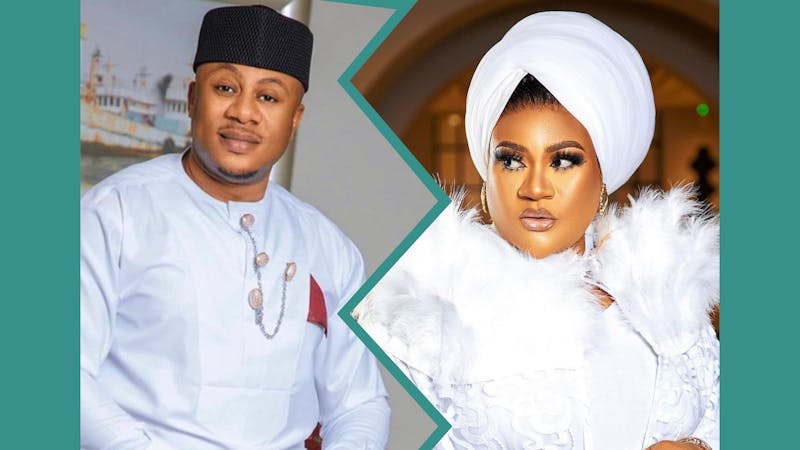 Relationship and marriage, they say, has its ups and downs, this is the case for Nollywood actress Nkechi Blessing Sunday and her husband Opeyemi Falegan shocked everyone when they announced they had parted ways.
According to reports in the media, the relationship/marriage between the couple ended over infidelity allegations.
However, the movie star's estranged husband, Falegan, may have confirmed the end of their marriage after he went live on Instagram.
In the live video, the honourable revealed that his name and social integrity were of priority to him and would never want to associate himself with anyone that would tarnish his image or brand.
Exasperated, the voluptuous actress countered her estranged partner with a post she later shared on her Instagram Stories. Nkachi denied being dumped. According to her, she did the walking away from the marriage.
"The one wen I nor like na if you lie say you leave me. Nobody ever does...I simply take a walk and not say my side of the story cus really its not worth it. Say all you want to say but you see lie? We wear same trousers, na there you go vex me," she wrote.
Blessing later took to her Instagram Liv,e where she started by mocking those spreading the rumours that she's a lesbian.
At some point, Nkechi became emotional and later broke down in tears as she cursed the blogger behind the reports that she cheated on her husband.
She disclosed that she would place curses on the blogger for twenty-one days. In 2021, the actress first revealed her plans to get married.
"As regards marriage, of course, it will happen this, year and plans are ongoing already. However, relocating is not in my plans because I still have a vibrant career in Nigeria," she said.
Last year, in 2021, she released photos from her traditional wedding to the politician, Opeyemi. The duo had always been a relationship goal for many with their public display of affection on social media. What would have gone wrong?
Why Nkechi Blessing's marriage crashed
Why Nkechi Blessing's marriage crashed ?
Nollywood actress Nkechi Blessing has shared the reason why her marriage to Opeyemi Falegan got wrecked.
In a series of posts shared via her Instagram Stories on Wednesday, April 6, 2022, the movie star painfully cited the many reasons that led to the end of their relationship.
According to Nkechi, her estranged hubby was a user and manipulator who tried to use her fame for selfish reasons.
She said that he became disreputable for always begging for financial assistance to fund his foundation, a move that was always a course for concern.
Blessing added that Falegan was a jobless man who would stay at home for months without doing anything and that she had helped fund his lifestyle to a certain extent until she couldn't bear it again.
"If they ask me what my so called boyfriend does for a living, walai I don't have an answer. 3 weeks in London you no wake up go work, sleep and wake up for live video. If joblessness was a person...Tueh," she wrote.
Based on Nkechi's claims, they had both been separated 3 months ago quietly but it seemed like her ex-hubby wanted to chase clout, hence the public declaration of their separation.
Following the messy outburst, several fans and followers sent screenshots about their experience with Opeyemi Falegan. WAt the same time,some others laid unfounded allegations against the politician.