Will Smith shockingly slaps Chris Rock after cracking a joke about Jada Pinkett
Actor Will Smith tearfully apologized to the academy and everyone around for his outburst.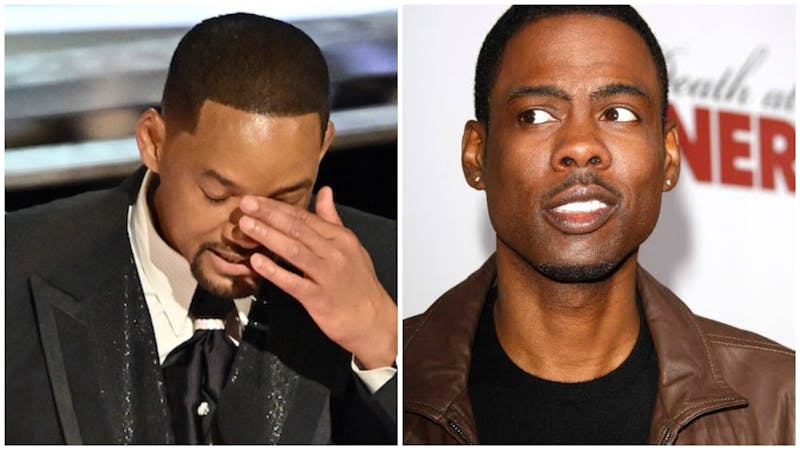 The Oscars 2022 will not be forgotten in a hurry as Will Smith dealt comedian Chris Rock a heavy slap after making an insensitive comment about Jada Pinkett's shaved head.
Last night, the Oscar 2022 award ceremony will go down in history books as the day that comedian Chris got rocked!
What started as an exciting evening filled with much hope and fun turned into a boxing ring in a minute.
Will Smith had the night's most viral moment with Chris Rock after the comedian made a joke about his wife Jada Pinkett Smith's shaved head, saying he was looking forward to GI Jane 2.
Now,  Pinkett Smith, who revealed last year her struggles with hair loss and bald spots caused by alopecia, did not find it funny, and an angry Smith then came on to the stage and whacked Rock's face before the sound muted, and footage later showed that Rock said, "Will Smith just smacked the shit out of me" before Smith shouted: "Get my wife's name out of your f**king mouth."
Will Smith went onstage and slapped the comedian .
The comedian Chris Rock tried to lighten the situation by saying it "was a GI Jane joke" before Smith repeated his warning. Scott Feinberg of the Hollywood Reporter tweeted that Denzel Washington and Tyler Perry then calmed Smith during the commercial break as he appeared to wipe tears from his eyes.
In no time, Will Smith won Best Actor for his portrayal of Richard Williams, the determined father who raised tennis champions Venus and Serena Williams in 'King Richard.'
Will used his acceptance speech for his first Academy Award to apologise for his altercation, which led to him storming onto the Oscars stage and slapping presenter Chris Rock for making a joke about his wife Jada Pinkett Smith's haircut. 
 "Richard Williams was a fierce defender of his family," he said tearfully.
"Art imitates life. I look like the crazy father, just like they said, just like they said about Richard Williams. But love will make you do crazy things."
Smith also shared that before his win, fellow nominee Denzel Washington shared some wisdom: "At your highest moment, be careful; that's when the devil comes for you."
The Oscar award winner said he hoped the academy would invite him another time.
Jada Pinkett and Will Smith
Will Smith's dramatic reaction sparked various responses on Twitter from celebrities.
Jaden Smith spoke out, along with Maria Shriver, Trevor Noah, Sophia Bush said Jaden Smith tweeted: "And That's How We Do It."
A few minutes later while presenting the next section Sean Diddy Combs tried to defuse the vibe in the room saying  "Will and Chris, we're going to solve that like family. Right now we're moving on with love," 
However, according to reports Will's outburst has been a long time coming.
Six years ago, the comedian, 57, took aim at Jada, 50, in his opening monologue for boycotting the Oscars due to a lack of diversity.
Chris suggested in his speech at the time that Jada couldn't snub the Oscars that year because she hadn't been invited in the first place.
"Jada boycotting the Oscars is like me boycotting Rihanna's panties. I wasn't invited." Chris Rock said.
According to a source from People: "When Chris hosted the Oscars in 2016, Jada was boycotting because of 'Oscars So White.'
Obviously, Will Smith had not forgiven Chris Rock's statement from 2016.
The 94th Academy awards took place at the Dolby theatre Hollywood, Highland.