Wizkid, and 6 other musicians with successfully long careers
Amid one-hit-wonders and short lived careers, these Nigerian musicians have managed to keep pace with the ever-changing flow of the music business.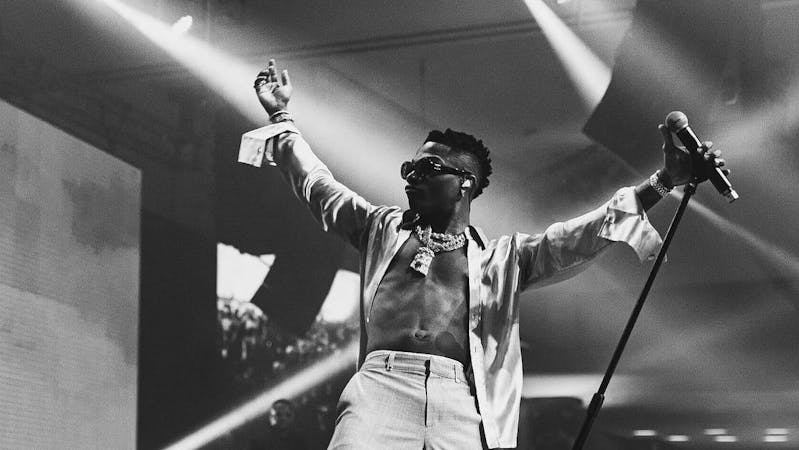 It is general knowledge that the music industry is a shape shifting system that is sometimes cruel and hurricane like. Those who don't survive its tide of change are tagged one hit wonders. And the craze to keep up with the trends and expectations of the industry is an art only a few have managed to learn.
However, there are Nigerian artists who retained their seat of influence in the music industry despite the fast paced nature and ever-growing expectations of their fan base. These Nigerian artists were able to preserve their music career and adopt the new sounds into their music.
Here are the 7 Nigerian celebrity artists with the successfully long music careers.
Davido launched his career with hit song "Dami Duro"
1. Davido
When David Adeleke, aka Davido, arrived into the limelight with the song "Dami Duro", everyone was smitten by his electrifying sound and energy.
A force to be reckoned with, since the day of "Dami Duro", David has consistently released hit singles and albums that shook the world.
Davido got international recognition after releasing his song "Fall" in 2017.  The South African recording industry certified "Fall" platinum. It was also the most searched song on Shazam and the longest-charting Nigerian pop song in Billboard history. He collaborated with foreign musicians like Chris Brown, Nicki Minaj, and so many others.
Davido is undoubtedly a leading voice on the Nigerian Afrobeat scene and one of the most influential musicians in Africa. The Afrobeat singer recently shut down the 02 arenas. Fans described it as a thrilling night of fun and brilliant performances.
2. Wizkid
Nobody can describe the Afrobeat genre or modern Nigerian music without mentioning Wizkid.  Ayodeji Ibrahim Balogun, popularly known as Wizkid, launched his music career with the song "Holla at your boy".
Since his lurch into the music industry he hasn't looked back. Wizkid has remained driven to constantly deliver hits back to his Nigerian and African audience.
It was no surprise when Wizkid finally landed his first collaboration with American musician Drake on his song "One Dance". The music will become Wizkid's first ticket into the international limelight.
The song made it to the Guinness book of world records making Wizkid the first Afrobeat musician to appear in this book.  This led to more collaboration with foreign artists like Beyonce, H.E.R, and others.
Last year, Wizkid experienced a transformative career push after his song "Essence" with Tems became a smashing hit. What started as a friendly music collaboration between newcomer Tems and Wizkid soon escalated into a worldwide anthem.
The song "Essence" also received Grammy nominations and won other awards.
2Baba is an award winning singer
3. 2Baba (Formerly 2Face)
Innocent Ujah Idibia aka 2Baba is still one of Nigeria's most respected and influential artists 2Baba has attained a legendary status in the Nigerian music industry.
 Beginning his career in 1994, 2Baba broke into the industry with his 2006 hit song "African Queen". The song launched him into the international limelight when it was used in the soundtrack of the film "Phat Girlz".
With several awards in the industry and endorsements to his name, 2Baba is proudly worth N22 million dollars. A force to be reckoned with and arguably one of the most successful Nigerian musicians of all time: 2Baba has consistently reinvented himself in the music industry.
Burnaboy is a self acclaimed African giant and Grammy award winner
4. Burnaboy
Damini Ebunoluwa Ogulu, known professionally as Burna Boy, is also the African Giant. He is one of the most successful and influential artists in Africa.
The self-acclaimed African giant came into the limelight with his 2012  song "Like to party". Ever since, there has been no looking back for Burna Boy.
A two-time Grammy award nominee and one-time Grammy Award Winner with several endorsements, Burna has shown passion, drive and commitment to his craft.
Primarily influenced by the father of Afrobeat, Fela Anikulapo Kuti, Burna's music reflects societal abnormalities and speaks on the many vices that plague Nigeria.
With an electrifying stage presence that leaves his audience spellbound, Burnaboy is a man of the people. He has collaborated with many foreign musicians like Sam Smith, Sia, Beyonce, etc.
In November 2019, Burna Boy became the first Afrobeat artist to sell out the SSE Arena( formerly known as the Wembley Arena). He was given a special plaque to mark his achievement.
A legend in the making last year, he won the BET awards 2021 as the Best International Act. With this win, Burna Boy becomes the first African artiste to bag three nominations and wins consecutively, having won the BET Award in 2019, 2020 and now 2021
5. King Sunny Ade
Chief Sunday Adeniyi Adegeye MFR, King Sunny Ade, is a jùjú singer and multi-instrumentalist in Nigeria. He is regarded as one of Nigeria's first African pop musicians to receive international recognition. King Sunny Ade got two Grammy nominations for his 1998 album Odu and Synchro System (1983).
 He is recognised as one of the most influential musicians of all time. His chart-topping albums, dance steps, and mastery of the guitar, among others, are a few things that make him one of the most influential musicians of all time. Sunny Adé formed his backing band in 1967, eventually known as his African Beats.
King Sunny Ade's leadership skills expressed through his stage garnered many positive reviews for his music and his dance style.
The New York Times described the legendary performer  as "one of the world's great band leaders", in Record as "a breath of fresh air, a positive vibration we will feel for some time to come" and in Trouser Press as "one of the most captivating and important musical artists anywhere in the world."
Influenced by Juju pioneer Tunde Nightingale, Sunny's music was captivating, soothing and of satisfactory quality. No wonder, through the years, Sunny Ade is still the first choice for Live Band performance at events.
At 75 years old, King Sunny Ade has achieved so much, and his career and influence have stood the test of time.
Within his 45-year music career, Sunny Ade has collaborated with major artists; Manu Dibango (Wakafrika), Stevie Wonder (who played the harmonica on Aura), Wasiu Alabi Pasuma and Bola Abimbola.
Don Jazzy has been in the music production space for 18years
6. Don Jazzy
Michael Collins Ajereh, aka Don Jazzy, Nigeria's leading record producer, Brand Ambassador, audio engineer, record executive, singer, entrepreneur, Influencer and Comedian. The founder and the CEO of Mavin Records. Don Jazzy was co-owner of the defunct Mo' Hits Records record label with Dbanj.
Don Jazzy's music producing career began 18 years ago when he collaborated with D'Banj to form Mo' Hits Records. In the next two years, Don Jazzy produced the albums "No Long Thing" and "Rundown/Funk You Up''.
In 2008, he contributed to producing one of the best albums to come out of Nigeria; Wande Coal's Mushin 2 MoHits.
When Don Jazzy announced a new record label, Mavin Records,,,,,,,,, on 7 May 2012.
 He said, "I see Mavin Records being the powerhouse of Music in Africa in the shortest possible time." 
Ten years later, Mavin records boast of a portfolio of star acts(Tiwa Savage, Dr Sid, Amarachi, Reekado Banks, Wande Coal)who have moved on to more international opportunities and recording artists like Ayraa Starr, Rema who are rising the ladder of influence at the speed of light.
7. Kwam1
At 65, Fuji musician Wasiu Adewale Ayinde Marshal, aka Kwam 1, had a thriving music career in 1980.
An award-winning Fuji musician, Kwam 1 De Ultimate started his global tour between North America and Europe from 1986 to 2003.
The Fuji master refined his music under the significant influence of the Fuji King Ayinde Barrister before breaking out into the industry with his most successful album Talazo '84 in 1984.
According to reports, in 1995, he delivered the first Fuji performance ever at WOMAD Festival. He is also the only Fuji musician to perform at Troxy, WOMEX and sobs.
With his latest trending song Ade ori okin, off his project captioned "Fuji The Sound" EP released in 2020, Kwam 1 has proven to be a legend in his niche.