Wizkid vs Davido: Who has the most hits each year?
Wizkid and Davido have always been contenders for the King of Afrobeat throne once occupied by legend Fela Anikulapo Kuti.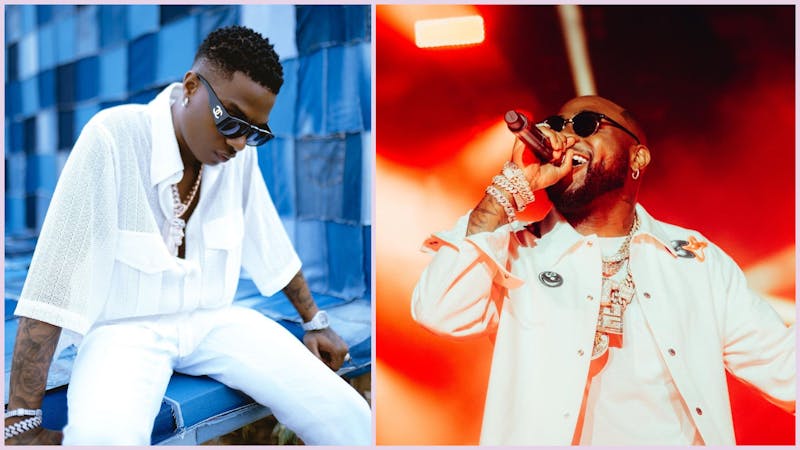 The Nigerian music industry has shown tremendous growth in the last decade but it has always been faced with one challenge- Who will be the next face of Afrobeats in Nigeria.
This has led to the tug of war between Davido and Wizkid who have cemented their credentials as household names in the afrobeat genre in Nigeria and Africa
It is only normal for competition in terms of success, notoriety, and popularity to always exist between the two Nigerian celebrity artists, as it does between many high-profile stars.
Anyone would agree that this music battle between Davido and Wizkid has been going on for a while.
Although Wizkid and Davido seemed to have hugged out whatever rivalry they had going on, their cult-like fan base refused to see eye to eye.
Of course, it is in this battle for supremacy that Starboy FC and DMW fans have been at loggerheads on who should be crowned King of Afrobeats in Nigeria. Especially since the death of Fela Anikulapo Kuti-Father of Afrobeats and legendary entertainer.
A major problem here is that Davido and Wizkid's fans believe that their icon is the best.
Fortunately in the world of not just Nigerian music, professionalism, talent, and icons are measured by the international impact of their craft on major platforms such as Billboard chart, Grammy Awards, 
Now, both Davido and Wizkid have International acclaim, awards, recognition, their music has topped world charts, trended, and they have collaborated with the world's best artists from RnB, HipPop, etc
Nevertheless, this article will highlight, analyze and help readers draw up a conclusion based on facts, charts, streaming platforms reports, and awards to decide who has the most hits between Wizkid and Davido.
To put things in better perspective, according to Wikipedia a hit song is a single that has appeared in an official music chart through repeated radio airplay audience impressions, or significant streaming data and commercial sales
The music chart would leverage Billboard, audience impressions would be Youtube views, Social media virility, and streaming data would feature reports from Apple Music, Spotify, and overall sales earnings from albums and singles.
Let's take a look at the brief profiles of both Davido and Wizkid and the timelines of their hit songs.
Ayodeji Ibrahim Balogun aka Wizkid was born in Surulere on July 16, 1990. The "Fever" singer entered the Nigerian music industry with a bang in 2008 with the bubbling under single, 'Mamiwata', and shooting into the limelight with 2010's "Holla At Your Boy", Wizkid has gone from a Nigerian superstar to an African legend and now an international icon.
On the other hand David Adeleke aka Davido, just like Wizzy, broke out with his high energy vocals,  upbeat and club-like sound of " Dami Duro" which received massive airplay on radio and TV in 2011/2012.
Billboard Reports from 2016- 2021
So far, Wizkid has released over 40 songs and two studio albums, a single debuting on Billboard Hot 100 at No-82 for the song Essence. 
In 2016, Wizkid's collaborated with Drake on the hit single "One Dance", which reached number one on the US Billboard Hot 100 and topped the charts in 14 additional countries. The song broke multiple records, making Wizkid the first Afrobeats artist to appear in the Guinness World Records.
Then in October 2021, the single smashed records as it entered no.9 on the Billboard top 10. Thus crowning Wizkid as the first-ever African artist to have a song on the Billboard Top 10.
Essence duplicates its success with the adult R&B market as the single tops Billboard's Adult R&B Airplay chart dated Oct. 16 as it spent four weeks at No. 1 on the Mainstream R&B/Hip-Hop Airplay chart. 
On the other hand, Davido has released over 50 singles, 3 albums and 1 Ep, and of these, Fall', the 2017 hit track of 'Davido' became the longest-charting Nigerian single in Billboard history.
 Davido's third studio album went on to(A better time) make its debut on the Billboard 200 in 2019. A Better Time debuted at #170 on the album chart and became the singer's first-ever album to debut on the US Official chart.
 On the Top Thriller Global chart, Davido has had four entries. "FEM" off "A Better Time" peaked at number 3 on September 26 2019 and spent seven weeks on the chart.
For the record, in 2020, both Davido and Wizkid didn't have a song that ranked No. 1 on the Billboard Chart.
But Davido had his year in 2020, his record with his homeboy Mayorkun "Betty Butter" peaked at No. 2 on Billboard on July 18, 2020.  "FEM" also peaked at No. 3 on the Billboard Chart on September 26, 2020.
Also, 'Holy Ground' peaked at No. 3 on Billboard on December 5, 2020. meanwhile, Wizkid's Ginger peaked at #10 in November 2020 and No Stress peaked at #12 on October 10, 2020.
In this category, Davido has more hits songs according to Billboard charts.
YouTube Views(Social media) from 2016-2021
As an influential artist in Nigeria one way to make money and assert your place as a top-rated singer is through Youtube. Nigerian artists like Davido and Wizkid have garnered millions of views on social platforms.
This section would measure videos that did above 50 million views on Youtube.
Davido's single " IF" has a whopping 154 million views on Youtube as of the time of this report. The song was released in 2017.
In 2018 Davido made history as the first-ever African to have a music video reach 100 million views on YouTube.
Davido's Fall" recorded over 200 million views on YouTube. The song has been certified Gold in the United States and Canada. In Canada, it has sold over 40,000 copies. The sales figure in the U.S. is over 800,000 copies.
His song "Shopping Spree" also hit one million views on YouTube in less than 24 hours.
2020 single Risky has a total of 62 million views on Youtube 
Other songs by Davido with many views on Youtube are Blow my mind ft Chris Brown(2020-75 million views), Fia (2018-93 million views) Aye(2014-69 million views).
Meanwhile, Wizkid FC records his highest Youtube views for the song "Essence" feat Tems- the official song of the summer.
The single from Wizkid's Made in Lagos album amassed 83 million views so far.  And his song with Beyonce garnered about 50 million views.
Then again in this category Davido wins against Wizkid with the biggest hit songs every year.
Spotify 2021 most streamed Nigerian musician albums
Streaming data report for Wizkid and Davido
Between September 2017- and 2018 Davido emerged as the most-streamed artist with 9.38M views, while Wizkid came in third with about 5.72 million views.
Last year the 32-year-old Wizkid's Made in Lagos album had 322 million streams on Apple Music, 229 million streams on Spotify, 227 million streams on YouTube, over 140 million streams on Audiomack, over 40 million streams on Boomplay, and 20.1 million streams on Pandora.
In December Spotify unveiled its Spotify Wrapped" – an annual round-up of the top artists, albums, songs, and playlists of the year as streamed by users on the platform from around the world.
The round-up indicates artists and albums that were played the most by Nigerian users of the platform.
According to Spotify Wizkid was the most streamed artist in Nigeria for the year(2021). 
He was also recognized by Youtube as the most streamed artist on the platform with 1.06 billion streams.
While Davido records a total stream of 909 million on Spotify. Recall that in 2020 Davido's fourth studio album, "A Better Time" hit 213.2 million streams across the five major music streaming sites after one month of its release and kicked out Wizkid's Made in Lagos album with over 32 million streams.
The the17-track album featured artists like Nicki Minaj, Chris Brown, Mayorkun, Sauti Sol among others.
On Apple Music 54.7m Time, 11.5m on Spotify, 15.7m times on Boomplay, 95.5m times on Audiomack, and 35.8m times on YouTube music.
However, Wizkid's win in 2021 overshadows Davido in this category.
David vs Wizkid: Major awards won for music 2011-2021
Wizkid boasts of One Grammy award; 3 MTV EMAS; 3 Billboard Music awards; 12 Headies awards; 5 MOBO awards; 3 Soul Train awards; 4 NAACP Image awards; 7 Afrimma awards; 5 African Entertainment awards USA; 1 Dance 8 Platinum; 2x Essence Platinum;  Come Closer Gold and others. In total Wizkid has won 80 awards.
Meanwhile, Davido has no Grammy awards yet but he has 7 Nigerian Entertainment awards, 2 Dynamix all youth awards, 8 Headies awards, 5 Soundcity awards, 2 MTV Africa Music Awards, and 6 All Africa Music Awards and others in total Davido has 51 awards.
Based on all the information, and data. and reports gathered from streaming platforms, award recognition, and international charts anyone can objectively decide who has more hits every year between Nigeria A list artists, Wizkid 32 and Davido 29.