Portable splits up from benefactor Kogbadi
"Kogbagidi dey always f"***k up" Portable says as his relationship with benefactor goes sour.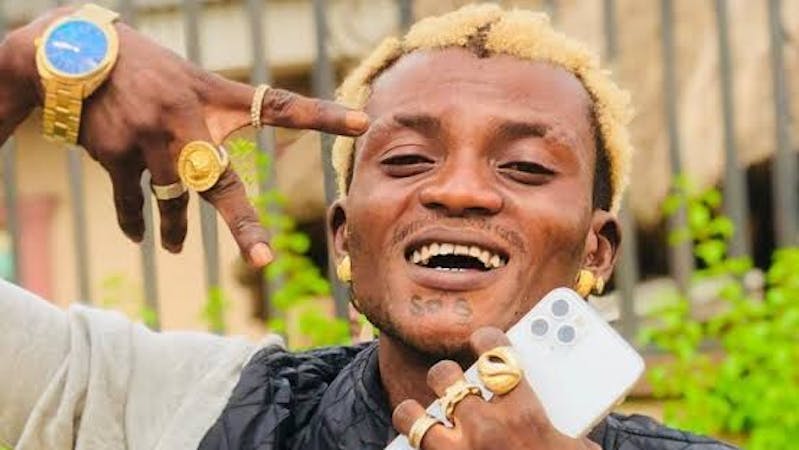 Popular music sensation Habeeb Okikiola aka Portable has been appearing in headlines for one quarrel or the other.
But recently in a podcast interview with rapper Jahbless, "Original Intelligence" Portable poured out his feelings on pressing issues about his music.
Bulk of Portables conversation bothered around his relationship with manager Kogbadi who is known for working with Bella Schmurda.
Discussing his relationship with Kogbadi, in an impassioned tone Portable said;
"Kogbagidi always dey f*** up. Why? I go tell am say boss, all these things I no like am. You know say me, I get [madness] already. But una go still dey do wetin [I no like]...
"Poco Lee tell Kogbagidi say, 'Boss, all these things wey this boy dey talk, you no tell me naw.' I tell [Kogbagidi] say person dey offend me. I tell am say [Poco] dey vex me, e no answer me, until I wicked [Poco]. Na rubbish now. Because of wetin you wan chop."
The street hop singer's hit single Zazu Ze has been buzzing on social media.
The Zazoo Zeh crooner also said that YBNL boss, Olamide asked Kogbagidi, if Portable hadn't made his feelings known, before the legendary rapper settled the issue.
In praise of Ijoba Danku,who is close friends with Kogbagidi, Portable said he is now his manager. He claimed Danku was played an important role in settling his issue with Kogbagidi.
Portable further claims on choosing to stick with Danku is based on how his new manager never mounts pressure on him to dress up before meeting stars.
Portable has continually accused Kogbagidi of ripping him off and Pocolee of intellectual property theft.
What caused Portable and Kogbadi's fight?
Portable released his hit single titled, 'Zazu Zeh', that featured rapper, Olamide Adedeji, aka Baddo, and popular dancer, Iwe Pascal, popularly known as Poco Lee, and it went viral on social media last year.

Some time after the songs release a video of Portable broke where he thanked Olamide for featuring in his song as he wept.

In fact the his song on Audiomack, was doing 2,000 every 10 seconds. Fans also promised to support him with funds.

Trouble started brewing when on most streaming platforms, the record credits showed 'Poco Lee X Portable X Olamide.'

On December, 21, 2021, Portable shared a TikTok video where he express displeasure at Poco Lee taking credit for his song.

In an angry rant the singer said- , "Poco Lee, I am the one who sees a gun but doesn't shoot. You no show love o. Shey na you get Zazoo ni? Na Olamide bless me o, but you carry my song. You don rip me now. Even if you worked on the song, why is your name first in the credits?

"Na me get Zazoo. It should be Portable X Olamide featuring Poco Lee. Are you mad or something? N*gga, respect yourself. If they talk to you, don't argue. Do normal, so you can buy a hummer o..."

He also insisted that he won't agree to the release of a video for the song.

Credits to Instagram/Portable

Portable also said that when Olamide brought him on stage to perform 'Zazoo Zehh' at the Livespot Festival, Wizkid sprayed him $3000, but Poco Lee only gave him $600.

After Portable's outburst Kogbagidi, his promoter shared a video of himself. In the video he could be seen cutting ties with Poryable and sending him away.

However, Olamide Yomi Fabiyi, Slimcase apologized to Kogbagidi to take Portable back and forgive him.

Both parties reconciled and all was back to normal.

On January 6, 2022, the street-hop singer shared a video accusing Kogbagidi of ripping him off whilst holding a baseball bat.

In a chat with GoldmyneGoldmyne, the 'Zazu Zeh' crooner said the recent confrontation was staged just to get people talking about him. He added that publicity also brings money.

"No fighting, we just wanted people to keep talking about us. It brings money. It's all one love," he said.

However, based on the podcast with Jahbless it is obvious that Portable and Kogbagidi are not on good terms.

0